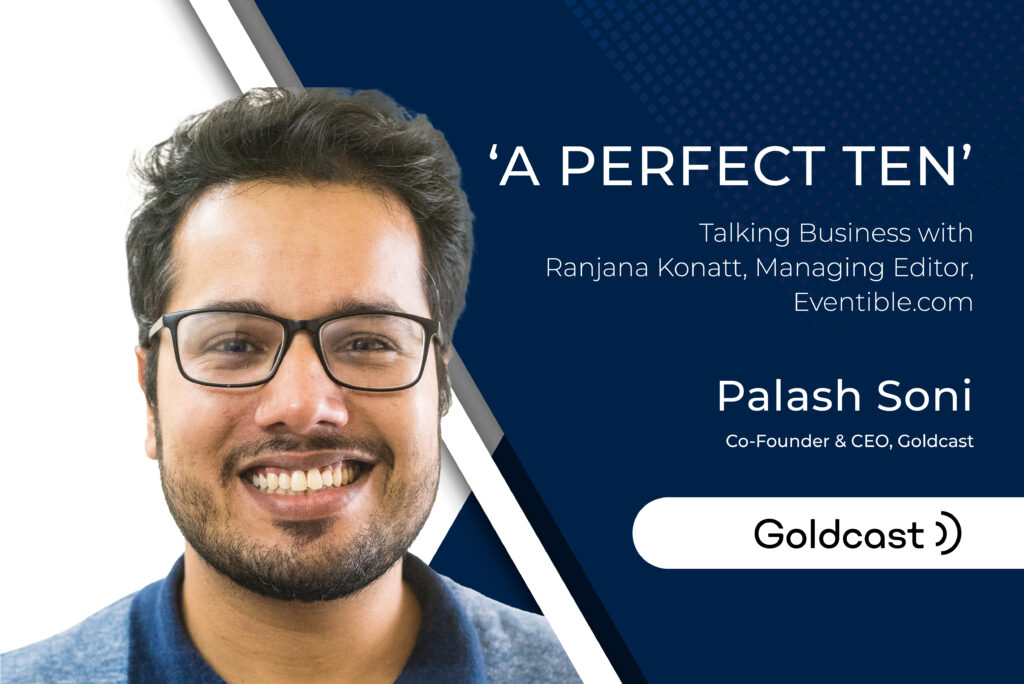 'A Perfect Ten' – Palash Soni talks business with Ranjana Konatt, Managing Editor, Eventible.com
Let's rewind back to last year, which was momentous for the majority of us. How do you remember reacting to all of it? Did you feel the need to stay the course (business-wise) or pivot to new offerings? I've come across instances of companies who were making software products for the live events industry and decided to pivot hard. Also, instances of companies who jumped into the virtual platform space purely as an opportunistic play…
We started off only last year! But yes, the live events industry definitely took a hit and had to pivot to stay relevant. Companies who jumped into it only as an opportunistic play without using principles to solve the actual problem might find it difficult to remain in the game longer than others…
My reaction to all of it – When I was working in my previous company, measuring the ROI on marketing events, while organizing them and sponsoring them, was a nightmare. The million-dollar question – "what's the impact of event spend" is a question that our CEO asks us every quarter. All we had were business cards from events without any actionable insights that could be used by our sales team to follow up. It used to be our practice to track conversions and demo meetings in Salesforce in the hopes of converting them into real deals.
We were extremely excited about the insights and analytics that you can gather from virtual events when they first began to take shape. Information about prospects and customers, engagement data was completely lacking in offline events.
Seeing existing event tech players shift to virtual events, we felt it was a knee-jerk reaction to what was happening rather than a first-principles approach to solving problems. Most event marketers in B2B organizations expressed the pain point of driving engagement with online events but most importantly proving ROI by attributing to the pipeline.
It was apparent that there was no purpose-built product for B2B event marketers and demand generation teams to not only host engaging events but also bring a measurable aspect through actionable engagement insights.
The result – A fundamental shift to events, similar to what digital mediums did for advertising – and that's how Goldcast came about – to power event marketers to drive revenue from events.
Tell me in brief about your company, the updates – recent achievements, projects, mergers…
Goldcast is a turnkey platform for marketers to host events like a Netflix show – and drive revenue from them. Our mission is to create modern, meaningful and measurable online events – client summits, workshops, product launches, thought leadership summits, regional conferences – you name it. Goldcast provides strong tools/dashboards to measure the ROI of the event and get strong lead qualification insights.
We have so many exciting things on the roadmap and happening right now as well – happy to share that we've raised $12M in funding. On the product front – We launched Hybrid, so we are very excited to see our clients use it. We're close to becoming a completely self-serve platform. There are also massive upgrades to data integrations and workflows, including HubSpot, Salesforce, Outreach, Slack and many others!
We're also making registration and form building infinitely easy for event organizers with embedded apps.
On the community front – We have the Goldcast CMO Diaries, hosted by my co-founder Kishore. It is a fireside chat series where we talk to CMOs about all things B2B marketing.
https://goldcast.io/cmo-diaries
What lay ahead, what's in store for the events industry? Is hybrid the wrong thing we are obsessed with right now? Will it settle down between live and virtual?
Hybrid is here to stay. That being said, what I've always believed is that not every event needs to be hybrid. Not every event needs to be virtual. Not every event needs to be in-person. They all have their own purposes. I'm reminded of a conversation we had with Lisa Gregory, owner of Gregory Events Services. Quoting her here because I couldn't have put it better myself –
"I hope if you're just doing in-person events that the recipe you're creating is different. And if it's just virtual, I want your virtual events to continue to thrive and be different. What I don't want is for you to get stagnant. I think of this as an opportunity to build the best new recipe you can. Let's figure out, as a community, what that looks like together. Even though the formula is slightly different for everybody, sharing and talking with others about what's working vs. not is half the battle."
In your opinion, do you believe that we need to be in a constant state of preparing for the future and for what comes next? Also, tell us about the areas of operation where you have increased investment? Also, what were the reasons behind the increase in investment?
I for one believe in being proactive! It is important to stay in touch with your niche audience and prep accordingly. This is all the more important in an industry that is constantly changing.
What are you seeing on the talent management front? In your opinion, does your business need a high-touch collaborative environment, or do you support your teams working through a hybrid model?
We are a fully remote team! What started off as a 5-member team has grown to a 60-member family in under a year! We have Goldcasters working from all across the globe. The remote setup has worked wonderfully well for us.
In the last year, we all saw the explosion in virtual tech platforms. Compared to mature platforms like Hubspot which integrate into 500 other applications – virtual platforms are still operating as silos. How do you see this playing out with respect to data privacy issues, integrations into other apps that can increase the value for the user? What does the future hold for your category?
We are big believers in the concept of ecosystem. The questions of integrations and privacy are a lot more prominent for B2B firms. But most virtual event platforms are horizontally focused and B2B firms make only a small percentage of their revenue. We think that data silos can be a huge deterrent for event marketers to truly become pipeline drivers and get a seat at the revenue table. They want to work with data, deliver it to sales teams for post-event follow-ups, and understand that their events impact the pipeline.
I think the winners in the enterprise segment will take a very ecosystem approach and work with the top CRMS (Salesforce), MAPs (Hubspot, Marketo), and ABM systems such as 6Sense.
How do you look at challenges that haven't been solved yet like networking? For instance, a simple handshake, getting a pint with a stranger in a new city? Experience technology has not been able to replicate it yet, should it even attempt to?
While we cannot replicate the intimacy of in-person connections, what we can do and have done at Goldcast is to provide attendees with endless options to make genuine connections. The power of networking is real – with the right tools, networking at virtual events can be rewarding to say the least. Definitely get to know your audience and invest in the right platform before you think of networking.
Amount of time spent in the networking session
Influenced pipeline from the event
Number of sales-attendee 1:1 conversations
Number and type of questions asked in live chat
These are just a few. Also what helps in really being creative in how you approach networking. Try keeping it intimate and sales-free for the most part. Get people to learn something on the event – doing and learning something together is often the best way to get attendees to successfully network.
What are you seeing on the audience acquisition front now that the novelty of virtual events has started to wear off and users are defaulting into the Netflix "I'll watch it later, maybe" mode. Is audience acquisition the biggest challenge that event organizers face? Or is the low attendance rate the bigger worry?
I think both of those are challenges that keep event organizers up at night! From what I have seen, audience acquisition can be managed if you have the right pre-event toolkit – the right branding and customizations options for registration and promotion to really get the audience excited about the event – to ensure them that this isn't going to be just another boring zoom meeting and that they're actually going to derive value out of it.
We've always said that the event experience begins way before the event starts, and this is what we mean by it.
Where do you see yourself in the next couple of years?
We want to become the operating system for enterprise event marketing teams. Our near-term roadmap will allow users to not only deliver engaging event experiences but also analyze pre and post-event data to deliver value to their GTM stakeholders and measure their impact on the company's pipeline. So, I am excited to see us build all of this out. I have also developed great empathy for event professionals over time. The job is stressful, and there is so much work that goes into making events work. Plus, there is the pressure to prove that you engaged the right set of people and created a pipeline and influence. I look forward to working very closely with our customers, being wiser about the problems they face, and finding solutions to them.
How do you relax? Do share with us – what's your secret to unwinding from this crazy world we've found ourselves in!
I read a lot of books. They are my escape from the day-to-day stresses and pressures. I am currently reading Ministry for the Future, which is a documentary-style fiction about climate change.
About Palash: Co-Founder & CEO at Goldcast, previously senior product manager at inMobi. Studied at HBS before pursuing entrepreneurship.