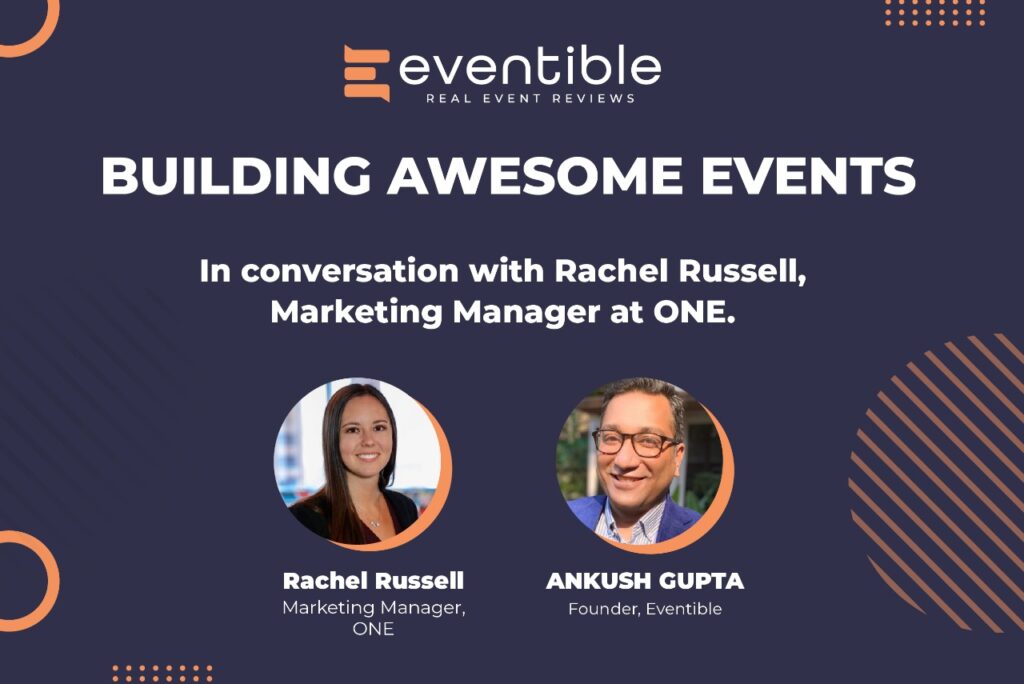 Episode 4: In Conversation with Rachel Russell, Marketing Manager at One
0:01: Introduction
0:36: Rachel's early career and how she chose events as her line of work…
02:51: Balancing time within work
03:48:  The mix between the proprietary and the third-party portfolio and objectives
06:08: Rachel's view on virtual event strategy versus an in-person strategy
09:28: Choosing the right platform to match your event marketing strategy  
11:03: Exploring traditional marketing, channels that are relevant to generating awareness  
13:22: Organization and marketing team structure
16:08: Rachel's views on having a review platform that will enable attendees to make informed decisions on attending an event
Ankush: Hi everyone. I'm Ankush and the Founder of Eventible.com. The world's first review platform for events and you're listening to the Building Awesome Events podcast. This is the podcast to discuss event marketing with event marketing professionals. Our guest on the show today is Rachel Russell, Field Marketing Manager at Even. Welcome, Rachel to Building Awesome Events.
Rachel: Thank you.
Ankush: Absolutely. Rachel, we've been wanting to do this for so long with you. Pleasure to have you on this show. Let's get started, Rachel. And I'm going to start with, really asking you about how you got into event marketing, and what specifically held your interest when it came to this role, and I was looking at your LinkedIn profile a little earlier, and I saw it prior to Even, you were at Deloitte & prior to that, you were at i4cp, what were the differences between these roles? And the challenges and, so we can talk about that a little bit as well.
Rachel: Definitely. Even before Deloitte and i4cp I actually started in entertainment. I had done some work with Sony Pictures. I actually worked the booth at Comic-Con in 2011 and 2012. And then kind of segueway from entertainment into business.
And when I was at Deloitte, I worked on the Special Olympics world games that we had in Los Angeles, California. And that was in 2015. And I think that was like my first big event, working on a corporate sponsorship with clients, and I just loved the energy and the connection. I knew that events were definitely for me.
And then I was at Deloitte for about seven years before switching over to i4cp. Deloitte was an awesome experience just working on small events are intimate dinners, cocktails, and receptions, all the way to huge all-day meetings and then trade shows, conferences. So that was a really great way just to be exposed to a lot of different types of events.
And then I joined i4cp. For those of you that don't know, it's a HR research company. And we had a big conference that was a proprietary conference that we put on during the pandemic. It was virtual, but in general, when it's, in-person, it's at the Fairmont. And then for that role, it was a lot of virtual events. We did about one event a week I'd Say , interviews with CHROs at Google, American Express. It was great exposure for all of our members.
Ankush: And we will come back to that, especially your success with one of those virtual events.   And we'll talk a little bit more about how you managed to pull that off. And after i4cp you then came over to Even. Is that right?
Rachel: Yes, I did. I joined Even probably like a few months ago, and I feel like that was the time of the great resignation. Everyone's kind of switching jobs, but I absolutely loved it.
It's been such a great experience that the team's amazing. For people listening, if you don't know what it is, it's basically a company that enables hourly workers to access their earned wages before the two-week pay cycle. It has a really great mission that is helping people get out of the red. And I had never really had an organization that had such a profound mission. It gave me a purpose. And so that's why I've truly loved doing events for Even.
Ankush: Absolutely! Outline for me Rachel, a little bit on the kind of events,, the strategy… Overall,  what's the mix between the proprietary and the third-party portfolio, and what are some of the top-level objectives driving this mix?
Rachel: I would say that because Even as a brand is a little less known than Deloitte, for instance, brand awareness is really important for us. Even is more focused on partner events and sponsoring trade shows, and conventions. For us, we do partner events with companies that are maybe more well known, like HR.com did a webinar, and we pulled in ePAL, who's one of our clients. And we did a session with them. And then for the trade shows that we sponsor, we try to reach HR leaders who want to offer the service to their employees.
It's just about getting our name out there but with that said Even is actually going through a merger right now. We are joining forces with One, which is super exciting. It was covered in the Wall Street Journal, Fortune & Forbes. And it's going to allow us essentially to supercharge our mission.
We're going to have an all-in-one financial app where people can save, spend, but then also access their wages ahead of time. That's backed by Walmart and Ribbon capital. With that increase of capital, we don't have the same focus as Even,  I feel like that brand One is going to be more recognizable in the near future as we grow.
Because of this, we're actually looking at a lot of different proprietary events or regionally focused events. Since we're going to have more of a focus on account-based marketing versus at Even  our outlook was all trade shows and conventions in Las Vegas. It will be interesting to see how that pivots.
Ankush: Absolutely. And congratulations, I know it's probably going to be a much busier time for you once the merger goes through. And also some changes to the team as well.
Rachel: The team's going to grow bigger, which is always an awesome thing.
Ankush: Absolutely. Let's go back now and talk a little bit more about when virtual events started, when the pandemic hit us, we are now a couple of years into the whole virtual events scenario. What have you learned from this? And how would you now view a Virtual strategy versus an In-Person strategy? What's your go-to and for what reasons?
Rachel: Yeah, that's a good question. I think it really taught me, I mean, events in general, you have to know how to pivot and be flexible because things happen when you're onsite at events, but even more, that is what the pandemic taught me.
I was at Deloitte when the pandemic hit and obviously the first few months were totally focused on contract negotiations, trying to cancel a lot of our events. But once that was over, it was like, Okay, what now? And I helped facilitate the switch to virtual events for our clients. And I think that there's a really good opportunity to engage more people when you're doing virtual, because you can reach people across, across the world, versus if you're doing like a trade show, it's just the people who came to Vegas.
Rachel: There aren't some positives to virtual on that. But I do think that the in-person strategy is a little different because you are in front of them, and you have their attention. It's not like they have Zoom fatigue and are walking to the other room to do something while they're on your webinar. One of the things that really helped me was finding ways to make it more interactive, even if we had a virtual event.
So the event that was called the Power of Women at the Deloitte on Facebook. And for that one, We brought in a WNBA speaker. We had a performance from the first female beatboxing champion. We shipped gift boxes to all of the attendees, and it had a lot of things that were relevant to that session.
Ankush: In the beginning, one of the things I noticed was that people are very excited that yay I'm going to sit at home in my pajamas. And watch all this cool content. And then it went from there to all of the zoom fatigue, everybody was like, I can't do this anymore. So how did you manage to navigate all of that? I mean, so you had some of these cool ideas and, around programming and giveaways. Did that really work?
Rachel: I think, that with virtual events, you're going to see a much larger no-show rate for instance or less engagement. We started looking when we looked at metrics after the event, in terms of who answered the poll questions, and who commented in the chat, because that's really going to show you their engagement rather than the number of attendees. Just because, some of those people aren't paying attention. It did challenge us to think more creatively about the types of speakers we had for the i4cp virtual conference.
We brought in a vendor called Barista Art, and he creates these custom lattes, anything you can think of for the coffee break. So that was really cool. To break up the day because, people are getting fatigued, and you need to have something fun in between.
Ankush: Absolutely. And from a tech perspective, Rachel, tell me, just because now we have like a gazillion platforms out there.
What's the one you've come to rely on and, sort of, what was the process that, got you there, how did you start looking and, how did you finally narrow down?
Rachel: Yeah. I actually have a go-to for in-person and virtual, if that is okay?
Ankush: You know nobody, we're talking to wants to answer this question. I don't know why.
Rachel: Yeah, no, I agree. I would say for, I'll give you both in person, I love using Boomset. It's this technology that allows you to kind of keep track of attendance. And when attendees come up to our events, they check in on an iPad, and it prints out their name tag in real-time.
All of the attendees are always super impressed. They're like, wow, like what cool technology. Because even if you're just having a 50-person meeting, it just shows that you're like at the forefront of technology and finding cool ways to make your event different. And also wastes a lot less paper. That's kinda nice.
And then for virtual, one of the vendors I was actually introduced to when I joined even was called Postal. It's a marketing automation platform where they handle a lot of different virtual events along with direct mail. They send out like on our behalf to our clients, these really cool gift boxes and do one event , that it's nice to have,  different technology platforms that are your go-to and, they're reliable.
Ankush: Let's now get to the marketing part of event marketing, right. In terms of traditional marketing, how do you create awareness for your events? What are the channels that you think work best around audience acquisition? Working the demand pipeline, is that a cross-functional activity and you pull in resources from other teams, to take the support and help to pull this off.
Rachel: Yeah. It's definitely cross-functional even though we work with sales, marketing and our product teams. So, products will then just because we do demos at all of our different speaking sessions and the booth at the trade shows, but then there's a really big synergy between sales and marketing. And I think that's what you have to strive for an event that is really getting that synergy. I was super lucky at Even that it kind of already exists, and we all support each other. And we had a meet and greet in Austin, Texas, where we got to brainstorm together and different ways to just kind of reach our goals ultimately.
So for our events. I write all of our emails that we'll send out- pre-show and post. And then I send that to our vendor who handles all of our emails. And then I also write LinkedIn and Twitter posts personally. I'm a big fan of LinkedIn, more so than Twitter, both are awesome for reaching a target audience. You never know,  who might see the hashtag and be planning to go to the event or be interested in that topic.
Ankush: I love that, by the way. As a marketer, you do so much writing. I think it's such an important skill, and I would just like to advocate that one more time to all even marketers listening is that you have to write, write, write, and keep on writing. I mean, that is the most important thing, right?
Rachel: Yeah, and I, I really didn't do much writing when I was at Deloitte. It was when I switched over to i4cp that I really had the chance to hone that skill. And I think obviously I enjoyed writing in college and university, but at the same time, there are so many employees at Deloitte that they have people to handle everything. \i4cp was a much smaller company and gave me the opportunity to kind ofown events overall. I had to hone that skill and now utilize that at Even.
Ankush: You write on all this content and, marketing messages and emails and LinkedIn posts. And then, how is your marketing team structure? Is there like a campaign manager who takes it and sort of works with agencies to acquire an audience?
Rachel: We did have campaign managers at Deloitte. So very familiar with that. I had a different campaign manager for every event that I worked on. So maybe one for Workday Rising and the other for NAB Show, but the way it works at Even is that I have someone who focuses on social media and so I provide her with the content, talk with her about the different dates and when would be the best time for release. So that's super helpful.
Ankush: Who's your MVP at Even. Do you want to give a shout-out to someone?
Rachel: I would give a shout-out to my personnel manager, Amanda, Amanda Grinder. Hi, Amanda. She has honestly been the most amazing manager I've ever had in my career. And so fortunate. She did actually different booths and events when she worked at Lyft because our chief marketing officer was also the head of marketing at Lyft, and then came over to the Even, and so she's had that event experience, which is super helpful and really knows what to help with versus when to trust me and let me run with it. She's been amazing to work with.
Ankush: Amazing. So Rachel, if someone wants to join your team, what are some of the key attributes that you look for personally? What's important?
Rachel: Yeah. I think if I'm looking for someone to join the events team in particular, I really look for attention to detail and organization.
I think that creativity is awesome and there are a lot of people that have amazing creative ideas, but I just feel like, with events, there are so many moving pieces that you have to keep track of that you need to be able to focus. All those tiny details because, one box going missing at a trade show, it's going to happen, happens almost at every conference I'm at.
You have to have, painstakingly detailed notes and have the tracking numbers and think to check every little thing. And then also I think personality is really important. At Even I think I went through a two-month vetting process with all the interviews and everyone that I met at my company is very like, has the same goals and values, which is very cool.
Ankush: Wow, 2 month vetting process? I mean, if they've come through that, there must be like really good.
Rachel: That's why I'm like, okay. Really, personality and you don't need to be the same, but you need to have similar values in order to work together as a team.
Ankush: Right. That's totally cool. And my final question is that we're the world's first review platform. And our goal is to help event marketers for other brands with the power of social proof. Really. So, what we've built out is a review platform for events. We felt it was very important for people to read these reviews before making a participation decision at the events that they want to attend. We live in a review economy today.
For everything that you do, you're probably looking at reviews for buying something on Amazon or researching your next hotel on TripAdvisor, your food delivery apps, and it's all around us. So we felt that why should the event industry be excluded from this kind of transparency and reviews?
So, what does social proof mean to you? How important is that in your arsenal? And do you really think your attendees care about it?
Rachel: I think so. I think social proof is super important because you do want the honest opinion of your peers. So kind of how you were saying about, Amazon ratings. I always check Yelp when I go to a restaurant in terms of choosing what I want to eat like I needed to see the pictures and the reviews because I trust what my peers would say rather than maybe what the restaurant is putting out marketing-wise.
And that sounds so bad coming from a marketing person but with that said, you do put more stock in what appears, someone who has attended a conference, what they think of it, because okay here's someone's  honest opinion. It's not them trying to convince me to go. If you can get from a conference perspective, if you can get positive reviews out there, not, not from you, but from attendees, then others will want to attend and know that it's a good conference to go to, but from the attendee side, I actually have been looking on Eventible because I think that if I'm going to go to a conference, I want to make sure it's worth my time , it's worth my money. Yeah. I think it's very important.
Ankush: Absolutely. I agree with you wholeheartedly there, Rachel, and thanks so much for taking the time today to speak with us. It's been such a pleasure, and hope to do it again soon.
Rachel: Definitely, great chatting.
Ankush: Thank you, Rachel.