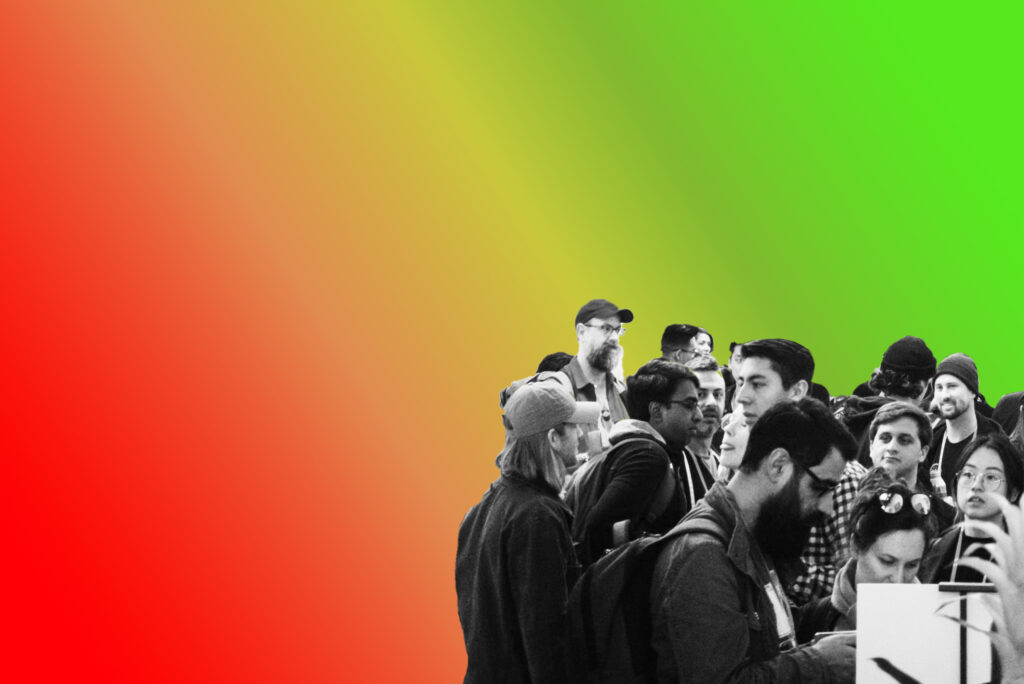 Table of Content
A successful event marketing campaign can drive brand awareness, expand your customer base and increase sales. 85% of business leaders say that events are essential to achieving business success. So as a B2B event marketer, if you want to take your brand to the next level, event marketing should be on your radar. To help you get started, we've pulled together seven best event marketing examples that can inspire you to plan your B2B event.
What Is Event Marketing & Why Is It Important?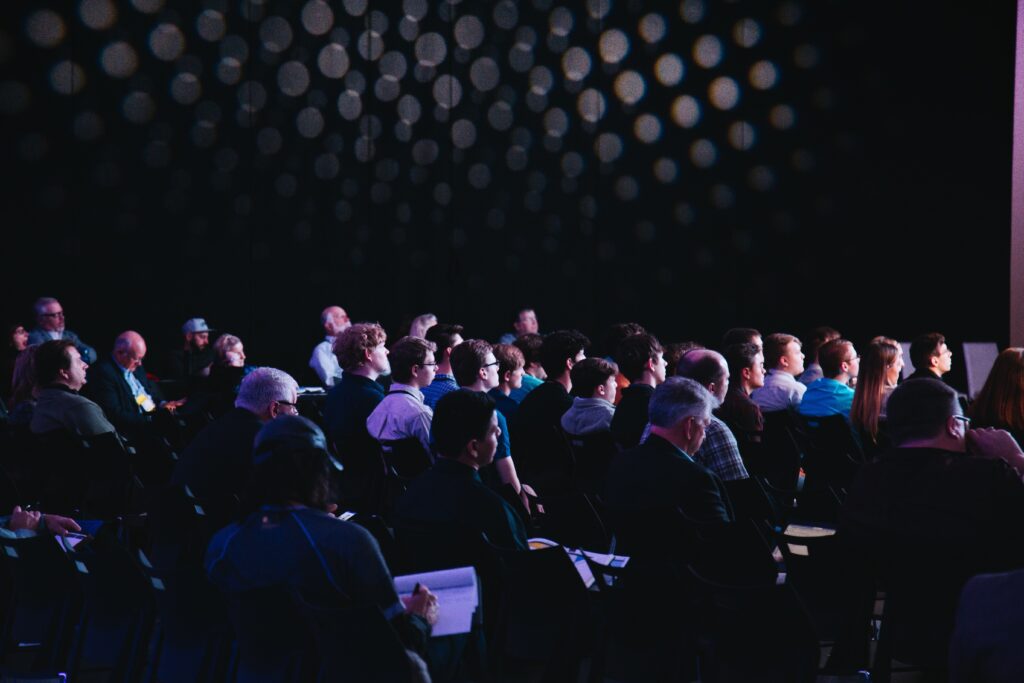 Event marketing allows brands to form direct connections with existing clients, prospects, and target audiences face-to-face through events and experiences. It can be used by both B2C and B2B brands in different ways. Depending on your target audience and business goals, various event marketing plans might work better for your brand than others. Here are a few effective examples of event marketing strategies to take cues from for planning your B2B event!
7 Effective Event Marketing Examples to Help You Get Started
Events are of different types and, needless to say, they each require a unique event marketing strategy. To know about event marketing strategies, read our blog, 6 Best Event Marketing Strategies That Guarantee Success. Event marketers are always looking for ideas to make their events appear extraordinary, the way they did in pre-pandemic times. But to market an event, the event marketers must have a marketing funnel in place to help give the attendees an experience they're looking forward to.
If you're an event marketer and are scavenging for ideas to make your B2B event a hit, then let's have a look at a few successful event marketing campaigns executed by some of the world's top brands.
Benefit Cosmetics: An Experiential Virtual Event Campaign
The cosmetics brand Benefit is well-known for using in-person brand activation events to connect consumers with the brand through hands-on experiences with new products. When the Covid-19 pandemic made in-person events impossible, Benefit pivoted to experiential marketing campaigns in virtual events/online events like its Lash Factory product launch, where the brand utilized Instagram filters, online games, and virtual try-on using augmented reality (AR) to give customers a unique, interactive virtual experience.
The event drove awareness of the new product and created an impact on customers — even during a global pandemic. This is a perfect example of experiential event marketing to drive brand awareness and enhance the attendee experience, which even B2B marketers can incorporate into their events.
Key takeaways: Experiential event marketing campaigns — whether in-person or virtual— can drive customer engagement and sales in the B2B space by engaging with customers and prospects directly. When your target audience can see or experience the product, it builds brand affinity and can help convert browsing to sales. That's why experiential campaigns are an effective event marketing idea, which can also go a long way in building positive brand perceptions!
Cvent Connect: A Learning Event
Cvent Connect is a great example of an Edutech event that focuses on networking, learning, and promoting educational experiences that are designed to help one activate their brand, no matter what the size. Using learning events to bring delegates together, Cvent is an annual event industry conference in Las Vegas that offers marketing, technology, and hospitality professionals over 100 sessions of hands-on learning, technology insights, and networking opportunities. Events like Cvent Connect are great for facilitating learning and making valuable new connections.
To get a glimpse of some real attendee experiences visits the review page of the event on Eventible here.
Key takeaway for B2B marketers: For B2B brands, looking to become industry thought leaders, creating learning events that center around a specific topic can be just the right strategy. Offering value-added learning events gives attendees a concrete service — namely, knowledge — which is useful and creates a positive view of your brand.
Oracle CloudWorld: User Conferences
A picture of a conference from Oracle Cloud World 2022
Oracle CloudWorld is an example of a user conference; that is an event gathering of industry influencers, titans, and thought leaders — all of whom come together around one specific industry theme or topic for various in-person activities, including breakout groups and talks from special guest lecturers.
Key takeaways for B2B Marketers: Bringing users together creates meaningful connections and critical mass around a particular topic. User conferences build authority within vertical sectors and are a catalyst for bringing the best minds together under one brand. Companies can position their brand as an industry authority by leveraging the power of user conferences.
Lean Startup: Networking Events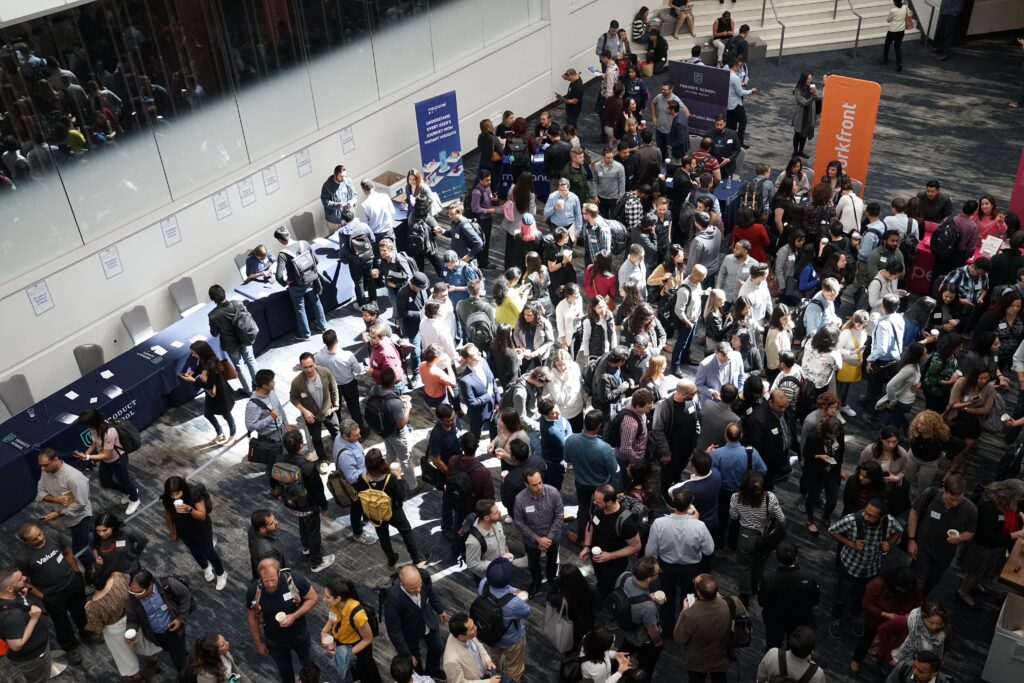 Some events are purely networking events, which exist to bring people together without other types of content. At networking events, you won't find breakout groups or learning sessions, but instead, a space that brings relevant professionals together to get to know one another, discuss, share ideas and collaborate in business.
A great example of such an event is the Lean Startup Networking Events, which takes place in various locations around the world. The organization is dedicated to facilitating valuable connections among relevant businesspeople and has built a brand for itself through its recurring events over the years.
Key takeaway for B2B marketers: Networking events help brands position themselves as connectors. Organizing networking events demonstrates expertise in a specific area of business and the company's ability to connect the right people in the business world. In-person networking events are a great way for B2B companies to get people together in a meaningful way. With 80% of professionals saying that networking is crucial to their career success, hosting networking events can be beneficial to your brand, raising its perception as a business connector.
Spotify Diversify: Recruitment Events
Events can be used not just to market to end users and consumers, but also to recruit potential talent. Spotify's Diversify event was one such example. The leading music streaming service invited students of diverse backgrounds to gather and write code, design, as well as make connections during a weekend event in Stockholm. These students or potential job candidates were also given a platform to ask relevant questions related to the industry. Meanwhile, businesses too got the chance to scout for potential candidates to join their teams.
The event successfully welcomed people from different backgrounds (including women, who are underrepresented in the tech industry) to Spotify to showcase their talents in different areas. The result of Diversify was that it cemented Spotify as an inclusive workplace focused on diversity.
Key takeaways for B2B event marketers: One might consider hosting an HR-related event designed to attract top talent. Using events like these can also be a great way to draw qualified candidates to your business while promoting the message that your company is inclusive and committed to diversity.
Apple Worldwide Developer Conference: Product Launches
No event list would be complete without the mention of the eponymous Apple Worldwide Developer Conference (WWDC). Hosted by the technology giant since 1983, WWDC brings together some of the most influential minds in the technology industry and generates buzz for its new products by revealing them at this exciting annual showcase. The event includes numerous value-added activities, such as keynote speakers, co-team stations, hands-on developer labs, and networking sessions.
Key takeaways: For businesses aiming to launch new products while building industry leadership, a product-based conference that brings the best minds in business together to collaborate can be just the event to increase brand value and domain expertise. Such events also host conferences that offer a guest speaker panel packed with impactful, informative speakers. Such conferences take, a great deal of time, effort, and investment to organize but they pay dividends.
Google's CES 2018: Trade Shows
Caption: A gumball machine installed as part of Googles CES trade Show 2018
Known for its creative ideas, Google always comes up with some of the most innovative events. One such event was Google's CES Trade Show (2018 edition) which had the brand set up a huge booth with a few interesting imaginative features. People reportedly loved it for its jokes and exciting gifts. While not every company may be financially equipped to install such expensive machines at trade shows, they should still attempt at going big with their ideas as per their budget.
Trade show booths are a great way to garner attention and keep attendees interested. For instance: companies can install enormous TV screens, giant pictures, photo booths, or merchandise as per their respective theme. Sometimes event attendees are obligated to spend a certain amount of money at these trade show events, so this way even organizers can bear the expense of setting up such booths. Trade shows are a great way to showcase what's trending in one's industry and can turn out to be both fun and beneficial for attendees if done properly. Creative and successful trade show ideas help companies attract more foot traffic, grow brand awareness, and raise event ROI.
Other Types of Event Marketing
As mentioned, there are many event marketing ideas one can choose from. From the examples above, you must have realized the different types of event marketing strategies. However, there are other types of event marketing ideas as well, which are as follows.
Pop-up installations
Hosting a pop-up shop or pop-up experience is an exciting way to connect with consumers through experiences. A recent Forrester Research study finds that over half of all consumers consider in-person shopping a key element to completing their purchase journey.
Typically, pop-up shops are the domain of consumer-facing brands, like the Kylie Cosmetics pop-up in Los Angeles. However, B2B brands also stand to benefit from pop-ups in relevant contexts. For example, a branded pop-up coffee stand at a top tech conference can be a huge marketing opportunity for a smaller tech brand looking to scale.
Lunch & learn
Adding value for your customers and prospects is always a great way of increasing your pipeline. With lunch and learn events, you're doing just that — offering your target audience useful information about a particular topic that's important to them, all while generating leads and fostering connections. Email marketing often plays a key role in raising awareness of lunch & learn events.
Charity walk, swim or run
Hosting charity fitness events is a great way for non-profit organizations to get out in front of potential donors and partners. For example, the Susan G. Komen organism's annual Race For the Cure made a name for the charity as a leader in cancer research funding.
However, private sector companies can also benefit by sponsoring a charity run or walk, like JP Morgan Chase sponsors an annual charity run, which supports the Thomas G. Labrecque Foundation in its mission to prevent lung cancer.
Key Elements of Event Marketing
Regardless of some elements, they are important to have in place to ensure that your event is a successful one. Here are five key elements that every event marketing campaign should pay attention to:
Messages: Ensure your messaging cuts through clearly so that attendees understand what your brand is about and how it connects to the event. You can amplify your message using social media, particularly event-specific hashtags.
Product or service showcase: Your business proposition sits at the heart of your event. Make sure that audiences leave the event with a clear takeaway of your business USPs.
Clear objective from the outset: For each event, consider what your organization wants to achieve from the outset. Are you looking to gain new customers, awareness of a new product, or build your brand as a leader in space? Whatever your area of focus, make sure that your objectives are clearly defined from the outset.
Follow-up afterward: Don't lose valuable leads! Maximize connections and opportunities by following up with each attendee afterward to find out how you can add more value to their business. The more value you add the more value you bring to our brand.
Post-event evaluation metrics: As with any marketing campaign, measurement is everything! Make sure you have your marketing metrics in place so that you can evaluate your event's performance within the overall marketing funnel. The real data learnings from one event can be brought forward to improve the next.
Having all the right elements in place is your ticket to hosting events that draw in new customers and add value — so that everyone wins!
To Sum It Up
If you're someone who is trying to get started on your campaign, we hope these event marketing examples have nudged you in the right direction. While many event marketing examples, no matter how popular, may come across as wildly expensive, it's still possible for you to devise event marketing strategies that are unique to your brand and business. Just keep in mind the 5 key elements of event marketing while planning your campaign and you're sorted!
For all news related to events, don't forget to visit Eventible where we track the world's largest pool of event attendees and professionals who are looking for the best events to attend. We bring in transparency to the event world through our authentic reviews, which act as social proof to help event marketers further their brands.
---