Eventible releases its list of 'Top Event Marketers in North America' for 2022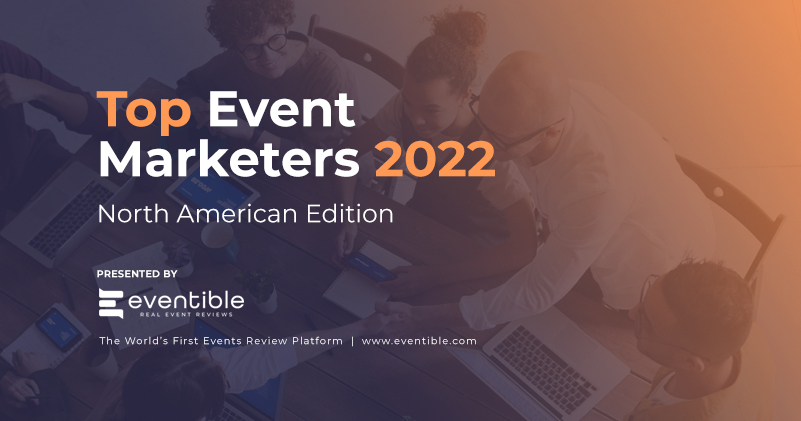 Tuesday 8th March: Eventible, the world's first review platform for events, is thrilled to announce its list recognizing the Top Event Marketers in North America. The fourteen professionals chosen to be on this list were selected on the basis of executing challenging event campaigns and projects through 2021.
Speaking about her experience, Liz Caruso, CEO & Chief Event Strategist, Liz King Events, says: "2021 really gave us the opportunity to try new ways of engaging audiences before, during and after so we were able to extend the lifecycle of our events and really make an impact!"
Alison Bensch, Senior Director of Global Events, Cloudinary, while speaking of her biggest challenge says: "The biggest challenge was in keeping event attendees engaged virtually. People are subjected to so many Zoom meetings — you need to offer something of true value if you are going to convince them to volunteer for more screen time."
Another crucial challenge she highlights is that of creating an event strategy against the backdrop of uncertainty. "I have seen industry colleagues invest resources in planning in-person events, only to have to rejigger in the final hour. I made the decision from the onset of the year to plan for virtual events, given our small team and resources. This allowed us to create more effective and engaging virtual events from the start and maximize our budget," Bensch adds.
Prominent names that made it to the final list include Traci DePuy, Head of Global Events, Salesforce;  Samantha Calle, Associate Director, Xandr; Nicola Kastner, Vice President – Global Head of Event Strategy, SAP, and many more. For the complete list and a rundown of their achievements please visit the page at TOP EVENT MARKETERS 2022
"Fierce. Relentless. Inspiring. Just a few of the words I would use to describe the honorees for our 'TOP EVENT MARKETERS of NORTH AMERICA' program for 2022. No coincidence then that all 14 are women, this is something that I didn't expect at all when we opened nominations and now it explains everything! Therefore, on the very apt occasion of International Women's Day, I am so pleased to recognize & share these immensely talented marketers and event professionals with the world," says Ankush Gupta, Founder at Eventible.com
Ankush goes on to add, "2021 was a year filled with challenges, the pandemic seemed to ebb and flow, virtual event formats tried to morph back into in-person formats and back to virtual as cities around the world grappled with newer waves of the pandemic. Through this environment, our honorees refused to buckle, raised their game – as all champion players do – and through sheer force of will and a little side of luck, came through. I do hope that their stories will show you that tough is just another bump to get over and inspire marketers to reach ever higher."
For Press inquiries, please contact:  
Ranjana Konatt,
Managing Editor, Eventible