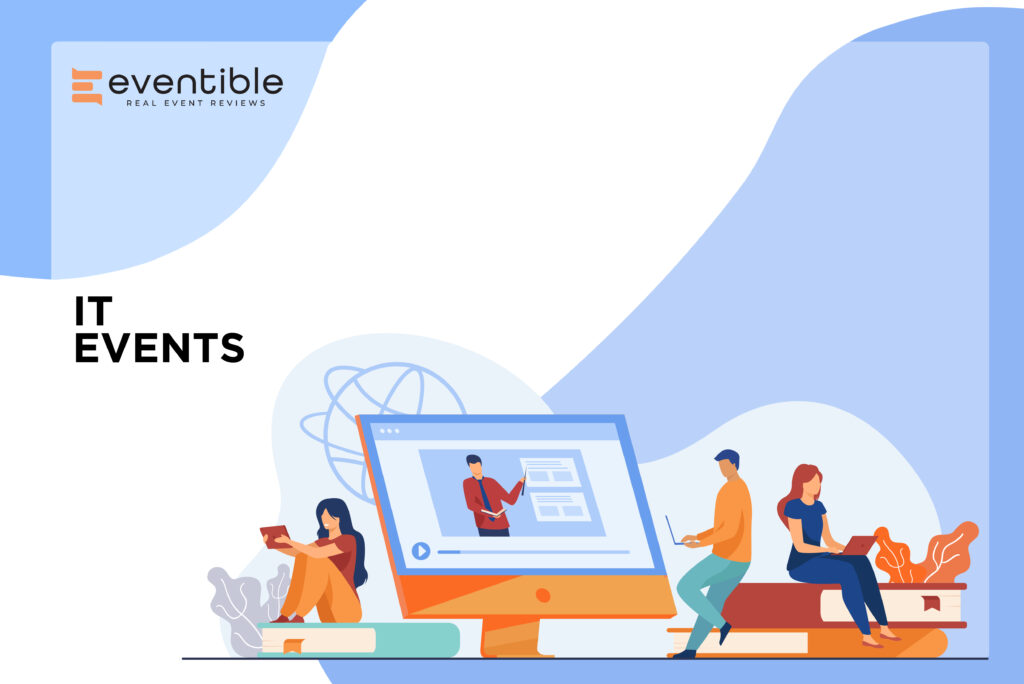 Eventible's Top IT Events For Sept-Oct 2021
Date: 2nd September
Event Type: Virtual
SaaStock APAC 2021 brings to you their awaited SaaStock APAC Conference this September. In this 3 hours virtual live conference, you will be exposed to the ABCs of Saas, various strategies, and specially curated content all about Saas all from credible industry leaders! You will also have ample networking opportunities as well as a space to scale your business more than you can imagine. Register and tune into SaaS today!
Dates: 6th and 7th September in London & 13th – 15th September virtually.
Event Type: Hybrid
AI & Big Data Expo welcomes attendees from all over the world to a hybrid event experience this September! Not only will you be exposed to cutting-edge technology from more than 125 exhibitors but also learn, share and grow along with AI and Data professionals, gain insights from over 100 speakers, and more! Register and see what's more in store this season only at AI &Big Data Expo.
ODSC APAC Virtual Conference 2021
Date: 15th and 16th September
Event Type: Virtual
ODSC APAC brings forth a virtual experience this September for all Data Science professionals and enthusiasts! Wherein, you'll be able to access multiple tools and frameworks that are hyped in the industry right now. Along with that, you will be able to participate and train in over 20 workshops with the help of industry professionals, learn from the experiences of over 50 speakers, and network along with 1,500 attendees.
Date: 17th – 19th September
Event Type: Virtual
Data Con LA gathers all data and technology enthusiasts under a virtual roof, on their 3-day annual conference. At this conference, you will learn and experience everything that is concerned with data and technology alongside all data and tech professionals. Through various activities and speaker sessions, Data Con hopes their attendees leave with a bountiful experience. That's not all, Data Con also provides them with ample networking opportunities and keynote's from speakers such as Eric Garcetti, Mayor at City of LA & Ambassador Elect to India to Francesca Lazzeri, Principal Data Scientist Manager at Microsoft.
Date: 20th – 24th September
Event Type: Virtual
London Tech Week announces its annual 5-day virtual tech conference. At London Tech Week you can expect variants of panel discussions, workshops, keynote sessions, Q&A's and more… all discussing the vital role of technology on society as well as an emerging tech in the space! You can also expect networking and collaboration opportunities with all tech professionals from the industry and esteemed speakers such as Hillary Rodham Clinton, Former US Secretary of the State, Alex Mahon, CEO, Channel 4, and many more!
The Black Is Tech Conference 2021
Date: 20th – 24th September
Event Type: Virtual
Back again in 2021, The Black Is Tech Conference presents to you a 5-day virtual experience, where tech meets culture. A platform for all Black and LatinX professionals, entrepreneurs, and enthusiasts all over the globe, to connect, share and learn from one another's experiences and expertise. Not only that, The Black Is Tech platform entails, various speaker sessions and keynotes from esteemed professionals from the industry, workshops, recruitment opportunities, competitions, and more. The highlight of this conference being not just the learning and networking segments but also a week jam-packed full of entertainment for all the attendees to enjoy!
IoT Tech Expo North America 2021
Date: 29th – 30th September
Event Type: Virtual
IoT Tech Expo taking place online this year brings forth their 2-day conference and exposition for all technology professionals to explore the latest innovations and strategies used within the industry. On these two days, attendees will be able to attend various segments like speaker sessions, Q&As, networking opportunities, and more. IoT Tech Expo has carefully handpicked over 250+ speakers to impart all technology and industry space knowledge, discussing topics such as IIoT & Smart Manufacturing, Cloud Computing, Connected Fleets & Smart Logistics, and so much more!
Date: 27th – 29th September
Event Type: In-person
Back in-person, this year Code brings to you a 3-day invite-only conference! At Code, you will be discussing the role of tech in today's world through various speaker sessions, reboot workouts, code programming, and more. To top it off Code will also host its signature Red Chair interviews along with names like Elon Musk, Satya Nadella, Ted Sarandos, and so on.
Date: 27th – 29th September
Event Type: In-person
In-person once again! SaaStr presents its 7th Annual conference in the SF Bay area. At this 3 day conference, you are ensured to experience fun and learning in no other ways you've experienced before. Packed with three themes for each day, 100+ sessions including workshops, roundtables, one on one sessions, 500+ networking sessions, and more. The fun doesn't end there, SaaStr has invited 300+ VCs and Investors, 200+ Speakers, to meet, pitch and learns together all under one roof.
Date: 27th – 30th September
Event Type: Hybrid
Connecting the open source ecosystem under one roof, Open Source Summit invites all developers, architects, and other technologists – as well as the open-source community on a 4-day summit. At the summit, you'll not only collaborate and learn about the latest technologies and topics all about AI, cloud, and tech in general but also, grow your connections along with the community.
Cyber Security & Cloud Congress 2021
Date: 29th and 30th September
Event Type: Virtual
As the name suggests, Cyber Security and Cloud Congress are all focused on cyber security and cloud. Gathering all industry professionals from the space, Cyber Security and Cloud Congress imparts its attendees with many opportunities for learning, networking. Discussing topics such as privacy & CCPA, tenants of CISO success, cloud security, and much more. Not only this, but at this conference, you will also be able to promote and showcase your brand and products to give your business the boost it needs.
Date: 28th – 30th September
Event Type: Virtual
DevOps World gathers all professionals of the software delivery ecosystem on a 3-day virtual experience. At this conference, you are bound to learn and evolve your expertise through the various workshops and product demos, hear esteemed speakers discussing many software delivery topics as well as their experiences in the industry, Q&A sessions, and more. DevOps has a dedicated segment for the keynote speaker, Steve Wozniak and to add to this ample networking opportunities!
Date: 29th and 30th September
Event Type: Virtual
This year, AI & Big Data Expo brings together its 2-day virtual conference for all IT and tech professionals and enthusiasts from all over the world. At this expo, you will come across cutting-edge technology, learning all about the AI and Data space from over 500+ senior speaker sessions, networking sessions, and more! Some of the topics that will be covered include, Artificial Intelligence, Business Intelligence, Big Data & Analytics, Deep Learning, and so on…
Date: 5th and 6th October
Event Type: In-person
This season, Connect:ID brings the world of identity under one roof. A conference and exhibition that aims to educate and showcase everything about identity solutions. Connect:ID has scheduled various speaker sessions, panels, and keynotes featuring professionals like, Aneesh Chopra, President, CareJourney, Christiane DerMarkar, ICAO TRIP, I.C.A.O, Benji Hutchinson, President, NEC Corporation of America, and many more…
Date: 5th – 7th October
Event Type: Virtual
VM World presents a premier multi-cloud event for all tech and IT professionals. Along with two thousand peers, you will explore various topics such as delivering modern apps and how to secure them, managing clouds in any environment, how to accelerate business innovation from all your apps in a multi-cloud world, and more. Including multiple speaker sessions, hands-on lab sessions, consultations, demos and meet and greets with handpicked tech experts VM World caters not only towards learning but also innovation and entertainment of their attendees.
Date: 12th – 14th October
Google Cloud Next invites IT and tech professionals to its annual conference. At the conference, you will explore content all focused on cloud, data, and tech. With the help of various break-out sessions, hands-on training and learning, the latest tech demos, and more Google Cloud next give its attendees the opportunity to learn from dynamic industry leaders and Google developers. AI (artificial intelligence) and ML (machine learning); application development; business application platform; diversity, equity, and inclusion are some of the topics in the spotlight.
Date: 18th – 21st October
Event Type – Hybrid
SuiteWorld reunites with all tech and IT industry leaders and professionals at Caesars Forum in Las Vegas. At this conference, you will experience tech and entertainment all under one roof. With over 9 curated sessions ranging from asking the experts to roundtable discussions, SuiteWorld has covered it all. The cherry on top? networking and learning from industry names like Evan Goldberg, Founder and Executive Vice President, Oracle NetSuite; Richard K. David, CEO, Make-A-Wish Foundation, and many more…
Date: 25th – 27th October
Event Type: Virtual
This year, Ganter IT Symposium/Xpo aims to guide all CIO's and IT professionals to expose the latest trends topics and innovations within the digital business industry. Discussing various tracks like Technology Innovation, Business Strategy, and lastly, Leadership. Garter encompasses a wholesome approach to learning with the help of multiple speaker sessions, demos, signature series sessions, and keynotes from Dylan Alcott, Paralympian, and many more.
Date: 26th – 28th October
Event Type: In-person
In association with CTIA, MWC Los Angeles returns in person to share the latest topics and explore the hottest technology themes relevant to the future. At MWC, you will explore themes such as 5G Era; Disruptive Innovation; IoT Connectivity and Telco Cloud through various speaker sessions, GSMA programs, networking sessions, and keynotes from Meredith Attwell Baker, President, and CEO, CTIA; David Christopher, Executive Vice President and General Manager –5G Ecosystem Development, AT&T Communications, LLC and many more.
Date: 26th – 28th October
Event Type: Virtual
If you are a coder, a startup or an enterprise that consumes or provides multiple APIs, API World is the event for you. With the theme, The API Economy & API-Centric Company this year API World aims not only to educate but to expose attendees to the latest version of technology and innovation. Ample workshops, Hackathons, breakout sessions and keynotes from Alan Glickenhouse, Digital Transformation and API Business Strategist, IBM; Anusha Iyer, Co-founder and CTO, Corsha; Chris Simkins, CEO & Co-Founder, Corsha are what makes API World an innovative experience.
Date: 13th – 14th October
Event Type: Hybrid
Combining 3 world-leading brands together, World summit AI returns for its 5th anniversary. At this "super summit" startups, entrepreneurs, AI and tech leaders and enthusiasts gather and learn, collaborate and share their expertise and experience. Including panel discussions, startup stories, workshops and more WSAI create an entertaining and educational experience for all.