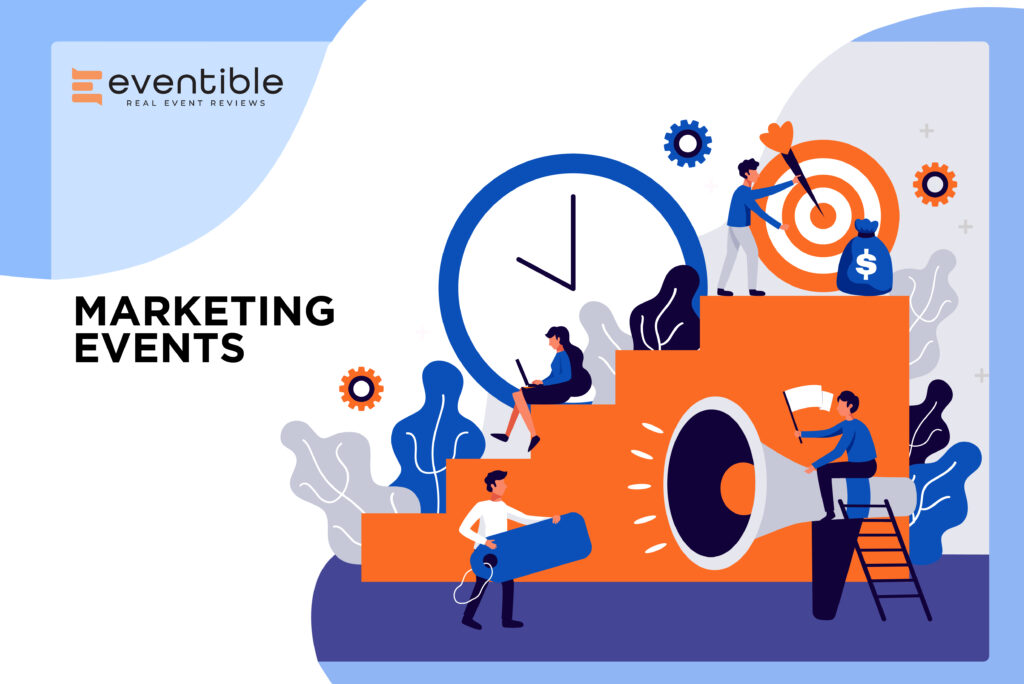 Eventible's Top Marketing Events For Sept-Oct 2021
Date: 7th and 8th September
Event Type: Hybrid
DMEXCO presents to all marketing & tech professionals a 2-day hybrid event experience. At DMEXCO, attendees will be exposed to seminars, debates, masterclasses and more…all focused on marketing and innovation. It doesn't stop there, you will also have a space to network and branch out to all industry professionals and have an insight into the experiences of over 400+ speakers, that you can choose to attend!
Date: 15th and 16th September
Event Type: Virtual
DigiMarCon invites all digital marketing professionals on a 2-day online journey. On this journey, you will uncover all the latest technology, tips, tricks and insights from thought proving speakers as well as, all industry professionals. To add to this, DigiMarCon also gives ample opportunities to network and grow your connections for you and your business. You are ensured to walk away with, smart strategies, actionable tactics, eye-opening inspiration, and real connections with the people who are shaping the future of digital marketing.
Dates: 21st – 23rd September: Americas, Europe, Middle East and Africa
22nd – 24th September, Asia Pacific
Event Type: Virtual
Dreamforce invites attendees to its global family reunion through a 3-day online experience available exclusively on Salesforce+. Where you'll not only be exposed to all things marketing but also get a deeper insight into current technologies. Gather together to connect, share and inspire each other through experiences, practical gatherings and more!
Date: 22nd – 25th September
Event Type: Hybrid
Calling out to all digital content creators and brands in the personal finance space! FinCon does not just bring a hybrid conference but a community where one can learn, share and grow together to develop themselves into a content creation professional. With plenty of speaker sessions, roundtables, meetups and more…FinCon is jam-packed with all the information and networking opportunities that you need to progress. But It doesn't end there, keynote speakers such as Jaspreet Singh, Founder of Minority Mindset and Vanessa Van Edwards, National Bestselling Author & Founder of Science Of People will also be present as the keynote speakers of the conference.
Content Marketing World Conference & Expo 2021
Date: 28th September – 1st October
Event Type: Hybrid
Content Marketing World calls out to the content marketing community on a 4-day hybrid experience! An experience so wholesome and informational that you will return to your work, refreshed and full of ideas and strategies that'll help you and your company grow. With over 100 sessions, workshops and more all focused solely on marketing and content creation. Not only that, but CM World also offers a variety of keynote sessions and networking opportunities with ardent professionals from the industry.
Date: 12th – 14th October
Event Type: Virtual
INBOUND calls to all marketing and industry professionals on a 3-day virtual immersive experience. At INBOUND, you are bound to expand your circles, reinvigorate your passions and learn something. On this 3-day event, you'll go through multiple live sessions, keynotes, meetups, and more. With a specially curated list entailing names such as Oprah Winfrey, Dharmesh Shah, Hasan Minhaj and many more!
Date: 14th October
Event Type: Hybrid
Digital First invites all marketing and tech professionals in person on 14th October and online on the 15th. As the name suggests, Digital First is an event-based around all things digital. As an attendee, you are bound to experience and test new technology within the space, learn from a handpicked list of speakers and lastly, connect and collaborate with peers from the industry.
Advertising Week 2021 – New York
Date: 18th – 21st October
Event Type: Hybrid
Advertising Week gathers advertising and marketing professionals and enthusiasts on a unique 4-day hybrid experience. During this week, you will not only find interesting topics to educate from but also have an entertaining experience all throughout. With over 500+ speakers- sharing their insights and expertise, interviews, Q&A sessions and more. With a focus on brilliant creative work, technology advances, consumer research and media transformation, Advertising Week hopes to create an immersive wholesome experience for all.
Date: 19th and 20th October
Event Type: Virtual
Coming back this year, for its 5th Annual conference, ImageCon comes online for a 2-day themed experience. At ImageCon, visual media artists from all over the world come together, to share, collaborate and learn more than just visual media. You'll be able to uncover industry trends, image and video management, and best practices for getting the most from Cloudinary products. With the help of various speaker sessions, a keynote from Bombas Co-Founders David Heath and Randy Goldberg, product showcase, customer stories and much more!
Date: 20th – 22nd October
Event Type: Virtual
Button, the content design conference will be available online this year. On this 3-day you can especially focus on topics such as content design, UX writing, and product content strategy. Not only this, Button provides a wholesome experience with the help of various meetups, group discussions, live Q&A sessions, and more. You can even network through Button's Slack community and access videos on demand for the whole year!
Date: 21st and 22nd October
Event Type: In-person
All performance marketers are invited to LeadsCon 2021. On this 2-day in-person conference, you will learn from executive-level speakers who will provide new strategies and unique insights to start nurturing and converting more quality leads, next-gen tech and trends, ample networking opportunities, exposition, keynotes and more.