Virtual events need event organizers to work even harder on matching attendees to the right speaker sessions and product vendors. AI can surely help!
2020 turned the events industry on its head with everything known to be business-as-usual being flipped to drive the new normal of virtual conferences. A majority of the leading events for the Marketing, HR, IT and Finance professionals transformed to their online entities to accommodate the attendees who had signed up. However, event organizers found only over half (54%) the registrants converted to virtual attendees, even though 80% admitted they reached a wider audience. In the light of both these stats, the glaring question is, have the event organizers targeted the right attendee personas for their event.
The world of virtual events can be a challenge in itself. While organizers maybe pleased with their innovative campaigns that have driven registrations, actual attendee presence may not match the registration numbers. A challenge more unique to virtual events than in-person ones. The reasons could be many, but here we are delving into why organizers need to accurately match attendee personas with their events for a better ROI on their extensive event management efforts.
Why Event Organizers Need to Target Right Attendee Personas
Matching attendee interest with event sessions is bound to enhance their engagement with your event and further make them open-minded about networking opportunities and sponsor meetings. As an organizer, your aim should be to align every stakeholder from attendees to sponsor-exhibitors to speakers and their sessions, as this will ensure retention and growth of your marquee event in the long run.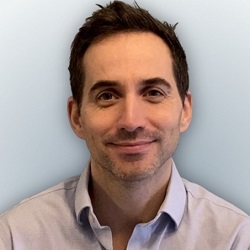 Luke Bilton, former VP of Digital at Informa and presently Chief Growth Officer at ExpoPlatform, a SaaS-based AI-powered event platform that matches attendees, exhibitors and event sessions seamlessly, says, "It's critical for event organizers to match people with products and content than just people, which is often the case with matchmaking just networking at events. Attendees are searching for product categories at events and not companies. So, a products-first and company-later approach can ensure exhibitor and attendee ROI."
Bilton adds, "Often registration data maybe faulty, as many may not do so with the accurate credentials. If AI has to work, organizers must ensure they have enough data to build out personas and make the algorithm useful. This comes with longer term experience as an organizer for the event you are working on and then driving your tech stack to align the marketing automation to match the right individuals with the right events."
How AI Helps with Attendee Matchmaking
Today, several event management platforms are including AI-driven features for aiding event organizers with large-scale event production tasks right from planning, ensuring attendee engagement, triggering session information and more and enhancing the eventgoers experience. AI is being built into live event workflows, as it helps organizers process vast amounts of data for better insights into attendee interests. This can then be used to help attendees find the most preferred session, fireside chat or workshop based on their goals.
Going forward, chatbots can be expected to mine attendee data from their social media comments on events and tailor the event schedule for a great experience, while triggering ads and mails for targeted outreach. Many bot software like ZOE, Bot Academy, PubNub have been used with live entertainment events and have the capabilities of integrating with event tech platforms. Many event management software today, incorporates AI into their offerings for improved networking opportunities for attendees by matching attendee interest and intent data. They also add features like aligning vendor offerings with attendee needs, so sponsors are satisfied with the prospects visiting their booths.
Some even have the features that can factor in spur-of-the-moment reactions during speaker sessions or informal meet-and-greets and throw up recommendations for the attendees. The richer the AI feature to grasp attendee nuance, the more advanced the suggestions or matches it makes.
A good event management platform will have AI working to gather data inputs from attendees, vendors and speakers even after the event is over to measure the ROI for the event. Deployed at the point of a just-concluded event, the feedback can grab the most accurate information than at a later date, when attendees may not be so receptive to responding to surveys. This then forms your dataset for the next edition of your annual event.
Conclusion
Remember, as an event organizer or event professional, your core purpose is to create noteworthy experiences for attendees, speakers and sponsors. This then entails connecting attendees with one another, speaker sessions and sponsor vendors that add value to their professional growth and help them achieve their event attending goals. Even for speakers and vendors, who with a great match of attendees are charged to share more in terms of insights, product knowledge and best practices
AI-based event matchmaking ensures high levels of engagement for all and leading to a greater success rate for your event be it virtual, in-person or hybrid formats.
So, talk to your event tech platform vendor today to know your options to make your virtual, in-person and hybrid events thrive with perfect attendee-event matchmaking based on data. And remember, the better data your AI-based event management platform gathers, the sharper and edgier your event planning strategy gets to fetch you the maximum ROI from your organizing efforts!