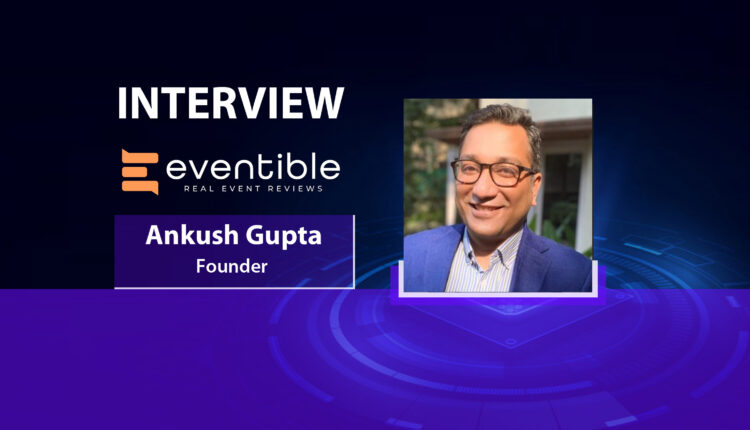 MarTech Series Interview With Ankush Gupta, Founder at Eventible
Ankush Gupta, Founder of B2B Events Review Platform – Eventible shares his thoughts on the evolving B2B events industry while talking about the key triggers that inspired him to create a first of its kind solution for the global B2B events industry:
Tell us about your professional journey, Ankush, how did it lead to the conception of an event reviews platform like Eventible?
As long as I can remember I loved creating things and the whole make & hustle process – in college I sold mix-tapes and CD's right before the likes of Napster got in – I later set up a successful niche recruitment firm, an online jewellery company – all before finally landing a steady marketing job with the TATA Group – one of the world's largest business conglomerates.
While at this company, I was fortunate in the sense that they had a very aggressive marketing budget and it allowed me to try out a lot of things very early on, from blogging to being an early advertiser on Facebook and LinkedIn to creating a global event series – so the whole trial and experimentation culture was sort of ingrained in my thought process. Quickly iterate, see what works and hold on to it until it breaks!
After close to a decade with this organization and leading its marketing team, I moved to a smaller marketing agency and was able to utilize all of this past experience to create B2B media brands in the marketing and HR space that were fairly successful – and as a validation of this I was shortlisted to the Publisher of the Year category by DigiDay! I think once again what worked was the whole process of building and shipping quick – seeing what works and just amplifying that.
While I had re-invented myself as a publisher, I was fortunate enough to attend several major business conferences in the US like Dreamforce, which is THE event for marketing geeks – during this time I realised that while I had spent a lot of money for travel, attendance tickets, Airbnb accommodation etc. – I had no way to tell if the event would work for me or not prior to attending the event. The only material I had on hand was the marketing material from the event companies themselves.
That was really the first trigger to start thinking about how events could be more transparent and what a better way to discover the best events would start to look like. And during the pandemic triggered lockdown, when I set about to look for good virtual events to attend, I couldn't really find a framework to create a short-list, and it just took too much time to get peer opinions and conduct research.
This led to the creation of Eventible – a platform where event attendees contribute their reviews for the benefit of their peers and our scoring algorithm then surfaces the most loved events to the top of the pile for a given category.
Marketing Technology News: MarTech Interview with Vladimir Poletaev, Chief Marketing Officer of Generali Global Assistance
How do you perceive events today in this marketplace, how have you seen the approach to this channel change?
I saw events as a very viable, very focused way to learn about new subjects – to be on the cutting edge of the knowledge flow – and where in person events were concerned – the main motivation for me was the opportunity to network and move the needle on the brands I was working with.

The events industry has always been very competitive and for an event brand to survive and sustain itself the programming has to be spot on – most often than not event programmers do a great job of adding topics that people want to learn about or should be learning about.
But again, in my personal experience, the way in which I found events to attend was very random and not a deliberate effort – sometimes a marketing message from an event organizer showed up in a newsletter, or on my LinkedIn feed and I decided to check it out.
That was another piece of the puzzle we wanted to address with Eventible – creating an match-making process which works for you to give you consistent and data driven event recommendations so you spend more time on taking in the knowledge flow from events rather than worrying about how to find the best events for your need.
What are some of the key capabilities of the Eventible platform that you want to highlight today?
CIOs, CMOs, CSOs, CISOs, CPOs have always looked at industry events to speed up learning and upskilling for their teams. We are just making the process of choosing the right events for various learning needs of team members easier for them and more importantly making it data-driven like all of their other decision-making.
This way they know the ROI they have achieved by sending their teams to various events. Besides this, the C-suite themselves can gauge the best speaking opportunities they can have for the brand building of their companies.
We also take in reviews from event sponsors, and those data points will be immensely helpful for the C-suite stakeholders in deciding where the flow of their marketing dollars should be and taking a data driven decision which is likely to yield more successful sponsorship outcomes.
What's distinct about Eventible's scoring system? Can you elaborate on the various parameters it factors in, considering event experiences are very subjective and difficult to assign value to?
While all events are unique and event experiences are very subjective, there are certain features almost all events have in common. By asking the attendees to focus on these commonalities, we are able to calculate an Eventible score per event that lets future event attendees make better decisions about which event is the right event for them.
Our algorithm takes the information provided by the reviewer and calculates an average score per reviewer taking into consideration their likelihood to recommend the event, their overall event experience, as well as their specific online or in-person experiences.
The Eventible score for the event as a whole is a weighted average of these reviewer scores. Reviews that contain more information about the event are weighted more heavily than reviews that provide little information.
Marketing Technology News: MarTech Series Interview with Bichoï Bastha, Chief Revenue and Business Officer, Dailymotion
How do you see Eventible adding value to individual attendees, businesses, sponsors and organizers?
It's very clear that our primary goal is to help attendees find the best events for their needs – this will allow them to save on their time and create an efficient mechanism by which they see which the top events are, attend and reap the learning & networking benefits. The attendees can opt to sign up for our category specific newsletters which will match them with upcoming and top rated events they must try and attend.
Similarly, for sponsors of events, we believe that our rich data and subsequent research reports will make the process of picking events to attend more data driven. This will create efficiency and ultimately help sponsors divert their dollars to the events which have the best chance of returning a good ROI to them.
Finally, we want event organizers to be our partners in this entire endeavour, we want them to understand that transparency and voice of their customers and attendees coming through on our platform is a good thing. The same change swept across the software and SaaS industry when review platforms like Capterra, GetApp, and Software Advice (now all 3 are a part of Gartner Digital Markets) began inviting users to provide reviews – and now this has only been amplified by the incumbents like G2, TrustRadius and IT Central Station.
We hope that the data we collect will help event marketers in crafting better experiences and in going the extra mile to delight their audiences across formats such as virtual, in person or hybrid.
Tell us about a couple of your most memorable events or conferences and the learning needs it fulfilled at various points in your career.
Having been a career marketer most of my working life, I have greatly enjoyed attending the Dreamforce conferences in San Francisco – this event is just held at such a large scale and gets so many companies to put out their best marketing and attracts so many cool marketers from all the world – it's really a huge learning and awakening experience every time I am fortunate enough to attend it.
I have also enjoyed attending the MarTech Conference – which is programmed by Scott Brinker, who everybody knows now for his annual Martech Landscape and fantastic blog. Scott and the production team do such a great job of surfacing so many great case studies from marketers across industries that its always possible to learn something that can be applied right away to the job you're doing.
Marketing Technology News: MarTech Interview with Lynn Girotto, Chief Marketing Officer, Heap