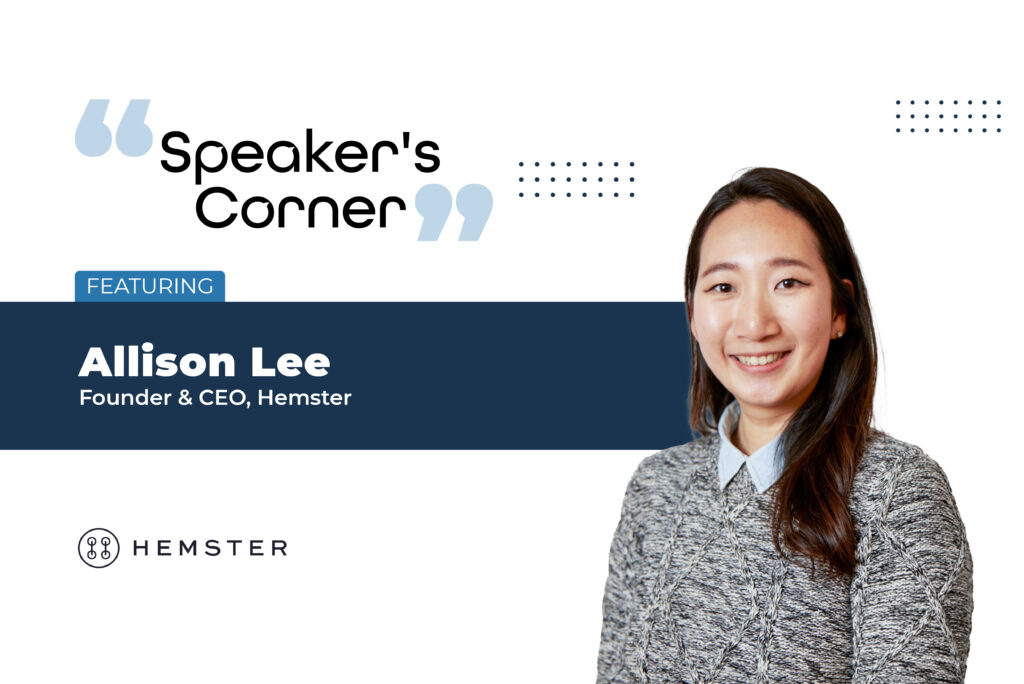 Speaker's Corner: Featuring Allison Lee is the Founder and CEO of Hemster
Tell me about your company – its work and projects…
Hemster partners with brands to go beyond traditional sizes by offering mass customization in the form of tailoring. Right from the tailoring process, Hemster collects reusable fit data as 'Patterns,' which customers use to purchase their next garments with their own personalized fit across small, medium and large.  The tech-enabled platform captures reusable data to create an individual customer's perfect fit through mass customization down to the quarter inch. With every garment fitting the customer perfectly, retailers immediately see higher conversion and lower returns, and ultimately a significantly higher repeat purchases. 
What are the challenges that most affect your business? Are you engaging in any kind of problem solving?  
A major challenge right now within retail is that many struggles to find the perfect fit when purchasing new clothing. Generic sizes don't always fit the way people need them to. Hemster's tech-driven platform is able to collect and retain necessary data to create a personalized perfect fit for customers. Being able to save this information for future purchases will increase a customer's loyalty to brands who offer Hemster's services, and will overall decrease the rate of returns for the retailer.
Another issue retailers are facing is the surplus of damaged inventory. When items are damaged or returned, they often sit in warehouses, untouched. However, with Hemster's platform, we can offer repairs that will bring these garments back to life. Ultimately, this will help drive a company's sustainability efforts as well, since it will save these garments from being unusable and thrown out. 
The COVID-19 and the pandemic have mandated change in the way we go about business and operations. How has this time influenced you? What are the trends you see within the sector? 
The pandemic completely transformed our business as we were predominantly an in-store services pre-pandemic. With our daily operations paused at the beginning of 2020, we accelerated our roadmap into E-commerce and launched our virtual tailoring services by Q4 2020. Since then we have seen brands and retailers rush into establishing an online presence and virtual services to help make up the limited store experiences. We also see a huge opportunity and attention in the sustainability and circular economy within fashion, which is a welcome shift. 
What is your biggest objective as a speaker?
With the limited audience, speaking engagements have also changed dramatically. It takes more compelling data and metrics, and substantial talking points to connect with the audience virtually.
Could you share with us the points of discussion (the input that you provided) during the panel(s) at the NRF Conference?
At NRF, I shared my experience with starting Hemster; the aspects that inspired me to launch it, and the process of determining the best way to collect data. I went into further detail explaining how Hemster works and is able to utilize data to create the perfect fit by leveraging our tailoring technology, and how this can be a major benefit to both retailers and consumers. Towards the end, I spoke about what is next for the future of Hemster, including how in addition to lowering returns at the point of the first sale, we are expanding our services to include post-purchase activities.
Eventible has recently launched a B2B Interactive in Person Event Tracker, tell us what you think? Do you think this is useful?
I think this is very useful! This is a great resource for being able to easily have access to upcoming events, especially as we hope to see more in-person opportunities in the future.
Eventible.com is a review platform specially catering to B2B events.
Given how review-driven our lives have become today, do you think reviews will bring in a level of transparency to the events industry? Would you rely on event reviews from other speakers if you had to make a speaking decision? 
Yes, having the ability to see event reviews before making the decision to attend/speak would be beneficial. It would be very insightful to understand other people's experiences and take any advice that they might be able to offer.
About Allison: Allison Lee is the Founder and CEO of Hemster, the first SaaS tailoring service to empower retailers and brands to guarantee perfect fits in-store and online. Ever since she launched her first start-up at UC Berkeley, Allison has followed her passion in consumer tech and early-stage companies. She then joined Peel, an Alibaba-backed IoT company, as their Director of Monetization and grew the company's revenue from $20K to $15M in two years. Allison saw an opportunity to bring proprietary data and transparency to $80 ready wear market by capturing consumers' personalized fit through modernized tailoring services. She launched Hemster in 2017, with a mission to create an omnichannel tailoring solution that allows shoppers to accomplish the perfect fit anywhere. She was recognized as Forbes' 30 under 30 in 2019 and featured on Techcrunch.