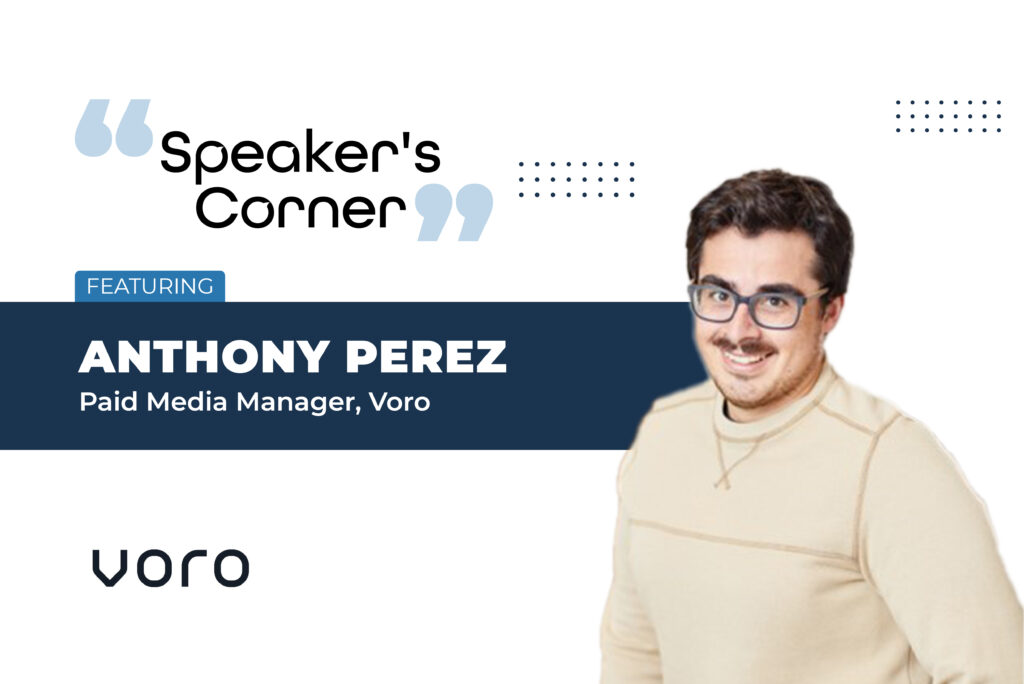 Speaker's Corner: Featuring Anthony Perez, Paid Media Manager, Voro
Tell me about Voro –  it's work and projects…
I work at Voro, a digital marketing company based in Minneapolis, Minnesota. We started as an agency specializing solely in SEM, but have since expanded our offerings to include paid media, analytics, SEO, business intelligence, and strategic consulting services. We work with a number of clients across a variety of different industries, who value our partnership for our commitment to developing meaningful insights that drive positive human experiences.
The marketing and automation industry is vast and often has its challenges, what are the challenges that affect your business? Are you engaging in any kind of problem solving?
With automation on the rise, the time we spend performing complex calculations and technical tasks has been reduced from days to seconds. Thorough subject-matter expertise is a baseline expectation, and no longer a differentiator for most agencies. Under these circumstances, it is not unusual to hear marketers and clients alike question whether agencies play a meaningful role in this environment at all. In reality, there has never been a better opportunity for marketing agencies to show their value. Though the problems we're solving every day have become less technical, they've only grown in complexity, and impact. We're embracing the automated future, and looking forward to solving the new challenges it brings.
The COVID-19 and the pandemic has mandated change in the way we go about business and operations. How has this time influenced you? What are the trends you see within the sector?
Working with clients in verticals like education, medical devices, insurance, financial services, and health/beauty to name a few, it's been fascinating seeing how so many different industries have changed and adapted as a result of the pandemic. COVID-19 led to many brands either reducing or completely pausing advertising spend as they grappled with the uncertainty that we were all facing.
Over time, there has been a resurgence in spend amongst those brands who were able to successfully weather that uncertainty. Digital content consumption spiked and has remained high since the onset of COVID-19, and with many workplaces talking about retaining work-from-home options and eliminating commutes, digital media is going to remain one of the best vehicles for advertising both B2B and B2C clients.
What is your biggest objective as a speaker?
I'm always interested in finding fun and accessible ways to relay information some might deem complicated or tedious. If I'm able to help other industry professionals achieve better results for their campaigns and maybe elicit a laugh or two, I'm happy.
Could you share with us the points of discussion (the input that you provided) during the panel(s) at the Hero Conference?
Largely, my talk was focused on automation and how it can deceptively hurt marketing campaigns if not carefully managed. I also provided some specific steps for taking on more active management of automated campaigns to make automation work for you, not against you.
As a leader, what are the factors both professional and personal that drive you?  What keeps you going?
I've always been a problem-solver at heart. Moving to a position of leadership hasn't changed that. It just means I spend somewhat less time focusing on spreadsheets, and a little bit more time focused on listening and communication. However, any day when I can marry the two is ideal!
In your opinion, do digital events give you a similar level of feedback/result vis-à-vis the live versions? What would you say were the biggest pros and cons of both formats? Which do you prefer?
Virtual events have a certain casualness about them that I've come to enjoy, however I've missed being able to connect in-person with other industry professionals during downtime. In-person events foster a greater sense of ceremony, which feels much-needed in a world otherwise rife with distraction. However the experience of being able to attend a conference and hear inspiring talks from thought-leaders in your industry without ever changing out of your pajamas is hard to beat.
What is your take on in-person events? Do you prefer in-person events as compared to hybrid or virtual? How soon do you think in-person events would return?
As an attendee, I think the pros outweigh the cons when it comes to virtual events. However, as a speaker, speaking to a crowd in person evokes a certain energy that's hard to replicate. In-person events are already cropping up in greater frequency than they were even just six months ago, though I expect the trend of events allowing virtual attendance in some form or fashion is here to stay for good, and I can't say I'm too upset about it.
In your opinion, what are the top 3 challenges to returning to 'In-Person' events? How could we mitigate risks?
Uncertainty is the biggest factor holding back in-person events. Even with event planners taking every possible precaution, and attendees going above and beyond to protect themselves with vaccines, boosters, and masks, there's still a very real possibility of contracting COVID. I expect that more research surrounding the long-term impacts of COVID is going to have a significant impact on the return to in-person events, as it will allow people to better evaluate the risk associated with in-person attendance.
Eventible has recently launched a B2B Interactive in Person Event Tracker, tell us what you think? Do you think this is useful?
I think it's smart getting on the ground floor while demand is low, so you're ready when demand explodes. However, I wouldn't discount the importance of tracking online events. When everyone feels safe to return to in-person events again, they'll do so in droves. However it won't be long before there is a virtual event renaissance, as people won't soon forget the convenience of this option.
Eventible.com is a review platform specially catering to B2B events. Given how review-driven our lives have become today, do you think reviews will bring in a level of transparency to the events industry? Would you rely on event reviews from other speakers if you had to make a speaking decision?
Reviews for events would absolutely be beneficial. It's hard to find credible reviews of conference-style events, whether as a speaker or attendee, so any platform or service offering that level of visibility would be welcome.
Finally, do you have a favourite mocktail or drink? We'd be delighted to know.
I've always been partial to a drink my father created, which he likes to call "The Temple of Doom." It's just a Shirley Temple with an entire fistful of Maraschino cherries instead of one or two. We need more excuses in life to feel good about consuming Maraschino cherries.
About Anthony: Anthony is a paid media manager at Voro, an agency based in Minneapolis, MN. In almost five years, the other hats Anthony has worn include digital media strategist, TV advertising consultant, storytelling advocate, office playlist-selector and occasional donut-runner to name only a few. He finds the most rewarding aspect of digital marketing is locating the connections between seemingly disparate data points, and creating dynamic, actionable stories that drive impactful results for clients. When Anthony isn't trying to craft the perfect slide for a deck, he's likely playing video games, watching a really bad horror movie, marathon-training, or wrestling his cat.
To read more about the conference, click here. To write a review, click here.