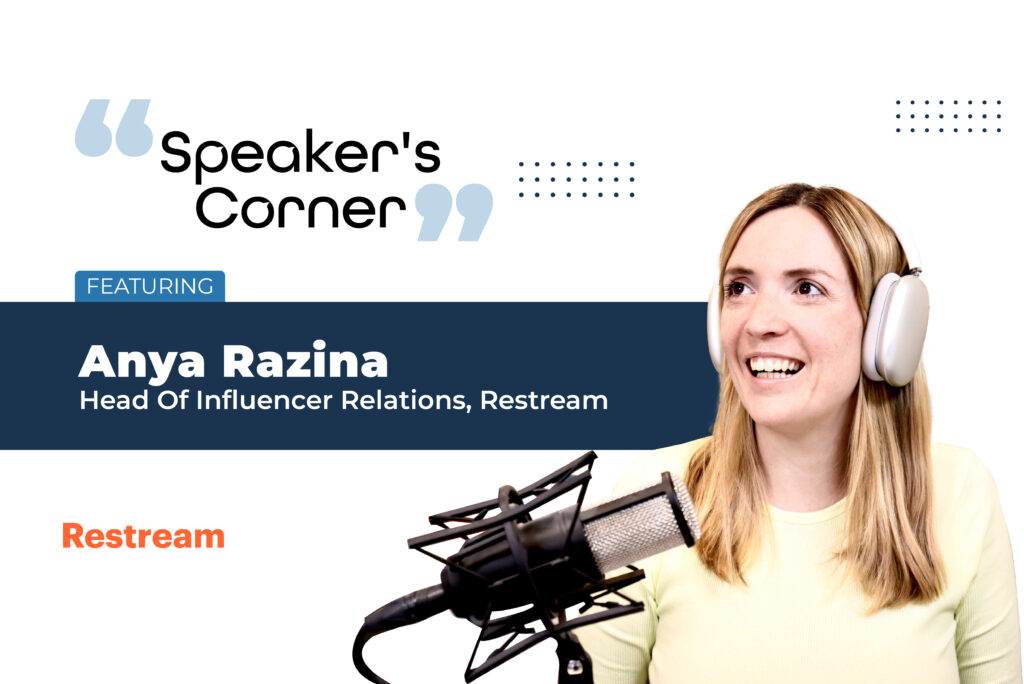 Speaker's Corner: Featuring Anya Razina, Head Of Influencer Relations, Restream
Tell me about Restream, its work and projects…
Restream helps you create beautiful live videos and send them on all social platforms (like Facebook and YouTube) at the same time. Over 5 million content creators use Restream to go live and engage their
social audiences.
As an experienced streamer, what are the challenges you face while being live on air? How do you work towards dealing with or solving these challenges?
For most creators, the challenges boil down to these two:
how to look great on stream?
where is my audience?
For the first one, I recommend:
Test your gear, internet connection your overall setup.
Have a content plan. Think your key message through.
Invest in good audio (mic) and lighting
For the audience:
Acknowledge every person in the chat. Include them in your conversation.
Pre-promote your stream by email, social, and push notifications on your
website.
Repurpose your streams.
The COVID-19 pandemic has led to an increase in demand for streaming solutions – which are the trends within the sector?
People are now more comfortable on camera. As a result, they see prerecorded and live video as an essential part of their content strategy. Creators are looking for high video production quality. The audience is expecting engaging experiences that provide unique insights.
What is your biggest objective as a speaker?
Educate people on the power of live video. I believe the future of content is live since streaming offers interactive, frequent, and authentic content. I hope to help people overcome their fears and find their unique path to creating fantastic content.
Could you share with us the points of discussion (the input that you provided) during the panel(s) at FinCon 2021?
My talk was on "Building Trust and Credibility with Live Video."
As a leader, what are the factors both professional and personal that drive you? What keeps you going?
Natural curiosity. I enjoyed learning about different experiences that shaped people. If we connect more, we have a chance to understand each other and be kinder.
I also want to change the world for the better. I believe in the creator economy and feel like every skilled and talented person deserves a great life. Content creation is an excellent path to it.
In your opinion, do digital events give you a similar level of feedback/result vis-à-vis the live versions? What would you say were the biggest pros and cons of both formats? Which do you prefer?
I feel like in-person events still give me more insights. My job as a product marketer is to be close to users. So I get more out of an in-person conversation. But virtual events are a great shortcut and timesaver.
What is your take on in-person events? Do you prefer in-person events as compared to hybrid or virtual? How soon do you think in-person events would return? What is your take on in-person events? Do you prefer in-person events as compared to hybrid or virtual? How soon do you think in-person events would return?
I think in-person events will return as soon as the health crisis is over. But virtual and hybrid are here to stay as they open so many opportunities to people who can not travel.
Eventible has recently launched a B2B Interactive in Person Event Tracker, tell us what you think? Do you think this is useful?
I think it's very user-friendly and helpful. I am bookmarking it!
Eventible.com is a review platform catering to B2B events. Given how review-driven our lives have become today, do you think reviews will bring in a level of transparency to the events industry? Would you rely on event reviews from other speakers if you had to make a speaking decision?
Yes, reviews and feedback from other participants are essential to me. While it's not the only point in my decision-making process, I will consider reviews carefully.

Finally, do you have a favorite mocktail or drink? We'd be delighted to know.

I am a wine/champagne person and don't drink hard liquors at all. But I am always up for a glass of red 😉
To review FinCon 2021, click here.
About Anya: Anya Razina leads Product Marketing at Restream.io. She is obsessed with the power of live video and preaches about it on every corner. In the past, she was a small business owner
and a professional skydiver with over 400 jumps
. So when she says you got to take risks in marketing, she kind of means it. In the past year, Anya built a robust influencer program for Restream from scratch. It's now 1000+ partners strong and includes folks like Guy Kawasaki and Neil Patel. Anya hosts several live shows on social platforms and inspires business owners to be brave, and make bold decisions to stand out.