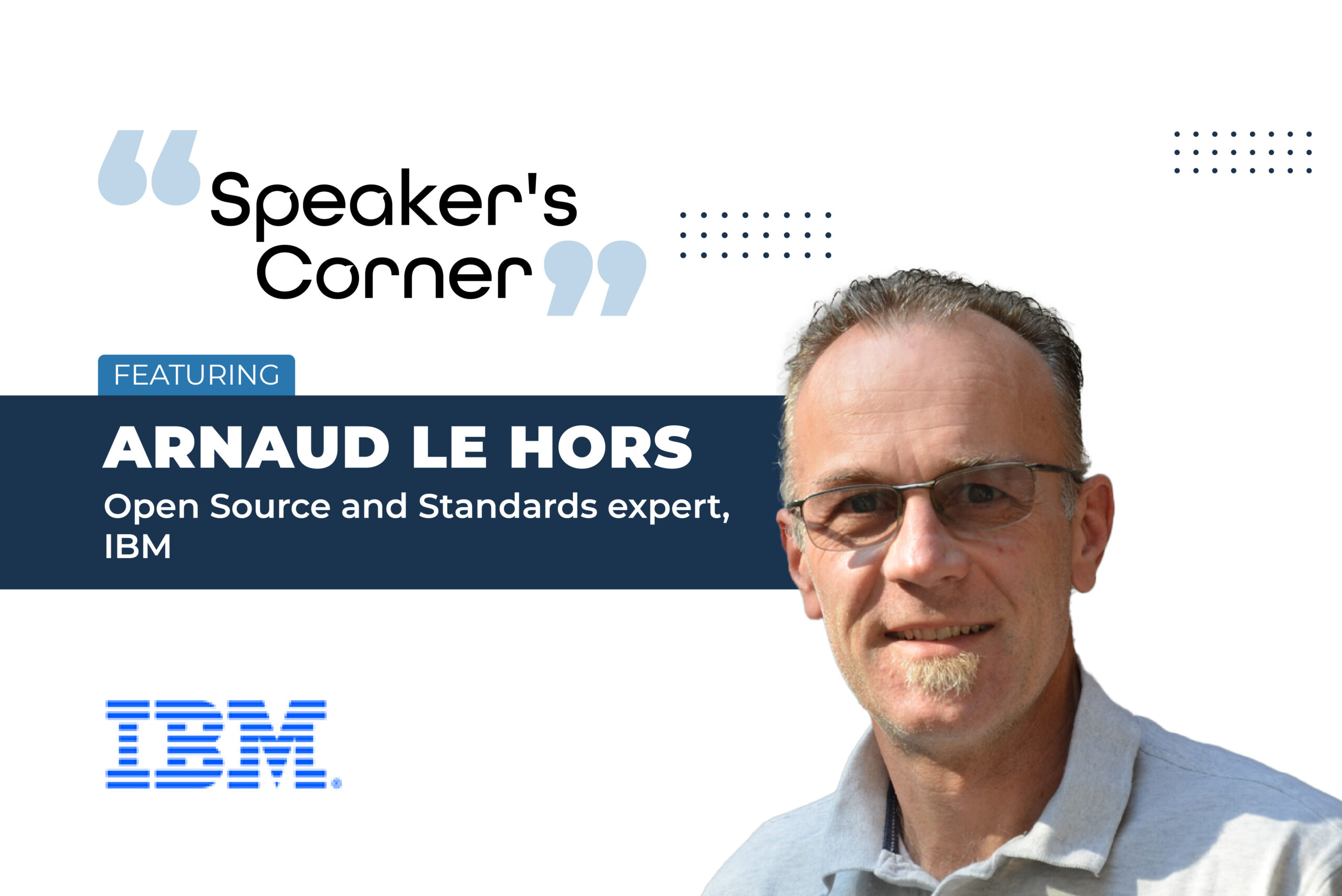 Speaker's Corner: Featuring Arnaud Le Hors, Open Source and Standards expert, IBM
Tell me about your company – it's work and projects…
IBM is a name that everybody knows but even people in the IT industry don't always know what IBM does nowadays. This is because IBM is primarily focused on enterprises offering solutions and services to modernize their business in a large number of different areas covering hybrid cloud and AI as well as many others.
The IT industry is vast, what are the challenges that most affect your business? Are you engaging in any kind of problem solving?
Indeed, there is no shortage of challenges but as we say the good news is that every challenge is also a business opportunity. My personal expertise is in open source and standards which has led to work in different technical domains over the years but, I've spent the last six years primarily focusing on Blockchain. Beyond all the noise around cryptocurrencies and NFTs there is indeed a new technology that is broadly applicable across all industry sectors.
More recently I started working on the problem of securing the software supply chain which is increasingly under attack. Indeed, as the industry got better at securing systems that are in operation malicious actors have moved onto attacking the way programs are being developed with the intent to create backdoors into them even before they get deployed in production. This is an industry wide challenge that I'm eager to try and help address.
The COVID-19 and the pandemic has mandated change in the way we go about business and operations. How has this time influenced you? What are the trends you see within the sector?
On a personal level I've been working from home for many years so the impact in this regard has been fairly limited, but I've been missing going to conferences. Virtual conferences fall short of providing the same experience. They simply don't provide the same human interaction and opportunistic encounters.
But one positive effect of COVID-19 has been that it has accelerated developments around digital credentials verification such as the IBM Health Pass technology which is based on blockchain and provides a way to verify vaccination status in a privacy preserving manner.
What is your biggest objective as a speaker?
My primary objective is to inform people on new open source technologies, providing attendees with an understanding of what these new technologies are about and why IBM is investing in them. I like to end all my presentations with practical information on where attendees can go to learn more and get started experimenting with the technology. In doing so I also hope people learn to appreciate IBM's expertise in the technology and consider IBM as a trusted partner they can turn to in case of need.
Could you share with us the points of discussion (the input that you provided) during the panel(s) at the DeveloperWeek 2022 Event?
My talk was focused on Hyperledger Fabric which is an open source blockchain framework for the enterprise. I want people to know that blockchain is essentially a new type of database which is decentralized. Each participant has a copy that is automatically kept in sync with the others and no single party has full control over it. All changes go through an approval process, called consensus, involving various participants in the network.
Tracking of information related to the provenance and distribution of items through a supply chain is the posterchild of the blockchain use case. Practically speaking this type of system can provide people with a way to get all the provenance information related to food they are considering buying, directly in the store. Hyperledger Fabric is available from all major cloud providers and provides a framework specifically designed to address this kind of use cases. It is scalable, performant, and flexible (and no, it doesn't use a lot of energy like Bitcoin and others.)
As a leader, what are the factors both professional and personal that drive you? What keeps you going?
I am an engineer at heart so what primarily drives me is the desire to solve problems coupled with a curiosity for everything technical. But with years of experience in open source and standards organizations I also enjoy helping communities get organized to tackle the technical challenges they are focusing on most effectively.
Leading open communities represent the unique challenge that, unlike a manager in a traditional organization, you have neither sticks nor carrots. Independently of who they report to in their own organization, in the community everyone is peer to one another, and everything needs to be negotiated solely relying on common interest.
In your opinion, do digital events give you a similar level of feedback/result vis-à-vis the live versions? What would you say were the biggest pros and cons of both formats? Which do you prefer?
No, virtual events clearly don't provide the same level of interaction. The worst is when the system used doesn't even let the speaker know how many people are attending. I got to understand through this experience why talk shows on television have a small audience. It is pretty unsettling to be talking to your camera without having any sense of whether anyone is even listening.
What is your take on in-person events? Do you prefer in-person events as compared to hybrid or virtual? How soon do you think in-person events would return?
I believe in-person events are bound to return at least to some degree. I've seen various interesting experiments at some of the virtual events I participated in to try and address the lack of networking that normally occurs in in-person events but at the end of the day there are factors that virtual events can never be able to provide such as the human connection one can have over a beer at the end of the day.
In your opinion, what are the top 3 challenges to returning to 'In-Person' events? How could we mitigate risks?
I've actually attended a couple of in-person events in the fall and I thought it was well organized. They required and checked that all participants were vaccinated, had a quick health check every morning, and required mask and minimum distancing throughout the event. I do hope we'll soon be able to resume more casual interactions though.
Finally, do you have a favourite mocktail or drink? We'd be delighted to know.
I'm French and biased towards French red wines but otherwise I'll have to say Belgian beers, like Chimay to only name one.
About Arnaud: Arnaud Le Hors is Senior Technical Staff Member of Open Technologies at IBM, focusing on Blockchain, Edge Computing, the Web, and Open Source security. He has been working on standards and open source for over 25 years. Arnaud was editor of several key web specifications including HTML and DOM and was a pioneer of open source with the release of libXpm in 1990. Arnaud is the main representative for IBM at W3C and INCITS, a member of the Hyperledger Technical Steering Committee and contributor to Hyperledger Fabric, a member of the European Blockchain Observatory, the chair of the EdgeX Foundry Open Retail Reference Architecture (ORRA) project, and a member of the OpenSSF community.
To view the DeveloperWeek 2022 event on Eventible, click here; to review the event, click here.