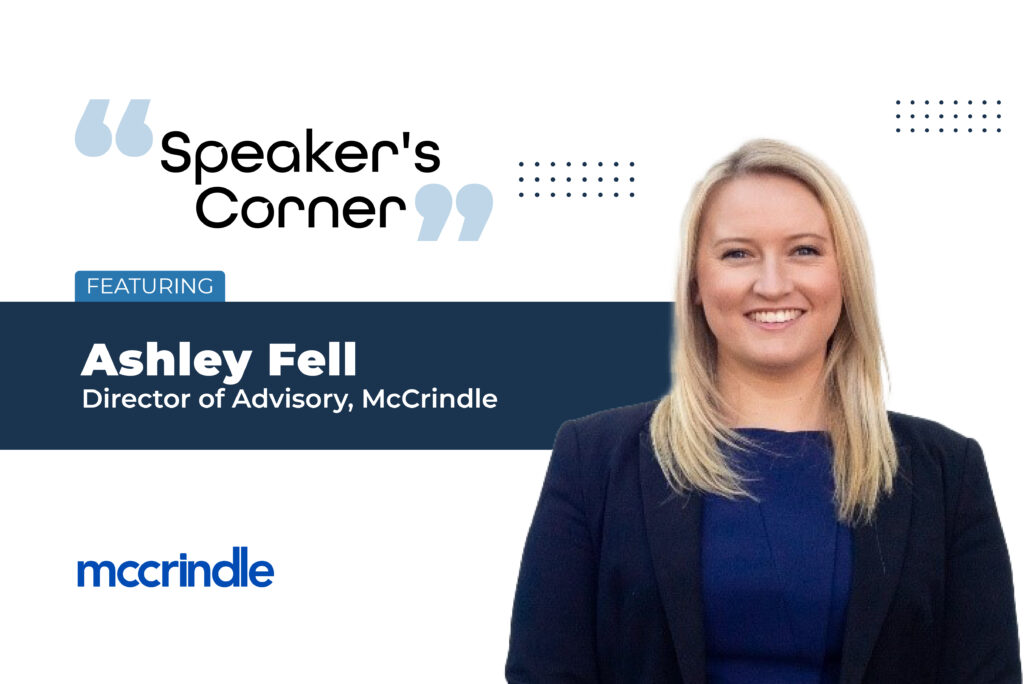 Speaker's Corner: Featuring Ashley Fell, Director of Advisory, McCrindle
Tell me about McCrindle, its work, and projects…
McCrindle is a social research company. We take the pulse of society and largely work with the methodologies of surveys and focus groups. We are also very passionate about communicating those insights well and have a passion to make data interesting and engaging.
With such vast experience in speaking and writing, what are the challenges you face today? How do you work towards dealing with or solving these challenges?
Trying to get a message across when operating in a world of information overload, message saturation and shorter attention spans is a challenge for every organization – ours included!
Has the COVID-19 pandemic affected the demand for research-based companies such as yours?
Absolutely. As the world is changing so rapidly, we have seen an increase in demand for an evidence-based approach, which research provides.
Which are the trends within the sector?
Organizations developing research solutions in-house.
What is your biggest objective as a speaker?
To not only inform people with research but to involve, instruct and inspire them.
Could you share with us the points of discussion (the input that you provided) during the panel(s) at DMEXCO 2021?
There is a generation that comprises more than one in seven people. Within the next four years they will outnumber the Baby Boomers and most of them will live to see the 22nd century. We're talking about Generation Alpha, the current generation of children who began being born in 2010.
They will live longer, work later into their life and will be more formally educated than any generation before them.
By the time Generation Alpha have all finished being born, they will be the largest generation in the history of the world.
It is true that Generation Alpha are growing up in a time of increasing complexity and uncertainty, with greater societal, economic, and social volatility. This can lead to people being fearful about Generation Alpha's future. So, it may come as a surprise to many that we believe the outlook for this generation is positive.
Even in recent COVID-19 times which have been incredibly isolating, Generation Alpha have found humour and connection, and that gives us hope. Generation Alpha, by life stage, are optimistic, creative, solution-minded and adaptive to their environment.
While it's important to give them support, direction and wisdom, we also need to equip them with tools and solutions to create and actively shape their own future.
If organisation's want to not only exist in the future, but thrive, then understanding Generation Alpha is imperative.
As a leader, what are the factors both professional and personal that drive you? What keeps you going?
Being curious and my love of learning keep me engaged with my work. I'm also driven by the challenge of communicating complex ideas in ways that people can engage with and be inspired by. I also love challenging stereotypes and perhaps surprising people that a young woman can deliver a thought-provoking, engaging, and entertaining data-based presentation on a global stage.
In your opinion, do digital events give you a similar level of feedback/result vis-à-vis the live versions? What would you say were the biggest pros and cons of both formats? Which do you prefer?
Digital events have many benefits including being able to reach a wider audience, being more time and cost-efficient and they can also be great for people's wellbeing as they are less intense. The downside to virtual events is that you miss the feedback, networking, and connection opportunities that in-person events provide.
What is your take on in-person events? Do you prefer in-person events as compared to hybrid or virtual? How soon do you think in-person events would return? What is your take on in-person events? Do you prefer in-person events as compared to hybrid or virtual? How soon do you think in-person events would return?
My preference is live events, as nothing beats being able to read the feedback of the audience as a speaker, look into their eyes, and hear their laughter. I think it's a better experience for all involved – speakers and the audience. But I still appreciate virtual events, and I think it is likely we will see this hybrid event model continue into the future. Although, I do hope we see in-person events come back as soon as it is safe for everyone involved.
In your opinion, what are the top 3 challenges to returning to 'In-Person' events? How could we mitigate risks?
People feeling safe
People feeling comfortable to be in big crowds again
Sustainability for the environment.
I think keeping communication up to and reassuring people there are practices in place to make people feel safe, and that the environment and sustainability are being considered in the event planning will be important as we return to in-person events.
Eventible has recently launched a B2B Interactive in Person Event Tracker, tell us what you think? Do you think this is useful? Eventible.com is a review platform catering to B2B events. Given how review-driven our lives have become today, do you think reviews will bring in a level of transparency to the events industry? Would you rely on event reviews from other speakers if you had to make a speaking decision?
Yes, I think reviews will be great and that they could be helpful if I was needing to make a speaking decision.
Finally, do you have a favorite mocktail or drink? We'd be delighted to know.
I love a pina colada.
To review DMEXCO 2021, click here.
About Ashley: Ashley Fell is a social researcher, author, TEDx speaker, Director of Advisory at McCrindle, and host of The Future Report podcast. She is also the author of two books on leadership and generational insights, titled Work Wellbeing and Generation Alpha. In addition to delivering keynote presentations at conferences, Ashley is booked to conduct training days, facilitate panels, and deliver workshops across an array of industries. From generational change to the impact of technology, demographic transformations, and social trends, Ashley delivers research-based presentations analyzing the global and national megatrends.