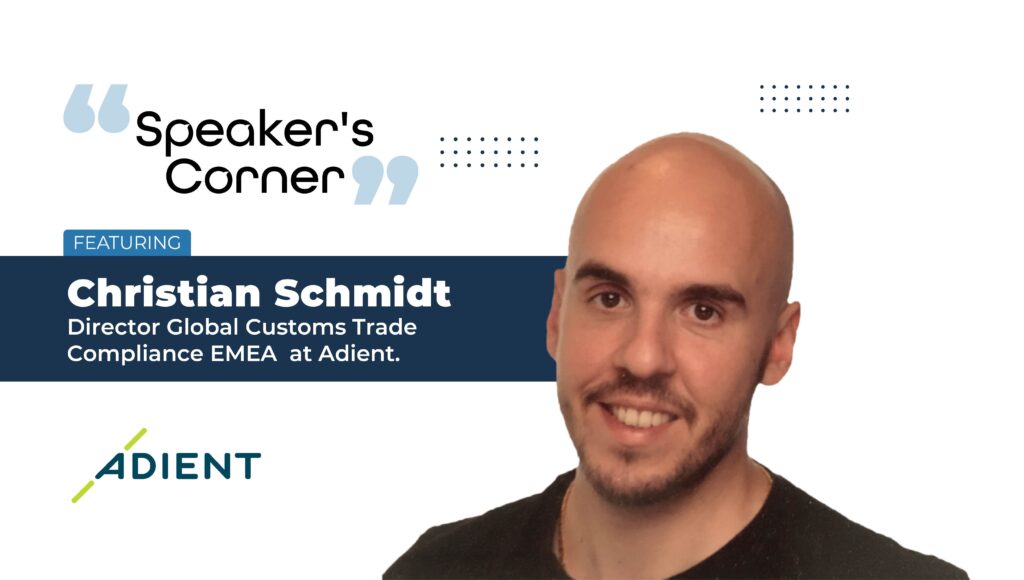 Speaker's Corner: Featuring Christian Schmidt, Director Global Customs Trade Compliance EMEA at Adient
Tell us about Adient….
It's not so easy to find a beginning here. Simply put, as a team, we ensure that the international movement of goods can take place smoothly and that our customers are satisfied.
For this purpose, we have a hybrid organizational structure as a team, which means that we carry out all tasks on a global basis that can be carried out in a standardized way globally. These are quite a few topics because in the customs area there are numerous possibilities to consider tasks globally, for example, the topic of product classification, origin of goods, or export control regulations, to name a few examples. It also makes sense to work closely together and to work co-create on tasks. This ensures that we can use synergies and the greatest expertise in the team to our advantage. Resources must also be used sensibly because I am a friend of lean but very efficient teams.
The tasks that focus on a region like EMEA, such as operational customs clearance, we consider and look at with global glasses, but carry out the tasks regionally, as speed and agility are also important here, which most likely requires a setup to be in the one-time zone. I think that this structure makes sense for global corporations and multinationals of different sizes. I would like to mention that in these operational activities we try to achieve a very high degree of automation, which in turn has a positive impact on the quality of the work and the environment for the employees, as the focus is more on post transactional processes, such as auditing.
Time passes incredibly fast and since 2016 and thus since the beginning of my work at the company, we have initiated and successfully completed many projects, because our task when taking on the role was to build up the organization centrally. A very intensive time, because on the one hand the plan for the alignment of the department must be worked out and quickly implemented, but at the same time, it must also be ensured that we carry out our tasks with appropriate quality. When I look at it today, this balancing act has worked very well, and we have built up a very intact team. A great team.
In addition to the development, it was and is also important for us that we constantly develop further and do not stand still, so of course, the strategic planning must also fit. We question our processes in order to continuously improve them, at the same time we look at the executors and that everyone has the tools to work successfully on their topics and everyone can contribute their ideas and it is absolutely desired to express them. In doing so, we do not forget to question our environment in order to make permanent progress in all dimensions.
As a team, we look to provide our tasks as an internal service with high standards to our plants, but of course, there are always topics that do not work so well. In such cases, we discuss and analyze it as a team and then try to do better next time. I think that our structures and the willingness to be transparent in the team help us a lot.
Another focus of our work is, as briefly mentioned, the digitization of customs and international trade, here we are happy to lead the way and I am glad that our team has an open basic attitude to new technologies. This is also extremely important and enables us to find innovative approaches to difficult questions, which we then implement in smaller or larger projects. We are also happy to get involved in communities or have founded our one community so that we can share news and information at any time.
The greatest thing about customs and international trade is that there are always exciting situations and tasks and it can therefore be very varied for the individual. Of course, it also depends on how you deal with it and whether you like it or not, however, I think I can say that everyone in our team is willing to go the extra mile and the necessary fun is not neglected.
What is your biggest objective as a speaker?
First and foremost, my aim is to send an impulse. Most people have great ideas, to encourage them to rethink processes or to consider new perspectives, especially when it comes to the digitization of customs and compliance, is important to me. How quickly nothing happened, but it would be nice to try something new and then share it.
I am also happy to share my ideas, especially benchmarks that are great or show what has helped us, e.g. that people, processes, and technology in line with the organizational needs were essential for the implementation of digitization projects from our point of view. By the way, we also draw a lot of information from other speakers or best practices, then reflect and adjust our own setup and that brings added value. In the end, we all have very similar challenges to overcome and together it's more fun, isn´t it?
Could you share with us the points of discussion (the input that you provided) during the panel(s) at Trade Compliance Tech Forum 2021?
You're welcome. I spoke about platform technology and its impact on compliance experts. Platforms have huge potential and prove it every day. This requires a clear rethink, as the demands on the consumer side have also changed dramatically and will continue to change. From my point of view, products will not be able to do anything against platforms as these are an extremely powerful solution.
But if you apply this form of technology to customs and international trade, then many advantages can be generated from it and the network effect should not be underestimated. Scalability, the clear definition of scope, and speed of implementation are of enormous importance for platforms and their success. From a customs point of view, staying tuned and using it for yourself will be a challenge. But it will also be exciting to see how disruptive technologies develop and what changes will come to light in the future.
Afterward, I was part of the panel discussion with great colleagues and a great exchange with experts from all branches of industry. We are in midst of the industrial revolution, technologies, be it blockchain, process automation, or for sure platforms, were topics we discussed and shared opinions upon because these will change our current setups and are already doing so.
As mentioned above, this will not pass by customs and foreign trade. From my point of view, the change will have some positive effects, but there is still a lot of work that will come to companies and specialist field departments in order not to lose connection or fall behind competitors. Thus, the exchange between companies and departments will be of greater importance in the future and therefore key to driving and being a part of the change.
As a leader, what are the factors both professional and personal that drive you? What keeps you going?
I love to create organizations, building them from scratch, an early stage, or further developing existing teams makes a lot of fun. In addition, I like developing ideas and putting them into practice. A work environment that allows innovation on the one hand, but also must deal with complexity and challenges on the other side attracts my interest.
I find it incredibly exciting to break new ground. The passion for the topic is also an enormous drive for me, I simply loved customs and international trade since I started my career in this field and think that there is uncanny potential, especially through digitization and the use of different technologies. Also, international trade is demanding and can create great potential.
Personally, I am happy to work with diverse cultures, skills, and of course with people, I also want to help everyone to do a better job and to continuously improve in what they do so that they can shine. Creating an environment that is well invested takes time, but innovation through collaboration and co-creating is the result and drives me.
In your opinion, do digital events give you a similar level of feedback/result vis-à-vis the live versions? What would you say were the biggest pros and cons of both formats? Which do you prefer?
First, I would like all companies to get through the tough times. From my perspective digital events already have their pros and I continue to see them as a sensible alternative. Frankly, I like digital events too. This form of events also existed in the past, although in my view they have also gained new momentum and the technologies for this are getting better and better.
Live versions have the advantage of getting in touch with the participants better, exchanging ideas, or simply looking for a conversation, the human site. However, digital events certainly have the advantage that it is easier to integrate them into your schedule, without travel time or additional costs. Information can also be obtained from this form of event. Both have pros and cons and I expect that we will see more hybrid approaches, as this can also reach more people.
Eventible.com is a review platform catering to B2B events. Given how review-driven our lives have become today, do you think reviews will bring in a level of transparency to the events industry? Would you rely on event reviews from other speakers if you had to make a speaking decision?
Personally, I think that, as mentioned during the interview, that platforms will further evolve and make lots of sense, for many topics. Also, for B2B event reviews. Transparency all help to find the right event, have one place to go to, and find what is going on, which makes our lives easier. And of course, reviews from another speaker can help to join the right events where the participants really get what they are looking for.
The only important thing to consider is that the right governance model supports the platform so that the content and info shared is reliable. In the end, it will be the consumer who proves whether the platform will be successful or not, however, I think that makes sense and I am curious to see, how it will develop.
Finally, do you have a favorite mocktail or drink? We'd be delighted to know.
Does a good glass of wine count as an answer? Fun Fact: I did not like the taste of coconut until I tried it approx. 5 years ago, since then I really liked it. Therefore if I choose a mocktail, my choice would be a Virgin Colada.
To visit Trade Compliance Tech Forum 2021 on Eventible, click here. To write a review, click here.