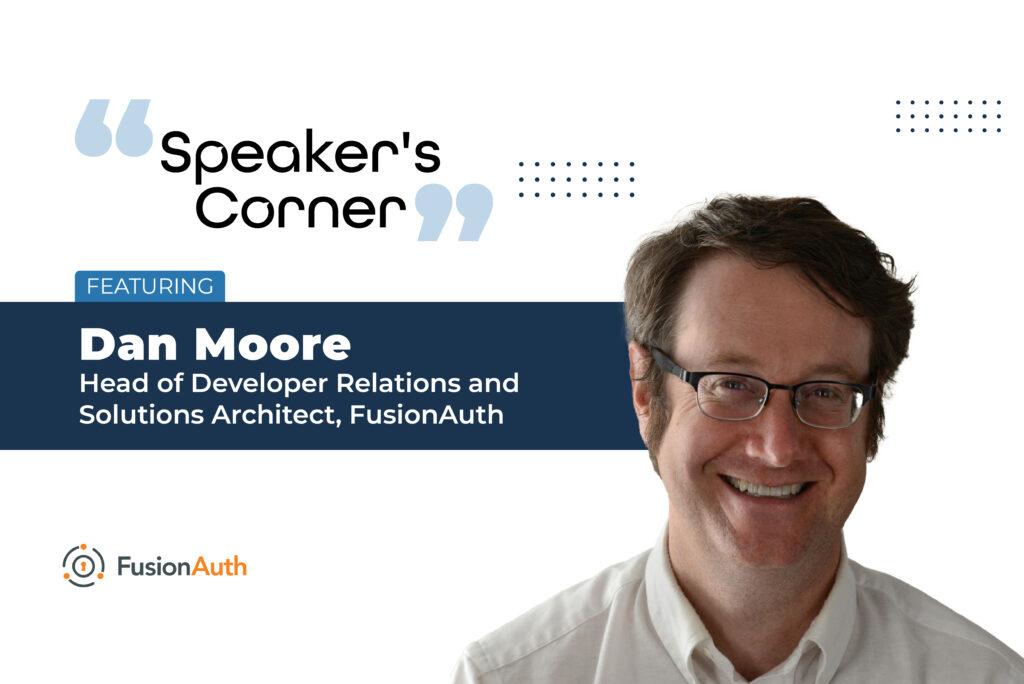 Speaker's Corner: Featuring Dan Moore, Head of Developer Relations and Solutions Architect at FusionAuth
Tell me about FusionAuth, its work and projects…
FusionAuth is the authentication and authorization platform built for developers, by developers. FusionAuth solves the problem of building essential user security without adding risk or distracting from the primary application. Because of the deployment flexibility and small footprint, it is often used in microservices applications.
What are the challenges within the computer software industry today?
There is so much software to be written and a shortage of developers to write it. User data is becoming more valuable, and thus more targetted by bad actors.
How has the COVID-19 pandemic changed the way you go about business? What trends do you see for the future…
More of life is lived online. More people are working, playing and shopping using computers and mobile phones. The convenience wins and I don't see that changing for a long time.
How would you explain your work process as the head of developer relations and solutions architect at FusionAuth to a common man with no software knowledge?
I try to help customers with their problems and educate them on both how to use our solution and how to solve their identity problems in general. One of the parts I love about my job is the chance to learn from and teach to our customers and users.
What is your biggest objective as a speaker?
Share my knowledge and learn from the conference participants.
Could you share with us the points of discussion (the input that you provided) during the panel(s) at API World?      
Wasn't on a panel.
As a leader, what are the factors both professional and personal that drive you? What keeps you going?
At the end of the day, it is so fun to make people's lives better. I've seen this firsthand at my first job and see it now. Help people solve their problems and everyone wins. Makes it easy to get up in the morning.
In your opinion, do digital events give you a similar level of feedback/result vis-à-vis the live versions? What would you say were the biggest pros and cons of both formats? Which do you prefer?
They are different. Digital events let many more people ask questions and attend than would be able to in an in-person event. It's also far easier and cheaper to present, which opens it up to folks who might not be able to do so in person. But you miss out on the real-time feedback and interaction can be clunky.
Don't make me pick just one, let me do both :).
What is your take on in-person events? Do you prefer in-person events as compared to hybrid or virtual? How soon do you think in-person events would return?
I have already been to an in-person event over the summer and the energy was palpable. Hard to replicate that in a digital environment.
In your opinion, what are the top 3 challenges to returning to 'In-Person' events? How could we mitigate risks?
Help everyone be safe with behavior and vaccination.
Eventible has recently launched a B2B Interactive in Person Event Tracker – the tracker shows you in-person events going live in various parts of the world. Do you think this is useful?
Sure, could be. Only a small subset of events are relevant to me (or to any other person) so the issue is how good the data is.
Eventible.com is a review platform catering to B2B events. Given how review-driven our lives have become today, do you think reviews will bring in a level of transparency to the events industry? Would you rely on event reviews from other speakers if you had to make a speaking decision?
Sure, more data is good. It's hard to know if someone's review will reflect my experience, but we deal with that all the time in restaurant reviews and somehow manage to grab a signal from that.
As far as reviews from other speakers, I'd actually probably be more interested in reviews from attendees.
Finally, do you have a favorite mocktail or drink? We'd be delighted to know. 
Big fan of the Negroni.
To review API WORLD 2021, click here.
About Dan:  Dan Moore is the head of developer relations and a solution architect for Inversoft and an industry veteran. Dan joined Inversoft in 2020 and focuses primarily on helping developers leverage FusionAuth for their applications while at the same time building an awesome community of developers that are passionate about Inversoft's products. Dan has been coding for over 20 years and has been a CTO, engineering manager, contractor, technical trainer, and software engineer at numerous companies. These companies include Transposit, Culture Foundry, The Food Corridor, Galvanize, and many others. Dan has also been a speaker at numerous tech conferences and meetups. Dan is a published author of 2 books and a contributor on a third. He also writes a well-respected blog called "Letters to a New Developer". His books are "Developing Cross-Platform Mobile Applications with Cordova CLI", "Letters to a New Developer", and "97 Things Every Cloud Engineer Should Know".Outside of work he enjoys gardening, camping, and backpacking. Fun fact: though he's on a hiatus right now, he kept backyard chickens for years.