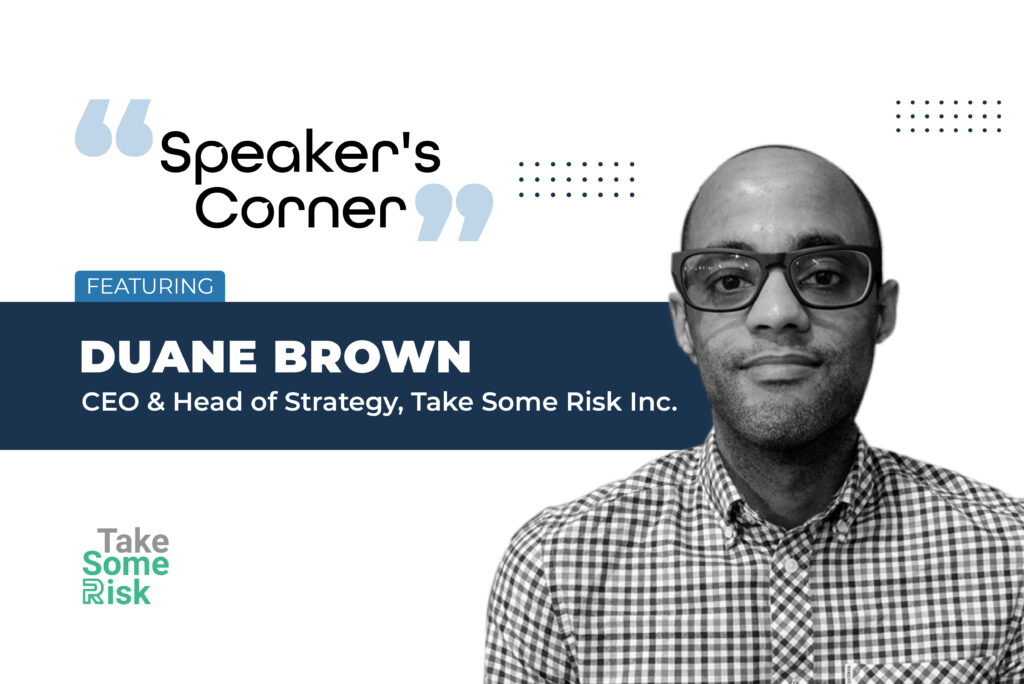 Speaker's Corner: Featuring Duane Brown, CEO & Head of Strategy, Take Some Risk Inc.
Tell me about Take Some Risk Inc, its work and projects…
We help ecommerce and direct-to-consumer (DTC) brands create and scale profitable growth across North America, Europe and Australia. Many brands choose to work with us because we work tirelessly to become an extension of the internal team, almost like filling the role of a marketing director. We focus our work on strategy and then execution. Both need to work together to be successful.
A lot of clients care about profitable growth, which is why they bring on an agency like Take Some Risk. We don't focus on any one industry within ecom and DTC. We have clients spanning industries such as music, toys, apparel and bikes. That diversity is a strength as we can take our framework and processes and apply it across tons of different brands.
Beyond that, we have an abundance of brands or agencies that come to us for a one off analytics or ad account audits. These brands/agencies want us to audit their work and give them a 2nd opinion. They trust our opinion on what's working, what's not working, potential opportunities, and what recommendations or insights we might have. We always approach it as if we were running this ad account or if we set up their Google Analytics account.
What are the challenges within the Marketing industry today?
The biggest challenge is lack of data as Apple removes tracking and Google looks to remove cookies from browsers in 2023, if not sooner. Understanding how to use the data to give you direction regarding where you need to go is more important than ever. Our jobs are less about pushing buttons and more about guiding the technology and being super strong at strategy. Strategy is the foundation of all great work.
How has the COVID-19 pandemic changed the way you go about business? What trends do you see for the future…
On one hand we have seen the influx of brands needing help to sell online which has fueled our growth as an agency over the last two years. On the other hand, there are not enough people working in the ecommerce and retail space. Demand has always outpaced supply but now more so than ever.
There are a lot of agencies and people who try to move into the space and help brands because of the growth. The problem being that they don't all have the skills to do the job. Maybe they did lead gen or local marketing before and are now trying to switch over to ecom, but it is not working out. We have clients coming to us who've just had people waste their money and not drive any sales or revenue. This really hurts businesses who are already strapped for cash because the cost of doing business has increased. Clients have increased costs in containers, material, manufacturing, shipping and packaging to name a few. They do not have resources to throw away.
We are already seeing consumers pull back on spending as the fear of a recession takes hold. We are seeing automation become more prevalent on ad platforms like Google, Facebook, TikTok, Snap, and Instagram. The future is still bright long-term but we are in for a bumpy ride over the next 12 – 24 months. 
What is your biggest objective as a speaker?
The goal is always the same, teach and share what we are learning as an agency. Whether it is speaking at conferences like BrightonSEO or doing a webinar in North America, we want to raise awareness and teach people how to do their job just a bit better. A rising tide lifts all boats.
Could you share with us the points of discussion (the input that you provided) during the panel(s) at the BrightonSEO conference?
I had two major takeaways from my BrightonSEO talk. One being that product price x bid x shopping feed is a ranking factor when launching shopping ads. The other major point was working on your shopping feed is the single most important thing a brand can do. Once you launch, doing an audit of the shopping feed every 6 months is a good best practice to make sure it stays up to date and nothing was missed during updates.
As a leader, what are the factors both professional and personal that drive you? What keeps you going?
We try to hire for this on the team too. Just trying to be better than I was last week, last month and last year. The agency is like a child and as it grows, we need to change to keep up with that growth. Plus just seeing our clients have success and become their future goal self helps push our team to keep going. Working in an agency is hard and very much a marathon.
In your opinion, do digital events give you a similar level of feedback/result vis-à-vis the live versions? What would you say were the biggest pros and cons of both formats? Which do you prefer?
In-person gives you that face to face with people which is great if you are social. Online events allow for more potential attendees and that can be good too. I think both event types serve different needs. BrightonSEO does an in-person event but has now started to do a virtual event 2 weeks later as another option.
Eventible.com is a review platform catering to B2B events. Given how review-driven our lives have become today, do you think reviews will bring in a level of transparency to the events industry? Would you rely on event reviews from other speakers if you had to make a speaking decision?
Speakers talk to each other as much as attendees do. Even if they don't show up online, reviews for events are happening already. Reviews can help give people a better idea of what to expect when attending an event.
Finally, do you have a favourite mocktail or drink? We'd be delighted to know.
I'm a big fan of ginger beer (non-alcoholic) and mixing that with a cranberry or apple juice or another similar juice. The ginger beer gives it a nice kick and is great on a hot summer day. Throw in a lime or cucumber and you are set.
About Duane Brown: Duane has been called an international man of mystery and digital nomad by friends. He has lived in 6 cities across 3 continents and visited 40 countries around the world. Over the last 5 years Duane has had the opportunity to work with brands including ASOS, Birdies, Pela Case, Jack Wills, Rose & Rex and FTD/ProFlowers. He now lives in Canada helping ecommerce and DTC brands grow through PPC marketing, data, and CRO.
To view the event on Eventible, click here; to review, click here.