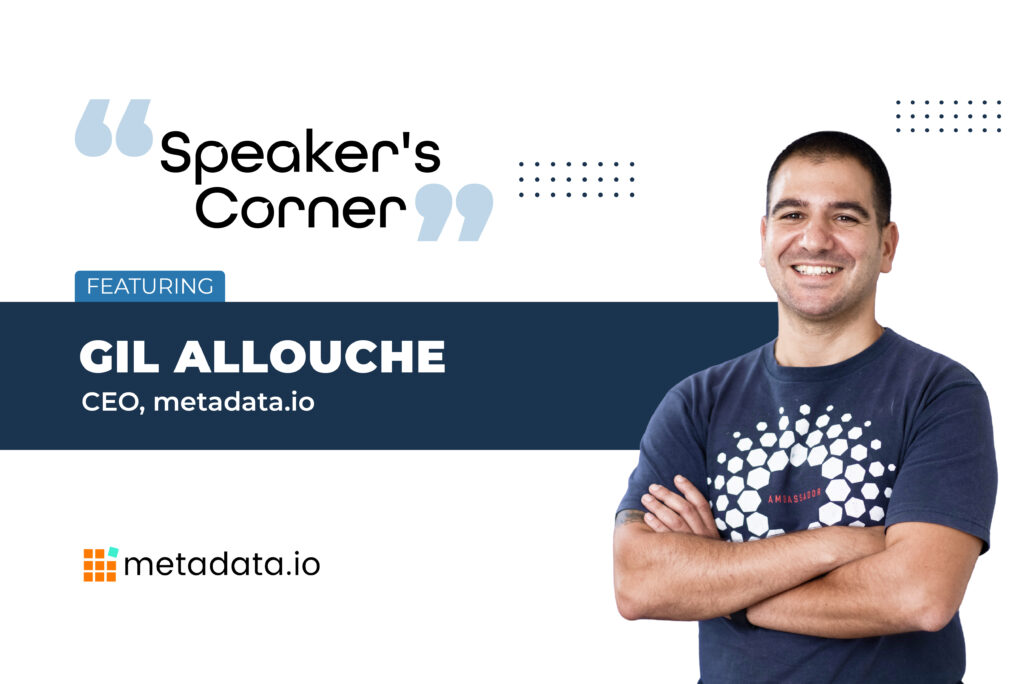 Speaker's Corner: Featuring Gil Allouche, CEO, metadata.io
Tell me about metadata.io, its work and projects…
Metadata is building the first Operating System for B2B Marketing, allowing marketers to get back to the work that builds companies and away from the mundane tasks that are killing B2B marketing, like manually building and rebuilding new campaigns in each ad channel. Our platform allows marketers to use one, single tool to automate the repeatable and time consuming parts of running paid campaigns so they can spend more time on strategy and creativity.
No technology has truly been built as a solution for what I think is the biggest problem in B2B – consistent, predictable growth that gets better and cheaper overtime. That is until now, with a platform that operates, not replaces, existing marketing and sales technologies in a scalable, automated way that delivers strong, tangible results.
What are the challenges within the B2B Marketing industry today?
B2B marketing is tough. A VP of Marketing typically has 18 months to prove they can build a pipeline for sales. There's pressure from management, the board, sales, and that pressure comes with little guidance and support. As a marketing leader, you spend time on tactical execution: lead gen, webinars, SEO, content marketing, and more. It can feel like you're juggling too many things with no concept of what's working and what doesn't. Add in limited budgets for technology paired with a red ocean of options, it leaves marketers feeling helpless not knowing what will give them the best results. Marketing technologies, in particular marketing automation, promised to take over the technical and mundane tasks, but it's now 2022 and there needs to be a better way.
How has the COVID-19 pandemic changed the way you go about business?
We're now a remote first culture. I still put a lot of emphasis on having quality in-person time when it's called for, but we're seeing a lot of success with this hybrid way of conducting business. Everyone's in lockstep with one another online. If anything, the pandemic has made me more economically responsible. Adjusting budgets allows for experimentation, which I love. I've used this time to encourage my team to think outside the box to find ways that will create profit within the company. Run toward the risk and come back with a plan.
Could you share with us the points of discussion (the input that you provided) during the panel(s) at the MarketingProfs B2B forum conference?
I spoke alongside Ali Haeri, VP of Marketing at MNTN, discussing why ABM urgently needs to change and the opportunities awaiting those who are willing to experiment. We talked about the ways to evaluate and elevate your current ABM strategy, how to integrate Connected TV as an effective ABM channel, and understanding why experimentation is critical to making this all work.
As a leader, what are the factors both professional and personal that drive you? What keeps you going?
The process of building a startup is challenging and full of long hours, personal sacrifice, financial difficulties, hard decisions and dealing with failure. But building a startup is like a personal growth lab. I have a strong growth mindset that looks at adversity and challenges as opportunities to experiment and push myself in new directions. In my five years as a founder and CEO, I've gained great insight into where my strengths lie and where I need to get better. Self-awareness should not only be focused on what you know to be true about yourself but also on knowing how you're perceived by your team, customers and investors, along with how your actions and decisions affect them and the business. I'm always driven to create a balanced blend of confidence and humility.
As a marketing leader, it's important to have a confident voice, but give credit where it's due. That credit is given to my team – they're who keep me going. They fill in the gaps where I can't through their different experiences, diversity, and skillsets. I believe success follows those businesses that hire employees who complement one another, so it's vital to surround yourself with the right people.
In your opinion, do digital events give you a similar level of feedback/result vis-à-vis the live versions? What would you say were the biggest pros and cons of both formats? Which do you prefer?
I would say yes. Last year we hosted Demand 2021, a virtual event for B2B marketers where we were joined by some of the biggest names in B2B marketing along with the next wave of heavy hitters. We aimed to give marketers the tools that would get them closer to revenue from the comfort of wherever they were, going straight to the point with full transparency from established speakers who have been there before and done the work. We exceeded our goal of 4,000 registrants and had a show rate around 40%.
Eventible.com is a review platform catering to B2B events. Given how review-driven our lives have become today, do you think reviews will bring in a level of transparency to the events industry? Would you rely on event reviews from other speakers if you had to make a speaking decision?
I think event reviews serve a powerful purpose. They help to contextualize attendee feedback with first-hand accounts so you can make the right decision on knowing the value you'll get from the event. I would rely on these types of reviews from past speakers to know how it would impact my brand and grow the reputation of my business.
Finally, do you have a favourite mocktail or drink? We'd be delighted to know.
Old fashioned!
About Gil: Gil Allouche is the co-founder and CEO of Metadata Inc., a marketing software startup in San Francisco, CA that employs artificial intelligence and machine learning to make demand generation more predictable and scalable. Gil founded Metadata.io to make demand generation easy for non-technical marketers. The Metadata.io platform and AI Operator evolved from Gil's experiences hacking various marketing and CRM systems to get the solutions he needed. Prior to founding Metadata, Gil was VP of Marketing at Qubole, a Big Data SaaS startup in Mountain View, CA. Gil has also held senior marketing and product management positions at TIBCO Software, Karmasphere, and 1Yell. 
To view the event, click here; to review, click here.