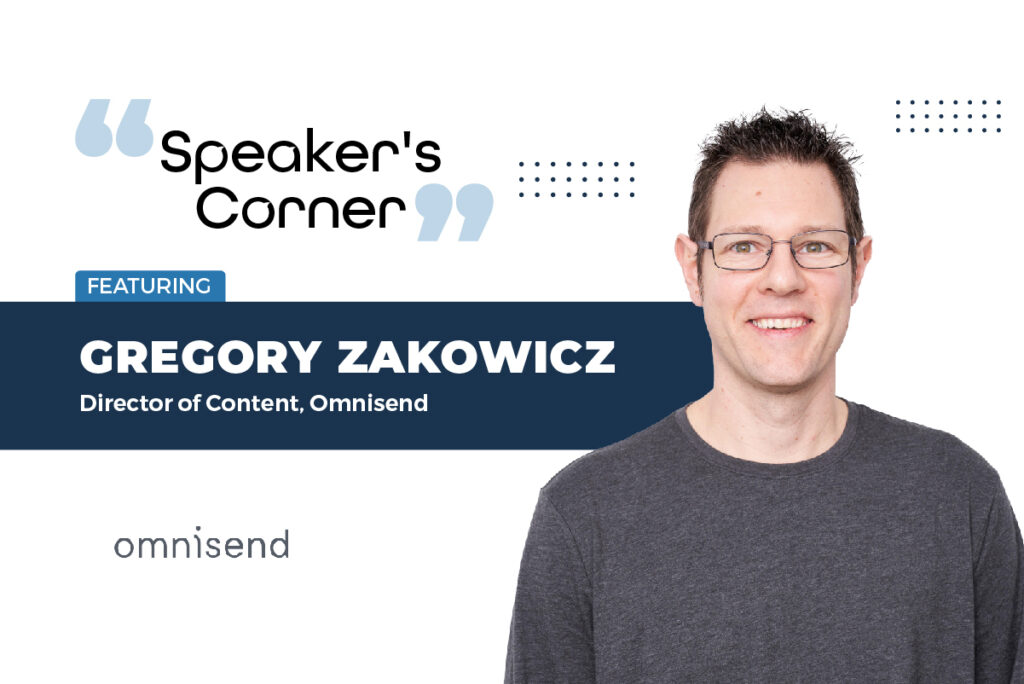 Speaker's Corner: Featuring Gregory Zakowicz, Director of Content, Omnisend
Tell us about Omnisend and its projects…
Omnisend is an eCommerce-tailored email & SMS marketing automation platform with more than 50,000 eCommerce brand customers. One of the things that make Omnisend great is that it is built with nimble teams in mind. This is key for us. We know that marketers and business owners have limited time and resources, but that should not limit their ability to grow. Being able to help them increase their eCommerce sales without increasing their workload is paramount.
While we are always improving the platform, a focus at the moment is on preparing eCommerce marketers for the iOS 15 update. This update is a big deal! Simply put, this update will end the open rate as a valuable email marketing metric and shift the mindset to more engagement-based metrics, like clicks. As we prepare for an email marketing world void of open rates, we created a central hub, www.OpensAreDead.com, for all things iOS 15. There you can find about the changes, how it impacts marketers and eCommerce brands, and ways you can prepare for them now.
Exciting times!
What are the challenges within the eCommerce industry today? What are the ways we can effectively mitigate risks?
I think one of the biggest challenges in eCommerce is one that's been around since day one: customer retention. Now, I know customer retention has many facets to it. But in today's world, where competitors pop up overnight and there is an increasing number of marketing channels, retention is more difficult and costlier.
This is why eCommerce brands need to solidify their marketing programs on their core channels. I commonly see in the industry that brands shift to focus on the new and shiny, like certain social networks, and take existing, well-performing channels like email for granted. Instead, they should be working with those core channels to make them more effective.
Here's an example. In 2020, 29% of all email orders came from automated emails. Automated emails made up less than 2% of all emails sent. Think about that! For an eCommerce brand, ensuring they have the proper automation set up, like a post-purchase series that enhances the purchase experience, they can use automation to increase their repeat customer rate.
The other overlooked item facing eCommerce brands today is the importance of opt-in channels, like email and SMS, and having this data in a single platform. Many brands use one platform for email marketing, another for SMS marketing, another for push notifications, and yet another for their social or paid search retargeting. Not only does this increase operating costs but the data becomes siloed and harder to use.
How companies can control that is by leaning on opt-in channels and having them in one place. Having a single platform that can send your email and SMS marketing messages while syncing to Facebook, Instagram, and Google ad properties allows a single marketer to retarget customers using connected data points.
By connecting this data, brands can create automation that includes multiple opt-in channels (e.g., email and SMS) in the same workflow. For example, when a customer makes a purchase and is opted into both email and SMS, they can receive relevant post-purchase messages via their preferred channels. If they stop responding to these messages altogether, you can identify that and seamlessly sync them to Facebook, Instagram, and Google ad properties for retargeting purposes—increasing your ROAS.
Here's the best part: having the data in one place makes it possible for a single marketer or small business owner to easily use the data and create effective automation that increases their sales and customer retention while they sleep.
What is your number one goal as a speaker?
To educate while providing actionable advice. I want people to leave the session with something they can take home and execute that day. Rah-rah presentations are great and can be lots of fun, but sharing knowledge that can help someone do their job better is the most important thing for me.
Could you share with us the points of discussion (the input that you provided) during the panel(s) at the eCommerce Masterplan Virtual Summit?
Sure thing. The panel centered around customer retention, which tied nicely to my presentation on why post-purchase marketing is so important for eCommerce brands. The all-too-common approach for marketers is to consider it "mission accomplished" once someone makes a purchase. But this is the perfect time to nurture them and create a second purchase and a more loyal customer.
In 2020, post-purchase email messages sent through Omnisend saw a conversion rate of 18%. Because these messages are sent to buyers, each conversion means the customer is now a repeat buyer. Companies work so hard trying to drive a second purchase yet fail to utilize the tools, like automated post-purchase messaging, that are right in front of them.
Here's the secret: post-purchase messaging doesn't have to be complicated or overthought. A single person in charge of an email program can easily create a post-purchase series that drives real repeat revenue.
In my presentation, I showed examples from Baking Steel, which sends multiple emails to recent purchasers, thanking them and providing tips to use the product better. These messages change based on the type of products the customer bought. The 'thank you' message alone sees a 20% conversion rate, meaning each conversion is now a repeat customer. That's amazing, considering there is no sales CTA in the messages.
There were also some great examples from Eat Me Guilt Free, which tailor their post-purchase messaging based on whether the customer is a first-time or repeat buyer. They go a step further by optimizing their product review message for cross-selling opportunities—and see a 13% conversion rate from that message.
Pay attention to the buyer journey and help customers have a better purchase experience, and you'll have more loyal customers because of it.
As a leader, what are the factors both professional and personal that drive you? What keeps you going?
Professionally, on a company level, it is the ability to contribute and see the direct impact on the company. Making a positive impact affects everyone in the company, and that's exciting. As a leader, it's important that my team feels valued, appreciated, and respected. Not putting people first is not only disrespectful but also impacts the company's ability to grow.
Personally, it is my family. I strive to be an active father that encourages my children to explore, ask questions, and, most importantly, enjoy life. Being a kid is the best time of your life, and being able to share in that (and be a kid again) is amazing. Professional growth affords me the ability to provide them with more opportunities than I had growing up, which is something I never forget.
In your opinion, do digital events give you a similar level of feedback/result vis-à-vis the live versions? What would you say were the biggest pros and cons of both formats? Which do you prefer?
No, I don't think so. You certainly get more feedback (both self and from others) with live events. When you present in person, you feel the room—you know when people are more and less engaged with the content or story, and you can adjust your delivery accordingly. Virtually, you miss that. After live events, you naturally engage with attendees or other speakers. These face-to-face conversations build connections and allow me to ask questions and learn as much from them as they do from me.
On the other hand, virtual events allow more people, especially those without the budget to travel, access to the content—giving it more potential to help more people.
I think there is a place for both. For me, I much prefer the energy and atmosphere of live events. The unfortunate part is that the industry is seeing fewer opportunities for non-paid speaking sessions. The result is that those who pay to speak have a greater need to promote their product or services, which ultimately decreases the value of the presentation for attendees.
What is your take on in-person events? Do you prefer in-person events as compared to hybrid or virtual? How soon do you think in-person events would return?
As mentioned, I prefer the live events—there's just more energy, engagement, and audience attention. Virtual events will always be a great tool, and I love that they expose more people to the content. The challenge currently is that though we are seeing a return to physical events, I think it will be 2022 before in-person events feel like they did before the pandemic.
In your opinion, what are the top 3 challenges to returning to 'In-Person' events? How could we mitigate risks?
Vaccines. Until vaccines are widely available for all age groups and in most countries, we will always have a level of uncertainty around in-person events.
In the same vein, the unknown around variants is a real issue. We are seeing that now with the Delta variant and breakthrough cases. This is a significant issue.
Company willingness to spend the budget. Many companies may look at the past 18+ months and think the same benefits exist for attending virtual events as they do for live events. I don't believe this is true, but companies need to be willing to send employees to events for them to be beneficial for the collective group.
Outside of vaccines, I am not sure how to mitigate risks. If you are around a large group of people, that itself is the risk. But it is just a matter of time.
Eventible.com is a review platform specially catering to B2B events. Given how review-driven our lives have become today, do you think reviews will bring in a level of transparency to the events industry? Would you rely on event reviews from other speakers if you had to make a speaking decision?
From a company vendor standpoint, I think they may for smaller events. Companies want to pay for a booth, sponsorship, or send their employees to events with the largest industry cross-over. With larger shows, these are relatively well-known. For smaller events, reviews will have more impact on sponsorship and attendance decisions.
If I had to make a speaking decision, it might impact how I approach the opportunity more than whether I would accept the opportunity. When speaking, you always want to make sure you are the right fit for the audience. Sometimes there is a disconnect, and speaker reviews can help bring these to light.
Finally, do you have a favourite mocktail or drink? We'd be delighted to know.
While a nice glass of red wine (Cab, Pinot, or Malbec) always treats me well, when it comes to mixed drinks, there may be nothing better than a supremely fresh margarita on the rocks (sorry, no salt for this guy).
Is there anything else you'd like to share with us?
Wash your hands, get vaccinated, wear a mask, and be kind to one another. And if you like podcasts and email marketing, be sure to check out the Cart Insiders podcast.
About Greg: Greg Zakowicz is a veteran marketer and the Director of Content at Omnisend. With 15+ years of experience in email, mobile, and social media marketing, he's helped over 100 DTC companies around the world, including numerous from the Internet Retailer Top 1000, maximize sales through their email marketing and SMS programs. Zakowicz is a frequent speaker at eCommerce events, often shares his eCommerce insights across various industry media outlets, has been retained as an industry expert witness for trial, and is the host of Omnisend's Cart Insiders Podcast.