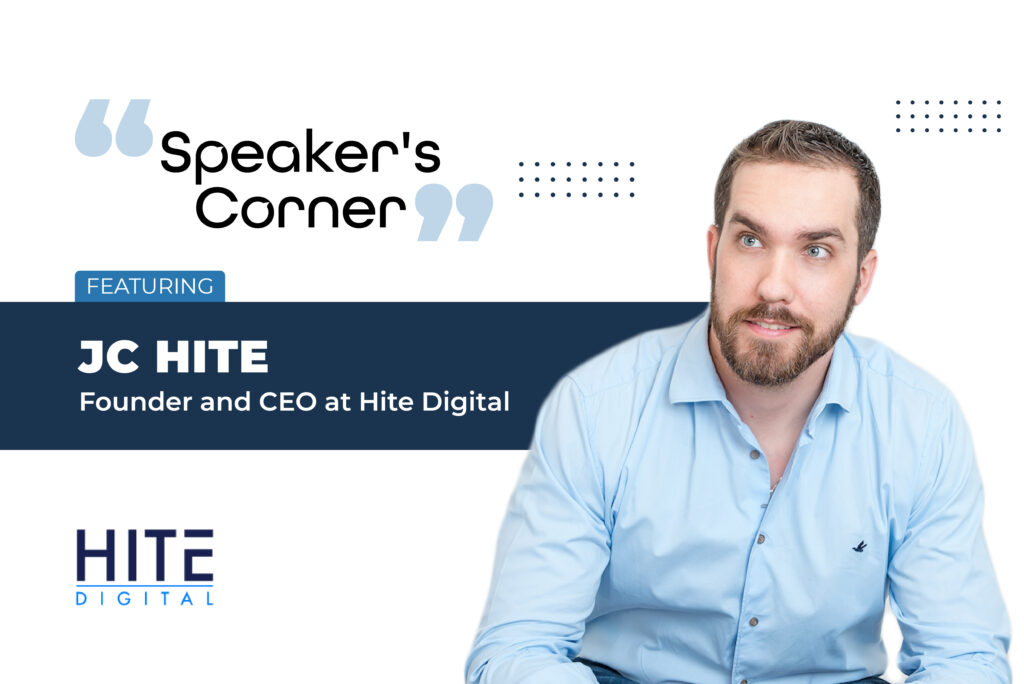 Speaker's Corner: Featuring JC Hite, Founder and CEO at Hite Digital
The marketing industry is going to see a lot of changes in the future around this: focusing more on optimizing strategy vs. optimizing a specific product or channel. We will be hiring more fractional CMO's vs. PPC people, says JC Hite, Founder and CEO at Hite Digital
Hite Digital places immense focus on serving, growing, and empowering people; elaborate on the strategies and the approaches to business within the preview of marketing that has contributed to the respect that Hite Digital enjoys today…
We focus on people and service above all else, which ensures that the work is always valuable for our clients
We work hard to avoid debt and always have savings, so that we never have to cut a salary, even in crisis
We have personal commitments and aligned values that ensure we all work towards one goal that's greater than ourselves
We focus on learning — the industry changes all the time, so we have to be flexible and adapt instead of sticking to one niche or one way of doing things
What are the challenges or trends within the digital (Marketing and Advertising) space today?
Marketing is not black-and-white. A lot of us tend to feel that if we succeed, we are amazing, and if we fail, we are terrible. Marketing is about competition: it's how I showed up today compared to my competition. Similar to sports, it's not about being at a certain level, but about how you do compare to who you're up against. The marketing industry is going to see a lot of changes in the future around this: focusing more on optimizing strategy vs. optimizing a specific product or channel. We will be hiring more fractional CMO's vs. PPC people.
What is your biggest objective as a speaker?
Create curiosity around different approaches to life and business. My goal isn't to change the way you think about a specific topic, but to help you challenge the norms. It's in this state of mind that we find what we are searching for.
What are the core points that you will be discussing during the panel(s) that you are participating in at the Ad World Conference 2021? What are you hoping to accomplish via your session(s) there?
What if franchising took over the marketing world as it has other industries like food, real estate and others? The other panel discusses how agencies scale and why "micro-agencies" have such a different game plan and mindset than larger agencies.
As a follow-up, do you feel that digital events give you a similar level of feedback/result vis-à-vis the live versions? What would you say were the biggest pros and cons of both formats?
I love events and I normally learn a lot more than what I teach. I love not only looking at the results but the process of how the speaker got to their conclusion or idea.
To review the Ad World Conference 2021, click here.
About JC:
About JC: JC Hite is the Founder and CEO of Hite Digital International, one of the fastest-growing agencies in the US. With a passion for business and people, Hite has not only scaled to 7 offices in the US and LATAM, but also created a disruptive model that enables faster and more efficient growth for agencies through franchising.JC Hite holds a BS in Business from Harding University. A consummate entrepreneur, he worked in finances, developed a language learning app, and worked for one of the largest PPC agencies in the US before leaving to found Hite Digital. He contributes to several online publications, including Forbes and Entrepreneur and runs an online agency community called the Digital Agency Hacker. JC spends his time between Nicaragua and Arkansas along with his wife and two children.