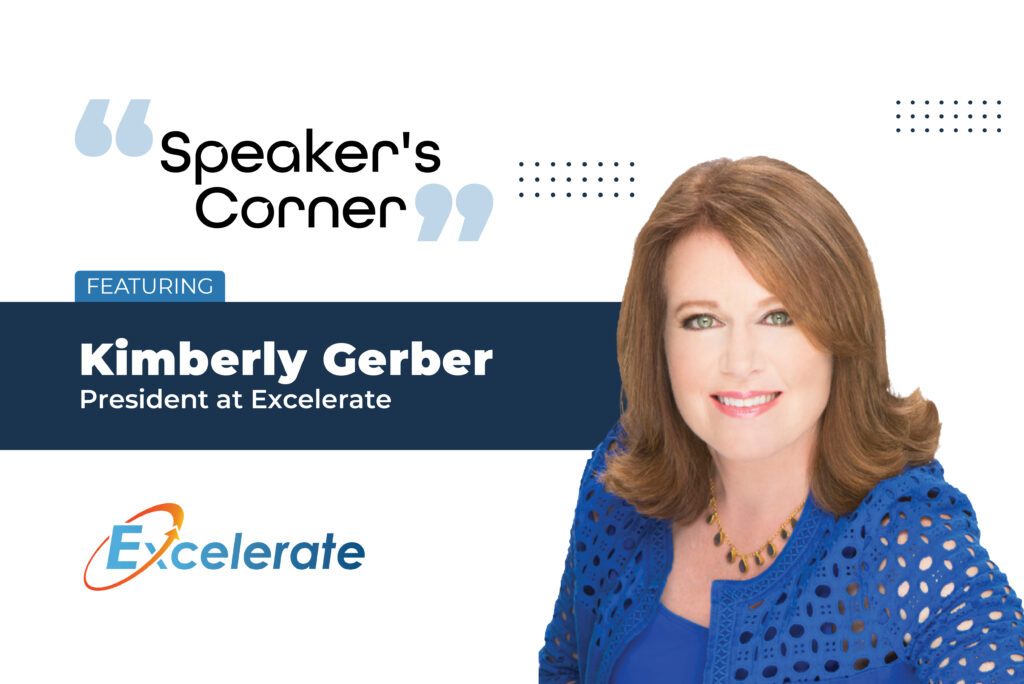 Speaker's Corner: Featuring Kimberly Gerber, President at Excelerate
Tell me about Excelerate – its work and the projects…
Excelerate is a leadership and communication incubator for executives and their teams. Through our executive development and coaching programs, we enable confident, strategic leaders and high-performing executive teams to build inspiring cultures and deliver profitable results.
What are the challenges within the training and coaching industry today? What are the ways we can effectively mitigate risks? With the necessary move to remote working, the lack of hands-on, personalized training and development is lost. Companies and providers are both needing to develop creative ways to engage and impact people in a way that scales and transcends the remote work environment. Even the best webinar-style training isn't able to replace the impact that hands-on, live and in-person experiences can create.
In what way has the COVID-19 pandemic affected the demand for coaching solutions? What are the current trends within the sector?
COVID-19 accelerated the need for coaching at almost every level. While a small number of clients initially paused programs, the majority quickly re-engaged and increased the scope of coaching. What we've seen over time is that the strategic and emotional burden the pandemic has placed on leaders is notably reduced when the leader has access to a coach. As a coach, I have found it a very rewarding time to be able to help people navigate the unknown and thrive in uncertain times.
What is your biggest objective as a speaker?
To share information in a compelling way that inspires people to TAKE ACTION. Whatever the topic, I try to bring something provocative, unconventional, and actionable to try. I want to inspire my audience to shift their thinking and embrace bold ideas while also providing them with actions that lead to immediate awareness and if employed over time, create sustainable results.
Could you share with us the points of discussion (the input that you provided) during the panel(s) at the ATD Conference?
My talk at ATD was focused on the five (5) leaps every leader makes when stepping up into a C-level role. The ATD audience is responsible for the development of talent within their organizations, and so in addition to the leaps, I shared how organizations can create the appropriate assessments, education, and development programs to groom key leaders well in advance of succession.
As a leader, what are the factors both professional and personal that drive you? What keeps you going? I love to watch the transformation that happens when someone is able to see themselves as they truly are and feel deeply valued for their innate talents and abilities. It's a gift to receive that experience and coaching is one of the rare ways it is delivered. Knowing that it's possible for people to become the best version of themselves is the challenge and the reward that inspires me every day.
In your opinion, do digital events give you a similar level of feedback/result vis-à-vis the live versions? What would you say were the biggest pros and cons of both formats? Which do you prefer?
Both event types serve their purpose, yet in my opinion, a live event is a richer and more transformative environment for leading and taking action. Digital events are great for accessing information on demand, transferring knowledge, and allowing people to access information in small amounts. Live environments allow for skills to be developed through experience and feedback. Plus, the interaction value and energy exchange that can only be found at live events is priceless.
What is your take on in-person events? Do you prefer in-person events as compared to hybrid or virtual? How soon do you think in-person events would return?
Lucky for me, in-person events took only the shortest hiatus. I returned to facilitating and speaking at in-person events back in September 2020 and have been fortunate to see that continue. As noted above, they are definitely my preferred way to engage with groups.
In your opinion, what are the top 3 challenges to returning to 'In-Person' events? How could we mitigate risks?
The challenges we face in leading in-person events are:
1.) Safety – we've actually got to take and enforce the necessary steps to keep people healthy.
2.) The perception of safety – this comes down to communication, visible attention to details, and holding people accountable to the level of actual safety measures guaranteed.
The third is creating connections at the same level as we had pre-COVID-19. Sometimes we are all masked up and spaced out, and in those environments, it takes creativity to get people feeling connected to the others in the room.
Eventible has recently launched a B2B Interactive in Person Event Tracker, tell us what you think? Do you think this is useful?
Yes, I think it's helpful in a couple of ways. For people looking for in-person events, having a quick view are geographic areas that might be a fit is really helpful, and for organizations wanting to do live events, but not sure what the rest of the world is doing – this lets them see that very quickly, and that can help them make decisions with confidence.
Eventible.com is a review platform specially catering to B2B events. Given how review-driven our lives have become today, do you think reviews will bring in a level of transparency to the events industry? Would you rely on event reviews from other speakers if you had to make a speaking decision?
Yes, reviews of events are helpful because they often cover so many aspects of the events. While one positive or negative might not influence my decision, themes will. It's great to be able to have something besides the event brochure saying how great an event is or isn't.
Finally, do you have a favourite mocktail or drink? We'd be delighted to know. My go-to is a glass of Rombauer Chardonnay or a Belvedere Cosmo.
To view the event on Eventible, click here. To write a review, click here.