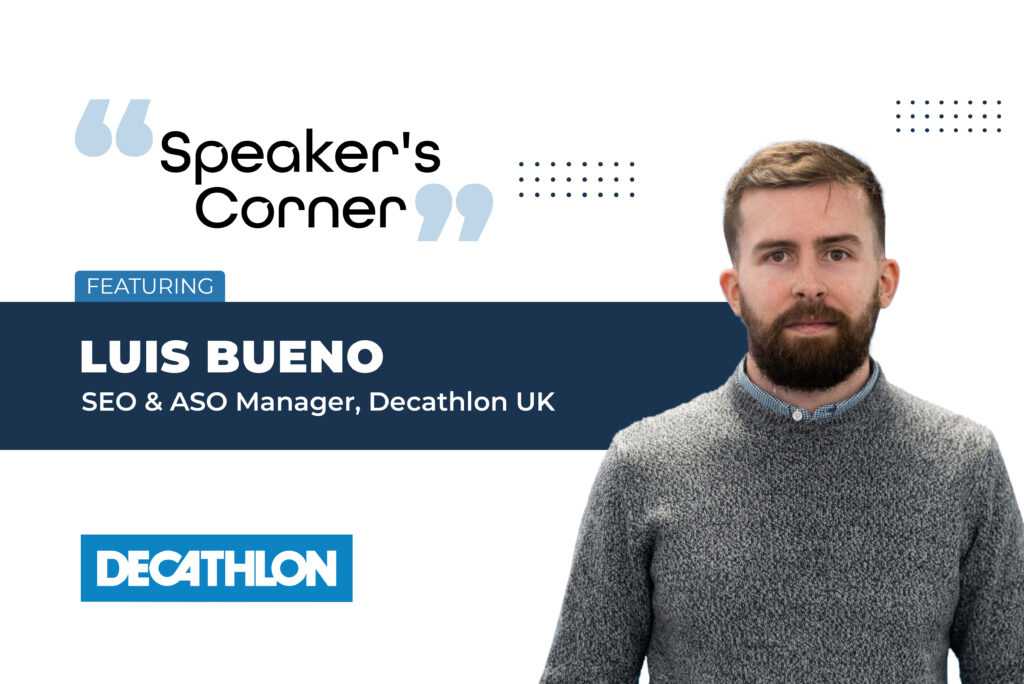 Speaker's Corner: Featuring Luis Bueno, SEO & ASO Manager, Decathlon UK
Decathlon is the biggest sports retailer in the world, tell us more about its work and projects…
Decathlon is the biggest sports retailer in the world.. It is a French company with more than 40 years of experience with a passion for making sport more accessible for the many. We have a range of products across over 70 sports that offer unbeatable value for money.
Decathlon opened its first store in London in 1999 and it has since developed with almost  50 stores across the country. Decathlon wants to help the British population to become more physically active.
We are in the middle of a digitalisation process at the same time that we transform our stores to create a full sport experience for our customers. We also want to reduce our CO2 impact and have ambitious goals to expand and promote our ecodesign products.
SEO is an important channel to increase Decathlon brand awareness and support the business' development online.
What are the challenges within the Marketing industry today?
Marketing is vital to gain and retain customers and in the last few years a big part of that has happened online. Digital marketing created new opportunities and allowed small businesses with lower budgets to compete. This means competition is fierce and we need to be clever when choosing our tactics. All the marketing channels need to work together to outperform the competition.
Also, finding talent can be a challenge due to the fast changing nature of digital marketing. Talented marketers are in high demand more than ever especially in disciplines such as SEO. Luckily for us, Decathlon's values and innovation are well known and make it easier to attract talent.
How has the COVID-19 pandemic changed the way you go about business? What trends do you see for the future…
The stores are still the biggest source of revenue for Decathlon but we realised that after the pandemic more customers jumped into online shopping. We now need to offer a good reason for our customers to come to the stores and try our products. That is why we are working on creating a sports experience in the stores and being the place you go for advice and other services.
And because online shopping will continue to grow, we keep improving the user experience in the website and exploring new channels to attract customers.
What is your biggest objective as a speaker?
I always try to keep in mind that we all have limited time. If you come to my talk I will do my best to add value and give you examples and information that can be useful in your job.
In addition, speaking in public helps me to improve my communication skills and critical thinking which will ultimately make me a better professional.
Could you share with us the points of discussion (the input that you provided) during the panel(s) at the brightonSEO conference?
In my talk at BrightonSEO I tried to give some advice on how to do an audit of your app from an ASO perspective. There are many guides about how to do an SEO audit but I could not find so many about ASO.
The first step is to understand your audience. Do some research and investigate what your audience's profile is, what markets you want to target and what are the user motivations.
The second step is to study the app. Understand what are the main app features, what does it enable you to do and how does it make you feel.
The third one is to prepare your creatives. Look at your competitors and experiment with different icons, screenshots, videos and feature graphic images.
Number four is to add the keywords in the right fields so you are able to rank for queries your users search.
Finally, it is important to read your user reviews and establish a system to analyse and answer them
 As a leader, what are the factors both professional and personal that drive you? What keeps you going?
The fast pace of digital marketing. To succeed in this field you need to keep learning and testing. Every year there are new challenges, new updates and new features. The good part is that SEO is a collaborative environment and you can always find someone to help you in the community. Brighton SEO is a live example of this.
In your opinion, do digital events give you a similar level of feedback/result vis-à-vis the live versions? What would you say were the biggest pros and cons of both formats? Which do you prefer?
Digital events are a great opportunity to connect people all over the world. However, it is sometimes a challenge to engage people. The dynamics and interactions need to be adapted to online. The activities that work well in the live events won't have the same result online.
I do not have a preference as both experiences have pros and cons. I am amazed at how I can discuss SEO topics with someone in the US or India in an online event but I also love the human interaction and sense of community you have in an event such as Brighton SEO.
 What is your take on in-person events? Do you prefer in-person events as compared to hybrid or virtual? How soon do you think in-person events would return?  
Definitely the people. Meeting colleagues in person you had only met virtually before is an unbeatable experience. We are social creatures and need that interaction to develop and learn from others. Virtual events are here to stay but in-person events are already back as Brighton SEO has shown.
 In your opinion, what are the top 3 challenges to returning to 'In-Person' events? How could we mitigate risks?
Safety is still a concern for many of us. The hosts should not forget the pandemic learnings and make sure all the attendees are comfortable.
Also, we all as participants need to get comfortable again at the live dynamics after so long working online. Hybrid events may help but the challenge is to connect in-person and virtual attendees.
Finally, in-person events need to provide value for both attendees and sponsors. The event should be engaging and offer opportunities for networking to make it attractive for participants.
Eventible.com is a review platform catering to B2B events. Given how review-driven our lives have become today, do you think reviews will bring in a level of transparency to the events industry? Would you rely on event reviews from other speakers if you had to make a speaking decision?
I would. Social proof is not only important for ecommerce. I use it to make informed decisions about which gym I go to or which is the best online course to expand my skills. Having reviews from other speakers would help me to understand the value I can add to an event as a speaker.
Finally, do you have a favourite mocktail or drink? We'd be delighted to know.
My favourite mocktail is called Noo Woo. I had the chance to enjoy one at the Revolution bar in Brighton at the after drinks party in Brighton SEO.
About Luis: Luis is an SEO professional with over 7 years of agency and SEO-in-house experience. He started his path in ASO a couple of years ago and continue expanding his skills in the field to help eCommerce businesses reach their goals.  Read more here.
To view the event at Eventible, click here; to review, click here.