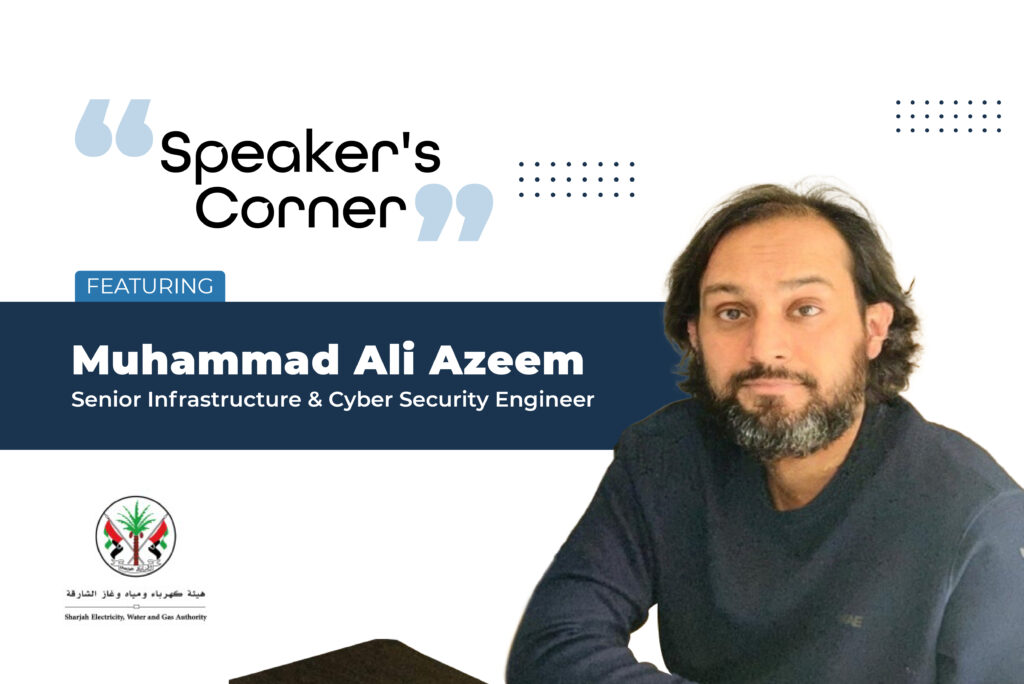 Speaker's Corner: Featuring Muhammad Ali Azeem, Senior Infrastructure & Cyber Security Engineer, Sharjah Electricity & Water Authority (SEWA)
Tell me about your company – its work and projects…
I'm a consultant for Sharjah Electricity, Water & Gas Authority or SEWA which is one of the largest utility service providers in this region. It caters for the needs of more than 1.3 million household and commercial consumers. At the moment SEWA is busy in multiple service expansion projects for consumers and more than in the internal projects to improve SEWA's business processes by introducing innovative technology and enterprise solutions.
The IT industry sector is vast and often has its challenges, what are the challenges that most affect your business? Are you engaging in any kind of problem-solving?
Information Technology is an ever-changing world, new and advanced technologies are getting on board every day and it becomes very difficult for businesses to maintain the pace for adopting these new innovations into their portfolio. SEWA takes the adoption of such innovations very seriously and that is why it has recently started working on modernizing its business tools for business users and consumers. At the moment SEWA is working on improving the customer billing systems and methods, introducing more e-services and upgrading their IT & OT infrastructure and cyber security posture.
The COVID-19 pandemic has mandated change in the way we go about business and operations. How has this time influenced you? What are the trends you see within the sector?
During the last 2 years since the pandemic hit the globe, everything has changed and we have seen a drastic change in the way people live. From shopping to entertainment and from education to work, everything has a new way of doing. During the first hit of the pandemic, I used to work for an aviation sector organization. I saw the flight operations going to almost zero and observed the industry coping with the challenge of survival. What I learnt from it was that nothing is going to stay forever and everything shall change.
For example, for centuries, people have worked in a typical office environment and we never thought it would change but now you see that people and companies prefer to work from home and remote working has become a new norm. But specific to my business sector and critical sectors like aviation and critical services, things may not change so quickly. Because human interference in these operations remain critical and technology has not reached a stage where we can fully rely on it. It will still take some time for artificial intelligence to become part of critical sectors where public health and safety is critical and at risk.
What is your biggest objective as a speaker?
As a speaker, my main objective and focus remain on conveying information and critical insights to the people within the industry, to persuade businesses to adopt stronger cyber security controls and implement stringent policies. For common people, I would continue to raise awareness among the masses to protect their privacy and information on social media and daily life.
Could you share with us the points of discussion (the input that you provided) during Cyber Security Summit… 
In my recent public event at Intersec Dubai, I was part of a discussion panel on protecting critical infrastructure against cyber threats and my final input was that industries and universities need to invest in raising cyber security awareness among the critical resources who learn and run these operations and do not have IT background.
As a leader, what are the factors both professional and personal that drive you? What keeps you going? 
Motivation is the most important element to succeed as an individual and as a team. People should be motivated individually and as a group to bring a change. Without this, they don't have the energy to drive any project or task. The second point I would like to highlight is the true leadership attitude and teamwork. A leader should act as an example for the rest of the team by taking ownership and responsibility and sharing knowledge and guiding the team in the right direction and should support juniors so that they both can grow together and equally.
In your opinion, do digital events give you a similar level of feedback/result vis-à-vis the live versions? What would you say were the biggest pros and cons of both formats? Which do you prefer?
It depends on what is the objective of the event. Sometimes a physical event is necessary to convey the objective where you have to show your product in demonstration or action to the people. While digital events are good to the point where engagement is required. People can pay more focus to such events due to less disruption and activity. In my opinion, live physical events are good for people networking, more reliable engagement but they consume more time and cost whereas digital events provide focused access and save cost but sometimes fail to give a true message to the attendees.
What is your take on in-person events? Do you prefer in-person events as compared to hybrid or virtual? How soon do you think in-person events would return?
I personally, like in-person events due to the opportunity of meeting new people, increasing your network and finding more business opportunities but seeing the current situation of different COVID-19 variants appearing every few months, it looks like in-person events may take some time to return.
In your opinion, what are the top 3 challenges to returning to 'In-Person' events? How could we mitigate risks?
The biggest challenges are travelling and logistics. Travelling protocols keep on changing, second is the restrictions that are put in place for even locally organized events. the third is the business using this pandemic to find easier ways of engaging with people. I am not a health expert and can not comment on who to mitigate the risk for in-person events but I think the attendance protocols like PCR test results and vaccination certificates are 2 good protocols that can help make these events safer.
Eventible has recently launched a B2B Interactive in Person Event Tracker, tell us what you think? Do you think this is useful? 
Honestly speaking I still need to give it a try and I can't comment at this moment. Maybe if I get interaction with it, I can give my feedback.
Given how review-driven our lives have become today, do you think reviews will bring in a level of transparency to the events industry? Would you rely on event reviews from other speakers if you had to make a speaking decision?
Well, submitting a review is a cultural behaviour. Some cultures take it seriously and give very honest feedback while some cultures simply put random comments. Relying totally on these reviews may not give 100% output but it can be useful for an initial study.
Finally, do you have a favourite mocktail or drink? We'd be delighted to know.
My wife makes a very tasty homemade Soda with lime and sugar and it is my energizing drink in the evening before I start working on my personal projects.
About Muhammad: Muhammad Ali Azeem is an experienced Cyber Security and IT Infrastructure specialist with over 12 years of experience across multiple industries like Oil & Gas, Retail, Aviation, Energy and Utilities. He specializes in providing businesses with expert strategic support to improve their information security and operational IT landscapes. He is currently leading the digital transformation journey in his current role in a Technology Architect role and supporting the business in adopting the most secure, suitable and efficient business solutions to transition into a progressive and innovative organization.