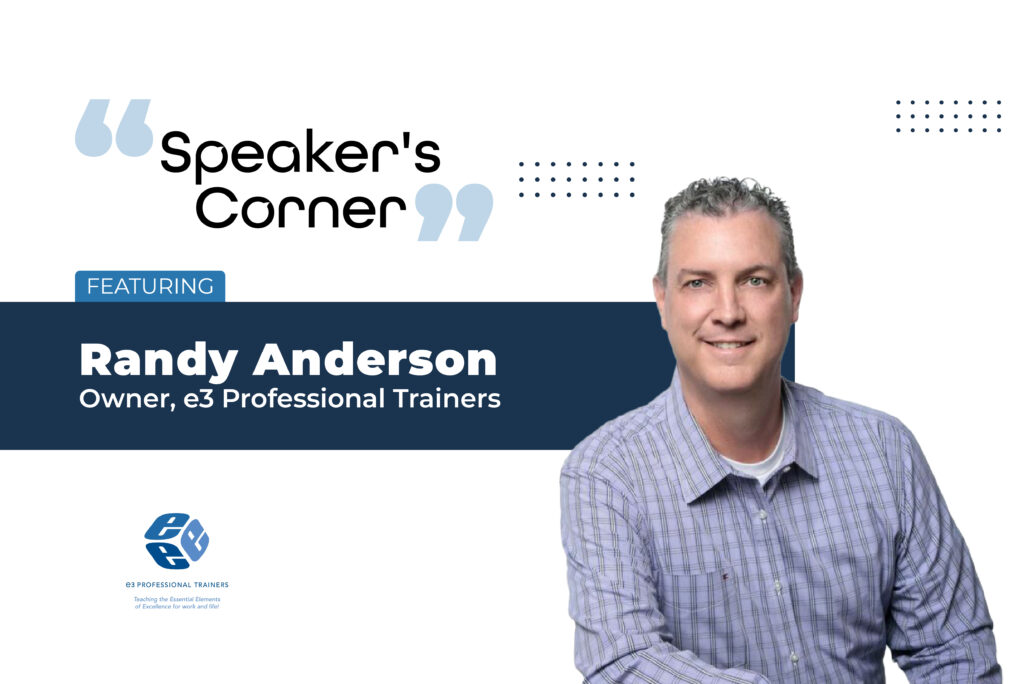 Speaker's Corner: Featuring Randy Anderson, Owner of e3 Professional Trainers
Tell us about e3 Professional Trainers – its work and projects…
We specialize in helping individuals, teams and entire companies reach higher levels of productivity, increase profitability, and enjoy more fulfilling lives. Through customized training, personal coaching, and keynote presentations we will equip your team with the tools and strategies to improve employee engagement, increase their time management skills, and achieve better life balance.
What are the challenges within the training & consulting industry today? How is your company working towards dealing with or solving these challenges?
Obviously, Covid is the most prevalent current challenge, but I don't see it is as the biggest challenge I/we face.  Throughout the last 16 years, the most consistent challenge I have faced is convincing small and medium-sized businesses to invest dollars in soft-skill training.  It is often difficult for them to attach an immediate and measurable ROI to that type of spending, and often employees suffer because it limits their professional development.  I have and continue to try and educate decision-makers on the value of training and coaching such as I provide, and how it will benefit their organization through increased productivity, profitability, and employee retention.
How has the COVID-19 pandemic led to a shift in providing training solutions, which are the trends within the sector?
For me, and I think many of my peers, it forced us to turn to virtual delivery as an alternative to "in person" or live training.  It is difficult to find anyone that would argue that virtual training is more effective, but it was a necessary part of the battle against the pandemic.  Most of my clients have gone back to live gatherings at this point, but to a great degree, that is more indicative of where I do most of my work (based in Texas) and the fact that I do lots of small group training rather than large conventions, conferences, or corporate training.
What is your biggest objective as a speaker?
Though it may sound like a cliché, my main focus and primary goal is to have a deep impact on the people with whom I have the opportunity to work.  While I'm constantly trying to "broaden my influence," giving people tools and strategies they can implement and practice long-term is my main concern.
Could you share with us the points of discussion (the input that you provided) during the panel(s) at the SHRM Annual Conference & Exhibition?
I was not a part of a panel/discussion.  I delivered one of the concurrent sessions.  My presentation focussed on building trust.  After identifying the signs of trust or lack thereof in a team, we then discussed the three main paths through which trust is built:  Actions, Interactions, and Reactions.  I pointed out the five "misses" that can cause a loss of trust: Miscommunication, Misinterpretation, Misinformation, Misrepresentation, and Missed Expectations.  Finally, I gave the attendees a four-step strategy for rebuilding trust if it has been lost.
As a leader, what are the factors both professional and personal that drive you? What keeps you going?
I am a person of faith, and I truly feel like I'm chasing a higher call to help people work better, as they work more, and really make a difference through their chosen vocation. I experience great fulfillment in helping people rekindle a passion for life, especially at work.  Also, I have always tried to improve operational excellence in all areas of my life and enjoy helping others who may not naturally think that way how to look for and recognize ways that they can improve their productivity and efficiency.  
In your opinion, do digital events give you a similar level of feedback/result vis-à-vis the live versions? What would you say were the biggest pros and cons of both formats? Which do you prefer?  
Virtual events can't come close to effectively engaging people in professional development training the way live training does.  The energy of being in the same room with others is only the beginning.  It also allows for ideas exchange and constructive conversation that doesn't happen through a Zoom call.  While training virtually was an acceptable stopgap during Covid, I would NEVER recommend that as a viable alternative to in-person training.  Virtual training seems to have become a "cheaper" option for some of those like I mentioned earlier that don't really want to invest in the most effective training that is available.
In your opinion, what are the top 3 challenges to returning to 'In-Person' events? How could we mitigate risks?
Decision-makers will need to discern between facts and politics.  Helping employees/attendees to overcome the fear that has taken hold over many people in the last year and a half.
They will have to be creative in finding places and practices to allow for a reasonable amount of physical distance while being in a large group.
I believe if we will take the basic precautions that have become common practice over the last 18 months, we can safely assemble and return to a level of normalcy for training events.
Finally, do you have a favorite mocktail or drink? We'd be delighted to know. 
Nope…I'm pretty boring.
To review SHRM Annual Conference & Exhibition, click here.
About Randy:  Randy Anderson is co-founder of E3 Professional Trainers…a Texas-based training firm that provides workplace and life training for individuals, teams, and companies.  The training he provides is designed to help individuals improve their personal productivity and live more fulfilling lives, while at the same time, helping the companies and organizations they work for improve profitability. 
Before starting E3 in 2005, Randy spent 20 years in sales and sales management.  Most of that time was spent in media sales, which gave him the opportunity to work with virtually every type of business and in every industry.  It is from that experience that he draws the ideas and strategies to help his clients improve their performance in the workplace and to achieve their maximum potential in life.
Randy was awarded the designation of Certified Speaking Professional in 2012.  This is the highest earned designation given by the National Speakers Association, recognizing proven expertise in speaking eloquence, business enterprise, and professional ethics.
Randy received his Bachelor of Science in Agricultural Communications from Texas Tech University in 1990.  Since that time, he has participated in and completed numerous training courses including; Your Leadership Legacy (Ken Blanchard Co.), Changing the Picture (Ziglar Corp.), Ethics 101 (Cox Enterprises, Inc.), LifeNet Time Management Training (Life Net Inc.), Basic Selling Skills (AVI International), Top Selling (Ziglar Corp.), Professional Selling Skills (Learning International), System 21 Selling (Executive Decision Systems), and Fast Track Media Sales (Cox Media, Inc.).  His most valuable experience has come through 30 years of on-the-job, real-world experience: 12 of which were spent managing others, and another 16+ years running his own company.