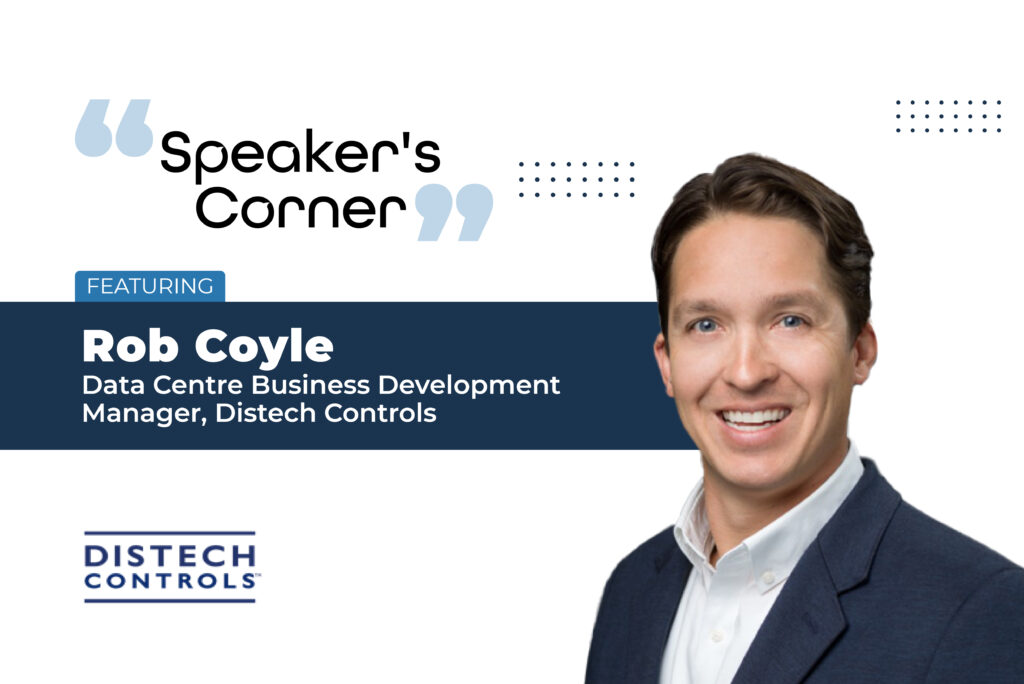 Speaker's Corner: Featuring Rob Coyle, Data Centre Business Development Manager, Distech Controls
Tell me about Distech Controls, its work, and projects…
Distech Controls provides intelligent building solutions for multiple industries, but we have become a preferred provider to some of the top data center companies in the world.  Being both technologies forward and flexible/open is a unique combination of traits that the data center's value. Our clients require proven resiliency, tools to support their business, and the ability to deploy in multiple regions with consistent outcomes.
Are long-standing supply chain vulnerability and skilled labor shortages a challenge?
The IT industry is growing at an exponential rate but has long-standing supply chain vulnerability and skilled labor shortages. As we start to see this change as the Fourth Industrial Revolution the scale and impact of our decisions become increasingly important. By shifting our designs and ops programs to a more vendor-agnostic and open-source model, we can make our supply chains more robust and deskill our facilities so they can be more efficiently managed.  The advancements in software and hardware at our disposal require less dependency on a dedicated vendor that previously offered these tools and services as part of their product suite.
In what ways has the COVID-19 pandemic affected the IT service sector? What are the current trends within the sector?
The challenges that were already being felt or on the horizon were accelerated by the COVID-19 pandemic.  We started the pandemic with existing challenges in skilled labor and restrictive vendor lock-in practices.  Those were exacerbated when the growth requirement for data centers increased again and our supply chains and the labor force were limited by the pandemic.  Going forward the pain will only continue to increase as other industries return and require the same materials and people to build and operate their businesses.  Combine this lack of resources with additional data center growth and we will need to find different ways to accomplish our desired growth and efficiencies.
What is your biggest objective as a speaker?
Our industry is founded on change, and we need to internalize that change to face our greatest problems. In data centers, we wrongfully accept many legacy approaches that are not well understood and therefore will be hard to change.  I have found that sharing my personal learning experience resonates with people.  We are all pioneers in digital infrastructure, there is no manual for how our digital ecosystems must be.  We must continue to be curious, learn and act to improve.  My hope is that people can take what I have learned and challenge some of these legacy beliefs and influence their own organizations to take a more open approach.
Could you share with us the points of discussion (the input that you provided) during the panel(s) at the Data Center World Conference?
My focus was on open-source IT hardware and the impact it has on the larger scope of a data center facility. Distech Controls as a member of the Open Compute Project is joining with other companies to share our lessons learned and solutions to advance the way we monitor and manage our data centers.  The advancements we have seen in open-source software are happening in hardware and the impact is far-reaching.  It requires an open mindset and a desire to challenge the notion of "we have always done it that way" to come up with the solutions that will help us face our problems in sustainability, labor, and rising demand.
As a leader, what are the factors both professional and personal that drive you? What keeps you going?
Early in my career, I was in a much more rigid industry where opportunities to do new things were limited and I assumed most problems had been solved. This was at best boring, and worse, often frustrating. I'd hate for those who desire more in their career, to repeat this time in waiting that I did. Today, I have the privilege of being in a space that has no shortage of problems to solve, it is very exciting to take part in the Fourth Industrial Revolution. I would be remiss if I did not encourage more people to take an active role in our industry. Regardless of your age or experience, this rapid change creates new opportunities every day for more and more people. I'm driven to make my own impact but also and more importantly, to share with others to encourage them to make their own impact as well.
In your opinion, do digital events give you a similar level of feedback/result vis-à-vis the live versions? What would you say were the biggest pros and cons of both formats? Which do you prefer?
I have experienced different results in virtual and live events.  In a time of concern around safety and wellbeing, travel restrictions, and tighter company budgets, virtual events are more accessible than live.  I appreciate the access that digital events provide and I have been able to interact with people in different roles that I typically do in a live show.  The contrast exists in the rapport gained when sharing an experience with someone in a live setting.  That rapport is important when developing new professional relationships as you find those to help and those who can help you.  I feel fortunate to be able to join as many live events as I can and prefer those when offered, but I see the value in virtual as well.
What's your take on in-person events? Do you prefer in-person events as compared to hybrid or virtual? How soon do you think in-person events would return?
Hybrid events are a great blend, but I am always looking for ways for live participants to interact with the virtual ones. Otherwise, it feels like two parallel conferences with some shared content.
In your opinion, what are the top 3 challenges to returning to 'In-Person' events? How could we mitigate risks?
The consistency and understanding of risks and requirements are always my challenges when evaluating attending a live event.  What is the facility and events like, are masks & vaccines optional or required etc.  We all have different thresholds of risk. Clear standards and events meeting that expectation will increase confidence in attending events.  Events will have various circumstances due to geography and timing but communication and commitment to ways that best serve the attendees are paramount.
Eventible has recently launched a B2B Interactive in Person Event Tracker, tell us what you think? Do you think this is useful?
Yes, in my limited experience with it, I think this could be a useful tool.
Eventible.com is a review platform specially catering to B2B events. Given how review-driven our lives have become today, do you think reviews will bring in a level of transparency to the events industry? Would you rely on event reviews from other speakers if you had to make a speaking decision?
I think reviews would be a fantastic tool to help me prioritize events and speaking engagements. Reviews from other speakers would increase the quality of the evaluation and I could potentially rely on it more.
Finally, do you have a favorite mocktail or drink? We'd be delighted to know. 
Bourbon Old Fashioned *cheers*
To review the Data Center World Conference, click here.
Your Bio: Rob Coyle removes technical barriers to enable others to achieve their goals and focus on their passions. As the son, grandson, and brother of carpenters, Coyle's education in construction began early. This background, combined with his passion for innovative technology solutions, led him to data centres. The approach to digital infrastructure has been historically slow to change, yet the problems faced by the industry require a modern response. Coyle is an experienced speaker having presented in global data center events around North America and in Europe.  Notable events include AFCOM Data Center World, 7×24 Conference, Open Compute Global Summit, and multiple regional events.