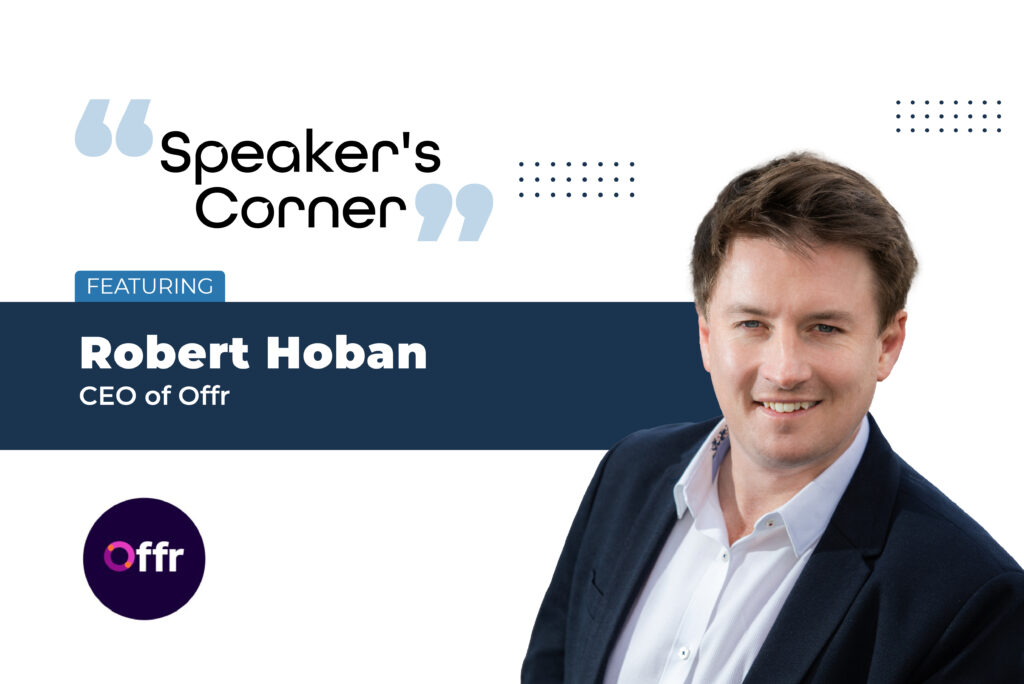 Speaker's Corner: Featuring Robert Hoban, CEO at Offr
Tell me about Offr – its work and projects… 
Offr is doing for real estate what Shopify and Amazon have done for retail. Offr is a transaction marketplace that allows buyers, sellers, and renters to quickly transact property with brokers, in a secure and transparent environment. Brokers also get access to the revolutionary Offr Button, a white-labeled widget that sits on their own website, allowing their customers to transact property digitally, day or night. Customers submit offers, provide proof of funds, sign contracts, and pay deposits, all with a few taps of their mobile device.
What are the challenges within the business/productivity software industry today?
The big challenge when providing a new business solution to an extremely traditional and conservative industry, such as real estate, is the amount of education and trust-building required to bring the industry on the journey with you. Real estate involves very large financial transactions, with multiple professionals involved (agents, lawyers, etc) providing professional advice to customers. Technology has to be seen as a friend to the professional and the customer alike. Ultimately though, as seen in other large professional industries such as banking and insurance, change is driven by customers, who vote with their feet, preferring the path of least resistance.
How has the COVID-19 pandemic changed the way you go about business? What trends do you see for the future…
Almost overnight, the world's property markets and property industries were forced to go online. This brought great opportunities but great challenges, too. Property agents and lawyers needed a host of technologies to allow them to run their businesses while sequestered in their kitchens. Virtual tours, digital signatures, transaction technologies. And they needed technologies that didn't take weeks and months of installation and training. We saw the number of companies signing up to Offr sky-rocket. But, by the same token, the overall number of property transactions fell due to buyers and sellers postponing decisions. But as the world emerged from lockdown in 2021, a surge of pent-up demand saw property markets globally surge upwards.
What goals do you see for Offr to achieve in the next five years?
Since our launch in late 2019, Offr is now the leading transaction technology in our home country, Ireland, and we wish to achieve the same outcome in the UK, where we recently launched in 2021. We also wish to be operational in 6 new territories, in which early work has already commenced. Another key milestone will be the release and scaling of several new product lines, covering all possible property transaction types.
What is your biggest objective as a speaker?
To keep the audience awake! As a property auctioneer in a previous life, I am accustomed to standing in front of large audiences and having to keep their attention. As a speaker, I want the content to be fresh and engaging and of direct relevance to the people sitting and giving up their time to listen. It is important to have one simple objective that you wish your audience to take away with them. In my case at the Web Summit, I was trying to help any fellow founders planning to try to change a traditional industry by giving them some key tips based on my experiences.
Could you share with us the points of discussion (the input that you provided) during the panel(s) at Web Summit 2021?
When trying to introduce a radical new tech solution to a very conservative industry such as real estate, it is key to remember to bring the industry with you on the journey. To avoid the temptation, out of early frustration, to fight against the very companies who will eventually become your customers and the advocates of your product. Small things make a difference. Ensure your founding team has industry experience. In our case, if we want to sell a solution to an agent, we have to think like an agent!
As a leader, what are the factors both professional and personal that drive you? What keeps you going?
I've learned to roll with the punches. In the first few years, there is a hell of a lot more setbacks than wins. Every avenue closed, every rejection, every 'no thanks' need to be met with a nod and a shrug and should never be taken personally. Eventually, the wins start to outnumber the setbacks. I think it's true in life, too.
In your opinion, do digital events give you a similar level of feedback/result vis-à-vis the live versions? What would you say were the biggest pros and cons of both formats? Which do you prefer?  
Having experienced both, I think the undoubted logistical efficiencies of online events are greatly outweighed by the benefits of meeting people at physical events and at post-event gatherings. These are great for fostering client and investor relationships.
What is your take on in-person events? Do you prefer in-person events as compared to hybrid or virtual? How soon do you think in-person events would return? 
As above, each has its merits but I know from talking to fellow companies and customers that there is a big desire among businesses to get back to in-person events. I think the online and hybrid models are here to stay, though, by allowing more events to be added to the calendar, peppered between the in-person events.
In your opinion, what are the top 3 challenges to returning to 'In-Person' events? How could we mitigate risks?
Covid vaccinations are critical but also a general acceptance amongst governments that we will never eliminate the virus, so collectively, as a society, we all have to reach an agreement as to what is an acceptable risk and an acceptable level of presence of the disease and its ongoing variants.
Eventible has recently launched a B2B Interactive in Person Event Tracker – the tracker shows you in-person events going live in various parts of the world. Do you think this is useful?
Certainly. I think a tracker of both in-person and virtual events is helpful.
Eventible.com is a review platform catering to B2B events. Given how review-driven our lives have become today, do you think reviews will bring in a level of transparency to the events industry? Would you rely on event reviews from other speakers if you had to make a speaking decision?  
Yes, if there was a critical mass of reviews that gives you comfort that the reviews are not being overly influenced by a minority of reviewers.
Finally, do you have a favorite mocktail or drink? We'd be delighted to know.
I love good Pimms!
About Robert Hoban: With 20 years' experience in the Irish and UK property industry, Robert founded Offr in 2018. Formerly of Savills, Allsop, and Bidx1, Robert sold over 6,000 properties by auction, totaling €1bn in value, by way of both traditional in-room auction and online auction. Seeing firsthand the impact that technology could have on a traditional process, Robert went on to found Offr, the first global digital property transaction platform that integrates with estate agents' websites, providing a fast, digitized version of all transaction types. Investors include Barclays, Bank of Ireland, and the National Association of Realtors in the USA.
To view Web Summit 2021 on Eventible, click here. To write a review, click here.