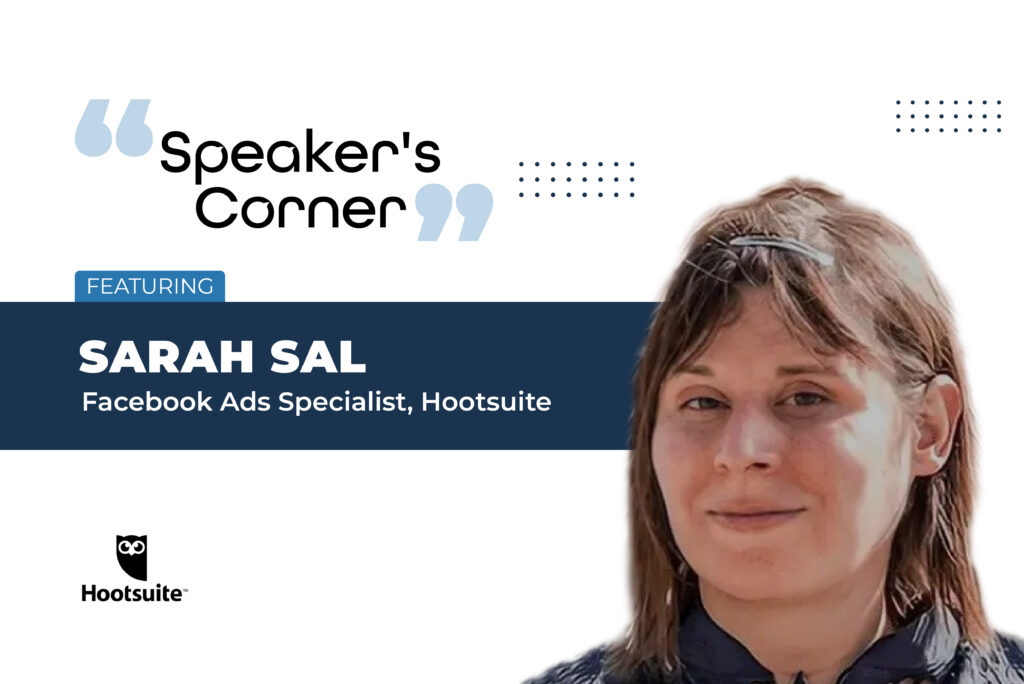 Speaker's Corner: Featuring Sarah Sal, Facebook Ads Specialist, Hootsuite
Tell me about Hootsuite, its work and projects…
Hootsuite is a swiss-knife tool to manage both organic and paid social media
What are the challenges within the Marketing industry today?
We tend to run after shiny objects. We ask what's working with the Instagram, Facebook, TikTok, and Google search algorithms today, and we forget we're talking to humans. We forget the principles of persuasion. We ask what's definitely working today and forget there are principles of persuasion that worked even 100, 500, or 1000 years ago. Here's an example:
On the famous Copywriter Club podcast, Kira once asked me what was something that worked a few months before then that no longer worked by the time I was interviewed. What I said was: "Instead, let me tell you what worked 10 and even 50 years ago in advertising before Facebook even existed and still works today."
Take "37 grams of saturated fat" as an example. When those warnings first came out, people had no idea what they meant! But health authorities relied on analogies and ended up forcing movie theaters to stop using coconut oil to keep up popcorn sales. That's the power of analogy. You take something people understand, visualize it with language into an ad copy, and you get powerful ads.
The ad ran something as: "A medium-sized 'butter' popcorn at a typical neighborhood movie theater contains more artery-clogging fat than a bacon-and-eggs breakfast, a Big Mac and fries for lunch, and a steak dinner with all the trimmings—combined!" That single ad line made the front pages of The Los Angeles Times, USA Today, and The Washington Post, and it was featured on CBS, NBC, ABC, and CNN. What worked 500 years ago in marketing still works today, because Facebook is a medium. If that social media disappeared tomorrow, we'd still have interruption marketing one way or another.
What trends do you see for the future…
Personally, I was already earning an income online and already working remotely before the pandemic, so whether it's 2019, 2018, or today, I still have a tomato sauce stain on my t-shirt, and work behind my laptop and think: "Let me work a few more hours before I change or clean my shirt." For me, personally, that didn't change a lot.
If we're speaking about trends, we're noticing people who used to live in very expensive cities, such as New York, San Francisco, London, etc. where real estate and rent are crazily expensive and people are thinking: "Why am I paying an arm and leg to share an apartment with three or four other people despite having a good salary? If I live in the countryside, I could stretch my legs" So, that's a trend, being more mobile, because people are kind of tired of the cost of living in big cities.
What is your biggest objective as a speaker?
To keep my audience engaged, entertained, having them remember me and leave my speech thinking: "Oh my god, I learned something new"
Could you share with us the points of discussion (the input that you provided) during the panel(s) at the BrightonSEO conference?
There were a lot of questions about Facebook and I often said: "For God's sake! Forget for one minute there's a social media platform!" Imagine you're in a coffee shop, sitting with someone face to face. How would you talk to them? Do the same thing if you're on TikTok, Facebook, LinkedIn, or wherever; always remember you're speaking to a human.
As a leader, what are the factors both professional and personal that drive you? What keeps you going?
Knowing I'll be visiting another cat café. While I visit those, I forget about everything related to my profession. It's my way of meditating; I do so with cats.
In your opinion, do digital events give you a similar level of feedback/result vis-à-vis the live versions? What would you say were the biggest pros and cons of both formats? Which do you prefer?
For a long time, people have been talking about conferencing technologies and how they would replace the need for travel, expos, etc. Yet, we've seen that none of that ever happens. We're still human and we still love to shake a hand and talk to someone face-to- face as opposed to staring at someone on a laptop screen that exhausts our eyes.
The biggest pro of offline conferences is the horrible tea and coffee. While I'm having that horrible drink, I can complain to someone next to me and say: "Hey! This coffee is really bad!" and then we'll have a conversation.
The second pro is the long line to the bathroom. That's the perfect place for me to deliver my elevator pitch to someone and sell my products and services. People are trapped, not going anywhere. If you think about it, when we're online, people can skip my ad. Through a cold call, people can hang up on me. Over social media, maybe I get one second of attention.
But in a three or ten-minute bathroom line, I get ten minutes to sell my services! Of course, I'm joking, but you get my point. We're human, we crave human contact.
What is your take on in-person events? Do you prefer in-person events as compared to hybrid or virtual? How soon do you think in-person events would return?
There are two points of view. From my point of view, I prefer offline. Then, from an event organizer's viewpoint, whether it's online or hybrid, it's up to them to see how many people show up, and factor in the hotel and travel costs versus the offline version's performance. I don't have that data, so…I'm just speaking as an individual. In most cases, I prefer an in-person event. It may be three days long, and I'll still go to most talks. I can't think of the last time I sat calmly behind my laptop and spent eight hours listening to different speeches. I'd be tempted to check my email and social media or do some work.
After some time watching an online event, it becomes truly exhausting. It's more relaxing to attend in person, seeing people real size and not 1/50th of their real size on a laptop screen. In-person events have already come back. I spoke last month in Brighton, as well as at a live conference last year, in September 2021. I think it's already returning as people are already sick of being online to the point where they're somewhat screaming something like: "Let me out!" They want to go to an offline conference.
In your opinion, what are the top 3 challenges to returning to 'In-Person' events? How could we mitigate risks?
There's still corona. People are still afraid.
Eventible.com is a review platform catering to B2B events. Given how review-driven our lives have become today, do you think reviews will bring in a level of transparency to the events industry? Would you rely on event reviews from other speakers if you had to make a speaking decision?
I use reviews if I need to buy a product on Amazon. I check to see which got the best reviews. And, if I'm paying for hotel, travel, and need to take time off, I wonder how good or bad a conference is. This said, I'm more likely to trust the review of someone I know. The review of someone I know and trust has way more value than that of a stranger. If I have no such reviews, a stranger's review is better than nothing at the end of the day.
Finally, do you have a favourite mocktail or drink? We'd be delighted to know.
I love ceremonial matcha and recently discovered smoked tea. I think the smell of it is what I enjoyed most as the taste is pretty much the same as any black tea.
About Sarah: Sarah's a Facebook Ads Specialist at Hootsuite & AdEspresso. With 7 figures in Facebook ads spent under her belt in 10+ years, she's run ads for companies like ClickFunnels and Strategyzer. When she started running ads for the latter, they struggled to make $0.40 for each $1 spent on ads, and she moved them to $18 for each $1 spent. She's written on Facebook ad testing, strategy, and execution for AdEspresso, Agorapulse, Blitzmetrics, Copyhackers, ActiveCampaign, AdWeek, Jon Loomer's Power Hitters Club and the likes. And she's even presented inside Perry Marshall's iconic 80/20 Facebook ads course.. In her daily menu, there's always room for a warm cup of matcha, sarcasm, and spicy vegan food.
To view the event click here, to review, click here.