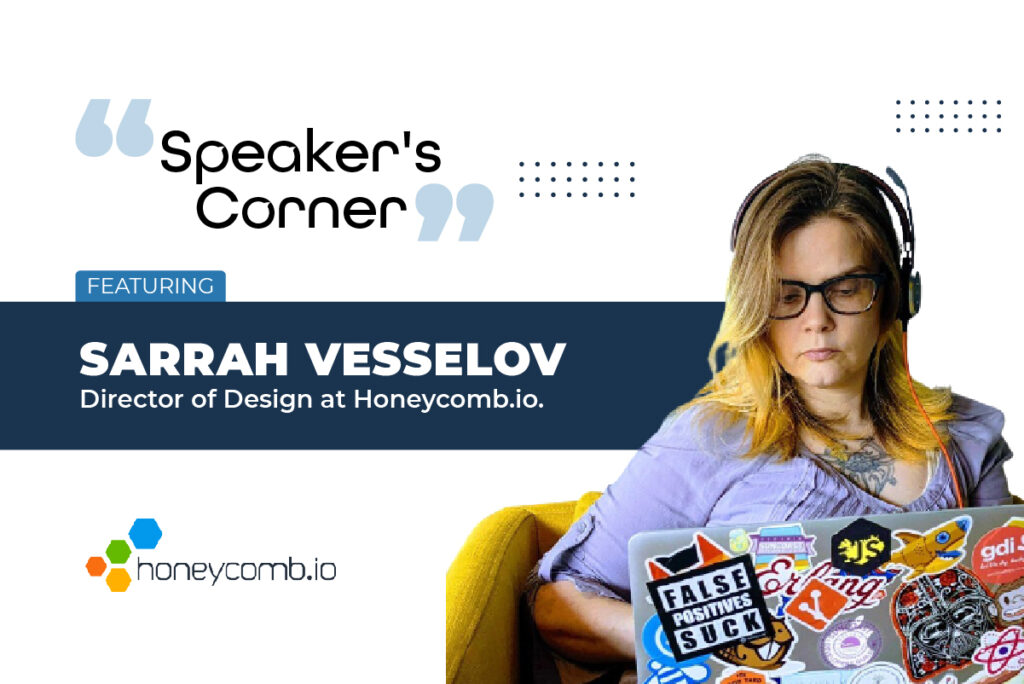 Speaker's Corner: Featuring Sarrah Vesselov, Director of Design, Honeycomb.io
Tell us in brief about Honeycomb.io…
Honeycomb is an observability tool that allows teams to operate more efficiently by viewing their systems in one single data store. A debugger for live production systems, it lets you ask your system questions swiftly and interactively. We believe that optimizing systems and debugging should not be difficult and draining, freeing up more time to ship new code.
As a designer, it is an exciting and challenging product on which to work. A significant amount of domain knowledge is required before you feel that you can confidently begin to talk about and propose design solutions. This means spending extensive amounts of time speaking with customers and engineers working on the product and digging into the product itself. There is no shortage of complicated and quirky design problems to solve.
What is your biggest objective as a speaker?
Connection. I'm drawn to speaking as a way of connecting with other people. However, the talk itself can be excruciating. While writing, I go through the "inevitable stages of talk writing". It begins with excitement and enthusiasm and the feeling that I have something unique and worthwhile to share with people. Then I begin to question why I ever agreed to the talk in the first place and wonder who would want to listen to me anyway. Rallying, I usually end up with something I am proud of and feel is worth sharing, only to get stage fright at the last second. But this is where the magic happens! Inevitably, people in the audience make eye contact, and I can feel "get it". In addition, there are typically questions and counterpoints from the audience that make me re-evaluate my thoughts on the subject. In the end, I am so glad I decided to give the talk and can't wait for the next one.
Could you share with us the points of discussion (the input that you provided) during the panel(s) at the REFACTR.TECH conference?
Accessibility is one of the topics that has come up over and over again throughout my career. It typically starts with enthusiasm and comes from a good place; people want the product to be more inclusive and are passionate about making a difference. This enthusiasm meets resistance when they come up against the reality of how hard it is to make a product accessible. Is it, though? In my talk, I discuss some of the common misperceptions about accessibility, and share ways to rally design engineering and product around accessibility as an attainable and worthy goal.
As a leader, what are the factors both professional and personal that drive you? What keeps you going?
On a personal and professional level, I am inquisitive and always trying to improve myself. I don't ever think I have learned or seen it all. I always wonder what's next and what I've missed. I see all the people around me as teachers and try to embrace everything that comes as a learning opportunity. I find that this helps frame my disappointments and failures so that I can keep going. It also helps me to see others' failures and mistakes as opportunities for them to grow. As a leader, I think this is a helpful take to have.
What is your take on in-person events? Do you prefer in-person events as compared to hybrid or virtual? How soon do you think in-person events would return?
I love in-person events. Travel, getting to see new places and meet new people is exciting. However, I am excited that digital events are experiencing a renaissance. So many people who cannot travel due to financial, physical, or other limitations can now participate in these events. While I do not doubt that in-person events will return at some point, I hope that we have learned that there are ways to include everyone that don't require them to be physically present.
Eventible is a review platform specially catering to B2B events. Given how review-driven our lives have become today, do you think reviews will bring in a level of transparency to the events industry? Would you rely on event reviews from other speakers if you had to make a speaking decision?
There are so many events, and it can be hard to determine which to apply or participate in. I would certainly consider reviews from other speakers when deciding whether to speak at a conference or event myself.
To review REFACTR.TECH 2021, click here.
About Sarrah: Sarrah is a user experience design professional, speaker, and author with over 15 years of experience in design, development, and management. She has extensive experience leading, mentoring, and growing multi-disciplinary design teams in high-functioning organizations. She sets the vision and direction for user experience, defines the design roadmap, and advocates for design within the R&D leadership team and beyond. She helped establish the open-source design system, Pajamas while managing the design team at GitLab. Sarrah is currently the Director of Design at Honeycomb and is working on establishing their design system called Lattice. She enjoys teaching and mentoring on design and UI development subjects and speaks at conferences around the world on the topics of user experience and front-end development. She published her book on design systems, Building Design Systems, in 2019.