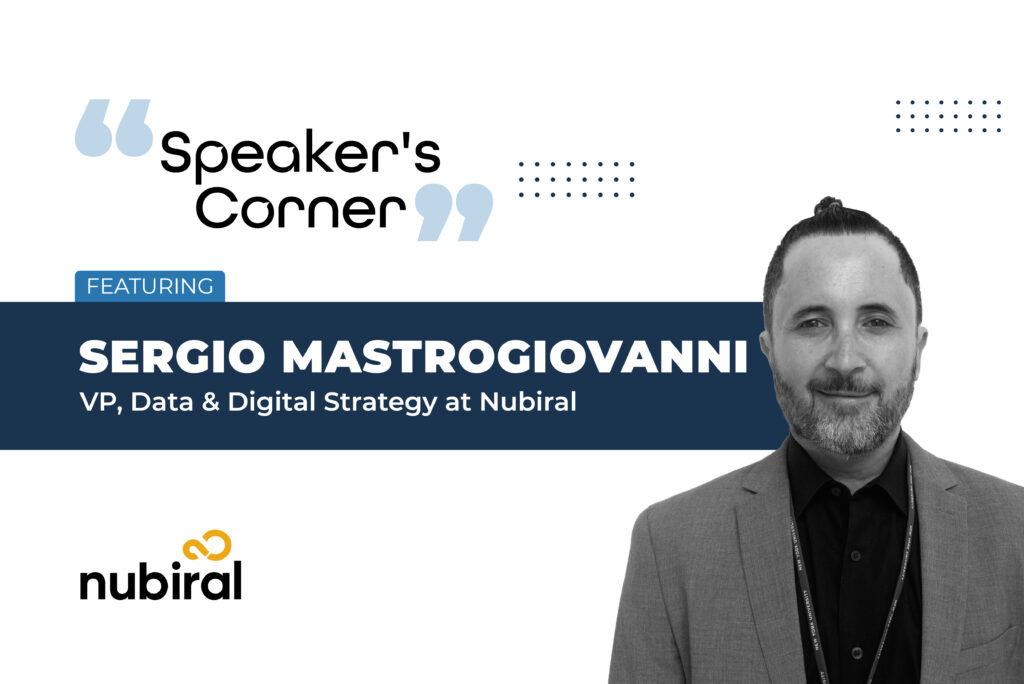 Speaker's Corner: Featuring Sergio Mastrogiovanni, VP, Data & Digital Strategy at Nubiral
Tell me about your company – it's work and projects…
Nubiral is a company of technology experts, specialized in business digital transformation and innovation. We help our business partners walking their digital maturity with innovative products and services. Our core is data services including analytics, artificial intelligence models and blockchain solutions.
The HR industry is vast and often has its challenges, what are the challenges that most affect your business? Are you engaging in any kind of problem solving? 
Business leaders in general and HR industry in particular are facing interesting challenges with cultural shifts and the pace of the change to support their organizations. I help them working on data literacy adopt this digital culture, democratize access to information, and empower people to avoid escalations. They have a key role reskilling and upskilling colleagues in position that need to be automated and optimize work by putting it all together to reinvent jobs.
The COVID-19 and the pandemic has mandated change in the way we go about business and operations. How has this time influenced you? What are the trends you see within the sector?
Flexibility is the secret sauce, and ability to learn.  There is no new normal to stay, change is the new normal, so we need flexibility and adaptability to pivot and have more plans. So, transformation is more important than digital. I see many challenges with the gap between what we have and what we need. I see an augmentation of the virtual life; we spend almost our whole day in front of a screen.
What is your biggest objective as a speaker?
Educate people, help everyone understanding that we need to make changes because we are leaving a hectic moment and the pace of change is growing exponentially. We have smart cities, smart devices and we create more data than ever, but our capacity to process it is limited, so we need to focus.  My role is helping senior leaders and policy makers leveraging that technology in order to have a better quality of life for each and every person in the planet.
Could you share with us the points of discussion (the input that you provided) during the panel(s) at the Hacking HR 2022?
I discussed how organizations are adapted to the digital demand and how digital transformation is an inevitable change that goes beyond crisis.
Pandemic taught us that technology is a great ally. AI can shorten the recruiting cycle that takes weeks to hire the right talent and, the hiring cycle can be reduced to 1 or 2 weeks because you are not looking at cover letter by cover letter. The system has already done everything for you, so HR role is to do a final check and interview the final candidates and save time to look into the HR strategy and personnel development.
In the past it was fair to compare the abilities of a single human with a something automated. For example, a human writer with a printer if you will. Today, you are not comparing a human driver with a self-driving car. AI is something more than that, having the ability to interconnect the automated devices. We could think of a fleet of self-driving cars with a collective intelligence. An army of bot recruiters working for us.
As a leader, what are the factors both professional and personal that drive you? What keeps you going?
Technology is here to help, and I love helping people understanding that. I focus my talks on the future of work and smart cities, because I think I can impact more people. We need to create those environments to support these many changes we are having and we'll keep having at an exponential pace.
In your opinion, do digital events give you a similar level of feedback/result vis-à-vis the live versions? What would you say were the biggest pros and cons of both formats? Which do you prefer?
We are humans and we need that human touch. Engaging in real in person interactions are more reach and the level of connection and focus is deeper in face-to-face meetings. On the other hand, digital events make it broader and help the message reach more people and everyone accessing any event in the world with the best speakers from their office or home. I personally prefer in-person or hybrid meetings.
What is your take on in-person events? Do you prefer in-person events as compared to hybrid or virtual? How soon do you think in-person events would return?
I think the world is ready for in-person events. We now have vaccines and we learned how to deal with the pandemic. We also need to collaborate with the economy recovery and general resilience. I prefer and support in-person events because we need them!
In your opinion, what are the top 3 challenges to returning to 'In-Person' events? How could we mitigate risks?
Venues: long events need to take place in open places.
Cities: we still have lockdowns and places with restrictions.
Travels: we have many challenges and still have countries and companies that have challenges with flights.
Eventible.com is a review platform specially catering to B2B events. Given how review-driven our lives have become today, do you think reviews will bring in a level of transparency to the events industry? Would you rely on event reviews from other speakers if you had to make a speaking decision?
Absolutely. We learned to trust the wisdom of crowds as we do with Spotify when we pick songs and artists, Netflix when we pick a show or Yelp or OpenTable to check for a restaurant. I would love to see something like that.
About Sergio: Sergio Mastrogiovanni is an international speaker, senior data scientist, executive, entrepreneur, and digital evangelist with career success leveraging advance data analytics and technology integration to drive sustainable revenue, manage change through digital transformation and continuous improvement, and his passion in this world is about making data accessible to people. He is an AI and Blockchain advisor and VP of Data and Digital Strategy at Nubiral. Academically, he is a senior researcher working with Artificial Intelligence and Blockchain for Sustainable Development, focused on the Future of Work and Smart Cities.
To view the event on Eventible, click here; to write a review, click here.