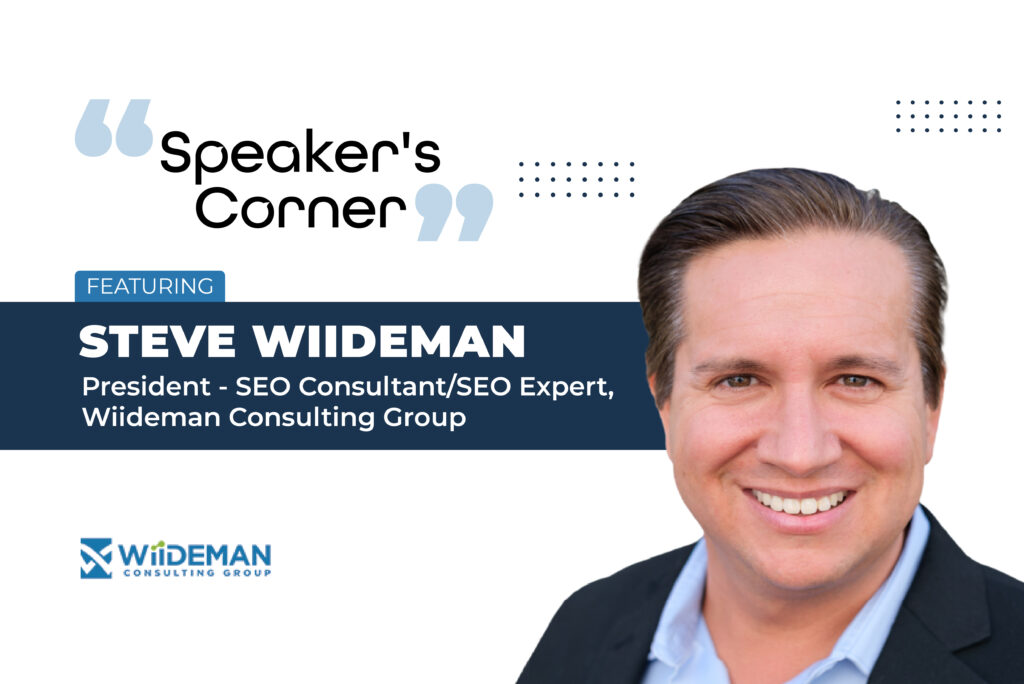 Speaker's Corner: Featuring Steve Wiideman, President – SEO Consultant/SEO Expert, Wiideman Consulting Group
Tell me about Wiideman Consulting Group, its work and projects…
Wiideman started in 2010, incorporating in 2015, with a team of 10 consultants based in La Mirada (Los Angeles), California. Most of our clients are multi-location and franchise brands, with a handful of e-commerce businesses. Our core expertise is in helping large organizations with thousands of physical locations scale local search.
Previous projects have included working with brands such as Skechers, Public Storage, Meineke, Belkin, Linksys, and multiple restaurant chains.
What are the challenges within the SEO industry today?
Everyone seems to be under-resourced and working with a limited budget to invest in organic, oddly enough when paid search budgets seem healthy and almost inflated. Dev teams seem to be deprioritizing SEO more than usual and content teams are taking shortcuts, such as limiting research and using stock imagery.
As an industry, we should also do a better job prequalifying clients to work with us. We had a difficult attorney who maximized every area of SEO, yet could not retain his rankings due to low reputation scores and infrequent customer ratings (nobody clicks a 3-star listing).
What trends do you see for the future?
The pandemic has loosened up our minimum contract periods and pricing quite a bit. All employees are working from home, and we've implemented multiple wellness programs to help employees limit stress.
I imagine things are going to worse before they get better. We're going to be more budget-conscience and plan ahead to be better prepared for uncertain times.
What is your biggest objective as a speaker?
My objective is always to provide value, including templates, tool recommendations, and case studies. I'm not a fan of self-promoting.
Could you share with us the points of discussion (the input that you provided) during the panel(s) at the B2B Marketing Expo California conference?
My talk was on building an SEO Strategy, including the components of the various audits and reports, such as a technical SEO review, competitive analysis, link and off-page SEO, along with analytics and KPI tracking.
As a leader, what are the factors both professional and personal that drive you? What keeps you going?
I enjoy watching the people around me improve their capabilities, share my passion for inbound marketing, and achieve things they didn't think were possible when they started working with me.
Commitment to the team, our clients, and our vision keeps me going.
In your opinion, do digital events give you a similar level of feedback/result vis-à-vis the live versions? What would you say were the biggest pros and cons of both formats? Which do you prefer?
I feel like digital events can make it easier for attendees to get distracted. I enjoy meeting people in person and developing relationships that start with a handshake. While it can be expensive to attend in-person events, they often result in a higher close rate than online events.
What is your take on in-person events? Do you prefer in-person events as compared to hybrid or virtual? How soon do you think in-person events would return?
I much prefer in-person events, they have already returned to Los Angeles, Las Vegas, and other places where I've spoken in the past.
In your opinion, what are the top 3 challenges to returning to 'In-Person' events? How could we mitigate risks?
Fewer people are in attendance still at In-Person events
Some people are still wearing masks, making it awkward to share a smile or know what they look like without the mask.'
ROI has been less, perhaps with fewer new visitors and more returning visitors.
Eventible.com is a review platform catering to B2B events. Given how review-driven our lives have become today, do you think reviews will bring in a level of transparency to the events industry? Would you rely on event reviews from other speakers if you had to make a speaking decision?
I hope reviews will eventually play a stronger role than they do today, attrition seam low.
Finally, do you have a favourite mocktail or drink? We'd be delighted to know.
I'm a beer drinker for the most part, but I love a good red blend wine.