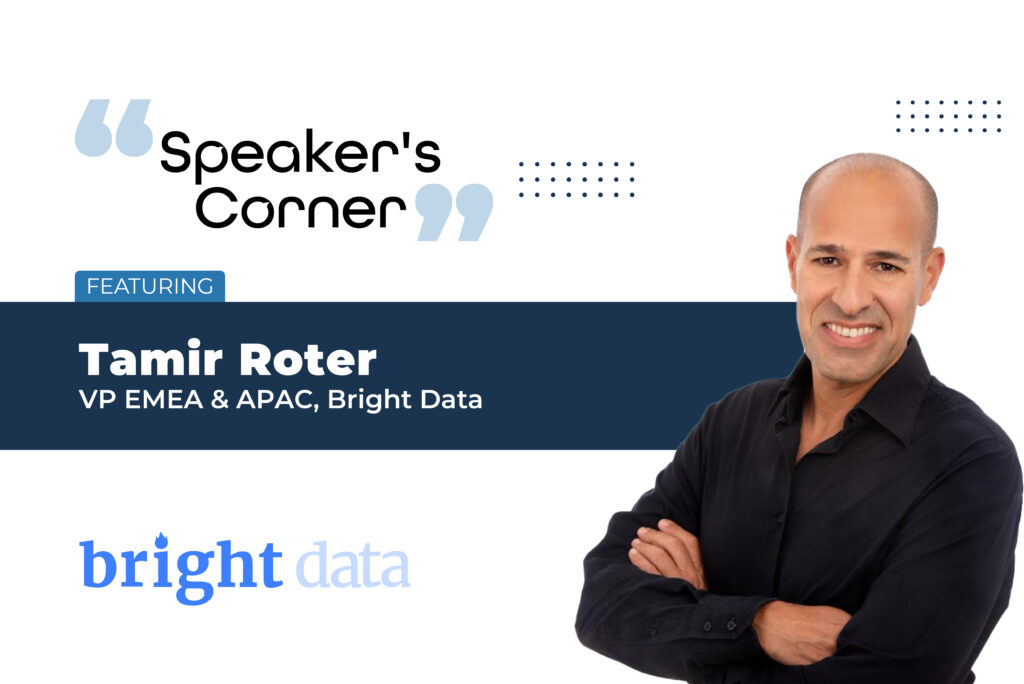 Tell me about Bright Data, its work and projects…
The internet is the largest mostly public database in the world. However, it is not a structured one. To put it simply, today, our market, our economy, and we, as consumers, are managed mostly digitally. So, to know your landscape, no matter what that is, you need real-time actionable web data. The larger or more competitive the market, the more extensive data is needed and at a more frequent pace. We deliver that public web data to over 15,000 customers worldwide in a structured manner so they can immediately connect it to their systems or draw vital conclusions from it as quickly as they need it.
Our customers range from enterprises from the Fortune 100 list to smaller start-ups and academic institutions. To list some: 7 out of the 10 leading eCommerce sites work with Bright Data as well as 86% of the 100 leading universities in the world, and 2 of the 5 leading banks in the US. So, from retail to finance to travel, healthcare and many other sectors – web data comes to their service and sometimes even to their rescue.
To put it simply, to make significant steps in the market that will make you win more, you need reliable web data; without it, you are left with some guesswork, and no one wants to guess when it comes to their business strategies or decisions that directly affect revenues or overall results.
What are the challenges within the E-commerce industry today?
For retailers, the fight for consumers' attention – and their wallets – has been shifting to eCommerce. This need has accelerated or been enhanced in the last two years. With most of the marketplace competition managed online, on the web, you cannot afford to not tap into our real-time front, which is the web. For retailers, this kind of data is more important than ever. From making sure you price your products or services in the most attractive way for your customers to developing products or offers that address consumers' exact needs or ensuring that your business shows up in the top results when searched for, web data is your eCommerce real-time eyes and even ears that no eCommerce business can survive without. Living or doing business without those real-time factors means that you may win less than you actually plan for or, much worse, lose altogether.
How has the COVID-19 pandemic changed the way you go about business? What trends do you see for the future?
Competing for consumers' attention has become a much more complex job, thanks to Covid. With so much more digital activity occurring now than before the pandemic, some even estimate it to be 10 times more, it means that the competition is that much more intense. So, for example, if some businesses used to collect web data once a day, they now collect it several times a day since the changes in the web sphere have become much more frequent than before. Even the more reluctant industries, such as the finance industry, have started integrating web data innovation into their systems. This is because they simply cannot rely on weeks' old or even days' old reports – the market will simply not allow it. We, as a company, are addressing banks' and financial services' growing data requirements at a much greater scale than ever before. This is a significant development, and we now see the same kind of development in some areas of the healthcare sector. I believe that in the end, all sectors will tap into web data for the simple fact that to know your landscape, you need to live in real time.
You don't need to be a data expert to know that data is no longer the oil but the new water. It is essential in providing life to our market and, yes, that life is expected to require data.
Therefore, we, as a company, will keep innovating and leading the market as we have done for the past eight years, and we will continue to address the data needs of major enterprises as well as of other companies. We also plan to advance our solutions to address the full data cycle from every angle. So, in short – the future is brighter than ever before, both for the data domain and, of course, for Bright Data.
What is your biggest objective as a speaker?
As a speaker, I would love to show real industry success stories that we can all learn from, using the right web data technology and methodologies. As mentioned before, the internet is a vast sea of information that is vital no matter which sector you are in. Tapping into it means getting that much more value for your business or organization and ensuring that you advance with certainty.
Could you share with us the points of discussion (the input that you provided) during the panel(s) at the E-commerce Berlin Expo Conference?
As the audience was mainly composed of retail sector industry leaders, I focused on the growing need for web data, the challenges it solves, and how big brands and smaller start-ups use it daily for faster and better decision-making since it assists them to win more and grow. During the presentation, I presented real-world case studies and provided a quick look into a success story that originated in Berlin, Germany. I also played a video featuring the product manager of that German company. In my opinion, there's nothing better than hearing from your customer directly.
As a leader, what are the factors both professional and personal that drive you? What keeps you going?
To put it simply, there is really one factor that drives me till today: If I love what I do and believe in the company I work for and in the benefits the company brings, the rest is easy. We all love to succeed, right? So, I think achieving success with a product that truly makes a difference to your customers is that added value we all strive for. Seeing it happen and hearing from delighted customers is what drives me and I'm sure many others as well.
In your opinion, do digital events give you a similar level of feedback/result vis-à-vis the live versions? What would you say were the biggest pros and cons of both formats? Which do you prefer?
Digital events have helped us a lot over the past two years. For whoever wanted to listen to good content and stay connected to their industry, digital events were key in doing so. They also saved people a lot of time that in-person events take from you when calculating travel, etc.
That being said, when it comes to real networking and truly being immersed in an event, I think we all find in-person events to be the more effective method. This is mainly because when you are listening to a speaker at an in-person event, you can truly focus on the content, without having your work actively insert itself. In addition, when you meet people in person, it makes a genuine difference – everything becomes so much easier to communicate.
I think both formats are very effective; it truly depends on what your goals are when attending such events.
What is your take on in-person events? Do you prefer in-person events as compared to hybrid or virtual? How soon do you think in-person events would return?
I think I speak for all when I say that in-person events more comprehensively address all your goals when attending an event. They provide you with the opportunity to actually "see" your industry in action as well as listen to insights that you could not have heard in an online event. I am fully aware that in-person events mean travelling to an event and therefore may be more time-consuming but, after all, their value is that much higher. I think in-person events are already returning and that trend will only grow.
In your opinion, what are the top 3 challenges to returning to 'In-Person' events? How could we mitigate risks?
As we are still affected by the pandemic, I think most challenges are directly linked to that. Therefore, if I had to list them, the first challenge would be addressing the issue of participants' health and safety. I would say a large enough open space and abiding by health and safety requirements would address this issue.
As for the next issue, getting enough people to attend in-person events these days is also a challenge since many are still a little reluctant to physical go to them. I think that by ensuring the health and safety of participants, this challenge could be mitigated as well.
As for the top third challenge, I think that most of us have changed our working habits in the last year; we are constantly "connected" to every channel of communication as we feel that that is expected of us. When you truly want to enjoy an event's content, you need to slightly disconnect from all these channels. I think that communicating this message to your colleagues should do the trick.
Eventible.com is a review platform catering to B2B events. Given how review-driven our lives have become today, do you think reviews will bring in a level of transparency to the events industry? Would you rely on event reviews from other speakers if you had to make a speaking decision?
Absolutely yes. Reviews may be subjective, but they always provide you with a good indication, so I would definitely rely on them.
Finally, do you have a favourite mocktail or drink? We'd be delighted to know.
A glass of good wine has always been my choice.