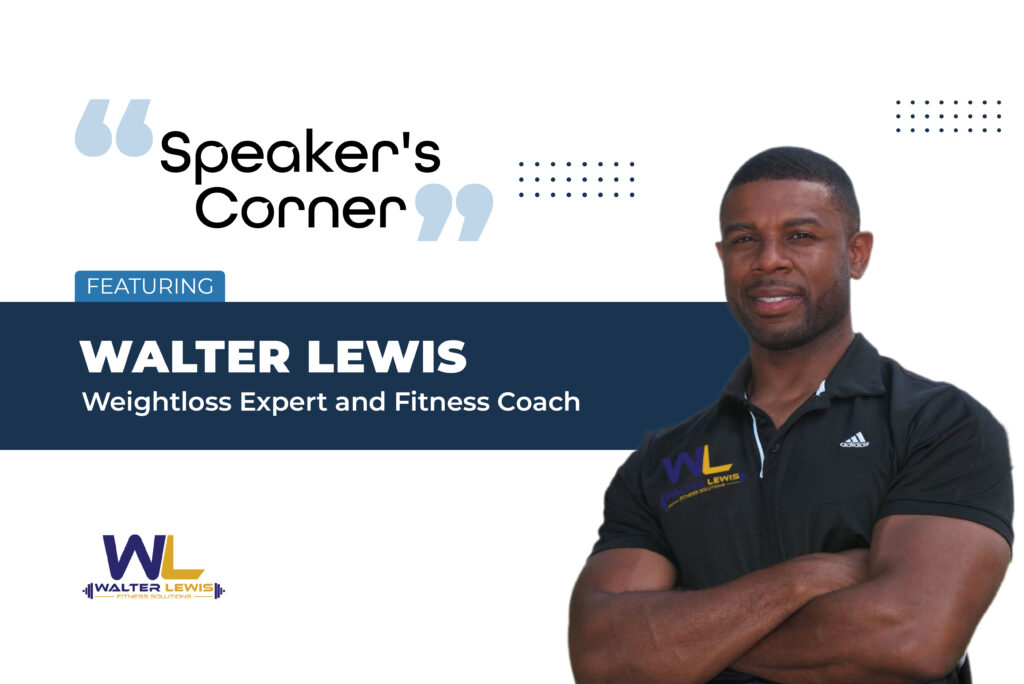 Tell me about the latest trends in the Fitness & Health Industry?
Virtual Fitness Classes and virtual coaching are the latest trends in the fitness and health industry. Due to the pandemic, a lot of gyms were forced to close for a little while in 2020. Because of that, gym goers started to join online fitness programs.
The pandemic helped accelerate business for Walter Lewis Fitness Solutions Virtual Programs and Coaching.
What are the challenges in the Health industry today?
I think the biggest challenge is keeping clients motivated and consistent with exercise and healthy eating. Many clients and busy professionals have been stressed and depressed during the pandemic; and have done a lot of emotional eating and little exercise.
How has the COVID-19 pandemic changed the way you go about business?
The pandemic has been a blessing for my business. I transitioned into offering Virtual fitness Classes: Bootcamp, kickboxing, yoga, dance fitness, guided meditation, and high intense interval training. And have been able to serve more clients globally. By offering virtual classes and coaching, I was able to increase clientele to over 100 members.
Also, I offer virtual 1-on-1 Coaching.
What trends do you see for the future?
I believe virtual fitness classes and coaching is the way of the future. It helps clients save time and money. Also, they become part of a virtual community. Community members will motivate and encourage each other with their success.
What is your biggest objective as a speaker?
My biggest objective as a speaker is to motivate and inspire as many people as possible to become the healthiest version of themselves. It will prolong their life, make them happier, and decrease depression.
Could you share with us the points of discussion (the input that you provided) during the panel(s) at the SHRMI Talent Conference?
For the SHRM Talent Conference, I shared tips on the weight and fat loss formula. This included:
Exercises For Weight & Fat-Loss
Fitness Technology that Motivate & Drive Fat Loss results
How To Eat For Energy and Results
The Importance of Food Tracking
As a leader, what are the factors both professional and personal that drive you? What keeps you going?
As a leader, what drives me professionally and personally is that I don't want to die young like my grandparents. My grandfather was 48 years old when he died. My grandmother was 53. Both died from living unhealthy lifestyles. This drives me to exercise regularly and eat healthier. And I want to help others to do the same.
In your opinion, do digital events give you a similar level of feedback/result vis-à-vis the live versions? What would you say were the biggest pros and cons of both formats? Which do you prefer?
For digital events, I have been able to reach a larger audience. I can train hundreds of clients at the same time. I have been able to connect and train clients from all over the world for virtual bootcamp classes. The disadvantage periodically can be unstable internet connection.
For in person, I can only train a limited number of people depending on space size. However, I am able to see client form better.
For the live sessions
What is your take on in-person events? Do you prefer in-person events as compared to hybrid or virtual? How soon do you think in-person events would return?
I love doing both. Whether it's in person or virtual, I love helping people get healthy and achieve optimal fitness and health.
In your opinion, what are the top 3 challenges to returning to 'In-Person' events? How could we mitigate risks?
The top 3 challenges.
For in person regarding fitness is sometimes less people may show up for classes. Average size of class is about 12-15 people for in person. When clients have to get up and travel to the location for exercise, they are not as consistent showing up.
The possibility of coming in contact with someone that has COVID is higher. With Virtual training, you are exercising from the comfort of your home with little chances of exposure.
For in person events, cost is usually higher. Sometimes, people don't want to pay higher costs.
Finally, do you have a favourite mocktail or drink? We'd be delighted to know. I don't have a favorite mocktail or drink because I don't drink alcohol. However, a few mocktails that my clients love are:
Gin and Tonic (2oz gin and 4 oz diet tonic)
Tequila Sunrise (1 splash orange juice; 1 oz sparkling water – orange flavor)