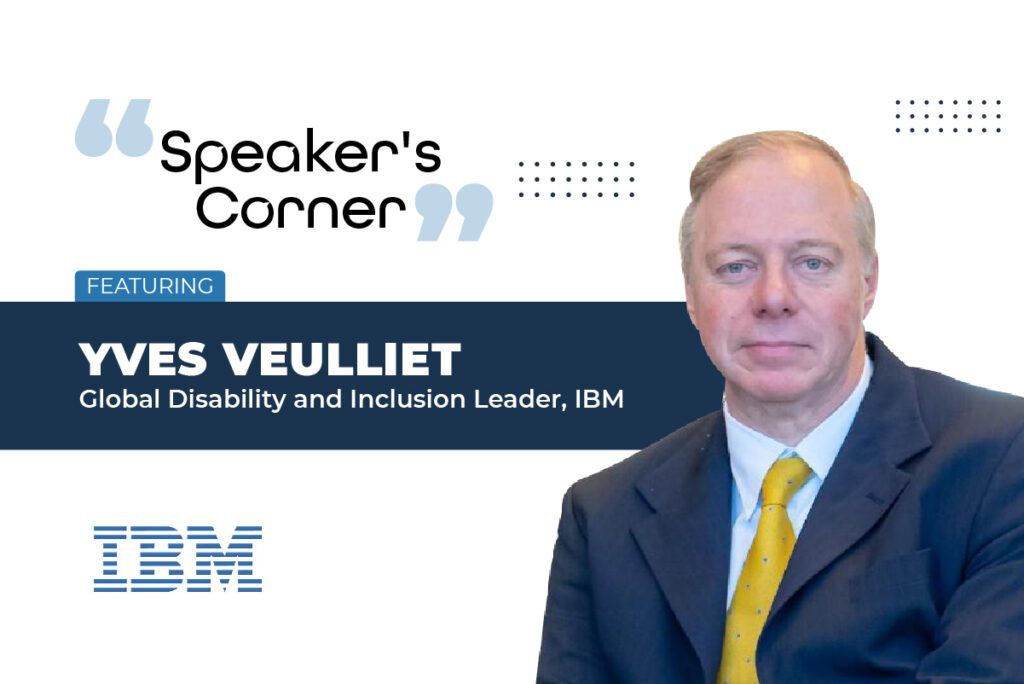 Speaker's Corner: Featuring Yves Veulliet, Global Disability and Inclusion Leader at IBM
Tell us more about IBM and the works…
IBM is a technology company that works with its clients to define the best IBM hybrid cloud and AI solutions they need to modernize their business. IBM's greatest asset is the IBMer. We believe our strength lies in the diversity of our employees. IBM encourages creative pursuits and passions outside of work because when IBMers can explore their curiosity, it gives all of us a new outlook on the world and its possibilities for emerging tech. Together, IBM can drive progress through meaningful innovation and action.
What are the challenges within the IT industry today?
From a Diversity Inclusion perspective, making sure that all people have equal access to high levels of education that the IT business requires is one of the biggest challenges that need to be addressed, especially towards the underrepresented minorities. So, how can we help solve the problem of the skills gap once and for all? IBM is helping to reinvent what education looks like through its P-TECH initiative – a public/private partnership that expands on traditional high school – to nurture tech talent and ensure there are enough skilled workers prepared for the jobs of tomorrow.
How has the BLM movement impacted people around? What are the trends we see?
In response to the global outcry for racial justice following shocking recent events in the United States, IBM CEO – Arvind Krishna –  launched the first step in an aggressive IBM advocacy push for public policy changes to advance racial justice and combat systemic racism. His letter came on the heels of new legislation introduced in Congress in the US to address racism in policing and focuses on three categories of reform:  Police Reform and Accountability – Responsible Use of Technology – Equality of Opportunity for Skills & Jobs. Globally, IBM will no longer offer or develop facial recognition software in pursuit of racial justice reform, and we invited our employees in the US to join IBM's Call for Policy Change to Advance Racial Justice.

What is your number one goal as a speaker?
My current area of expertise being disability inclusion, my main goal is to help the audience understand that by maximizing the previously untapped potential that people with diverse abilities bring to the workplace, they will walk the talk of embracing people of all abilities. People with diverse abilities are just that – people who have the training, education, and experience to offer.
Could you share with us the points of discussion (the input that you provided) during the panel(s) at the Diversity and Inclusion Leaders Forum?
I presented IBM's disability (or diverse ability) inclusion strategy that is based on what we refer to as the 3 As: standing for Accessibility – Accommodation (or Adjustment) and Accessibility. These are the three fundamental pillars that must be in place to succeed in disability inclusion. 
As a leader, what are the factors both professional and personal that drive you? What keeps you going?

Trying to make a difference in the business community by opening the eyes of the decision-makers and make them what I call "disability confident" is what motivates me the most!
In your opinion, do digital events give you a similar level of feedback/result vis-à-vis the live versions? What would you say were the biggest pros and cons of both formats? Which do you prefer?

Given the nature of my work which focuses mainly on human interactions, the live versions of my presentations are more impactful than the virtual ones. However, the virtual format also has great benefits: better ability to reach large audiences at a limited cost, less logistic issues (time zone differences, replays available), reduced impact on the environment (fewer travels),…
Going forward, and post COVID, a hybrid working model (i.e. having live sessions only when their impact is clearly identified) will become the norm for many of us.
In your opinion, what are the top 3 challenges to returning to 'In-Person' events? How could we mitigate risks?
Justify the business case (cost, travel, logistic) for in-Person events
Be very selective in the speaking opportunities that we will accept
Make sure to measure and report the ROI
Eventible.com is a review platform specially catering to B2B events. Given how review-driven our lives have become today, do you think reviews will bring in a level of transparency to the events industry? Would you rely on event reviews from other speakers if you had to make a speaking decision?
Yes
About Yves Veulliet: Yves started his career in IBM in 1992 as an administrative assistant for a team of sales rep in the Public Sector at European level and was permanently appointed in 1997 as Information Officer for IBM Governmental Programs Europe, a corporate function providing a public policy and government relations framework. In 2003, he took up the role of EU projects coordinator, his role was to create a coordination structure of EU projects for IBM Business Consulting Services at the European level
In 2005, Yves joined the IBM Europe Middle East Africa Diversity team as Program Manager for Persons with Disabilities. In 2007, in addition to his role with the persons with disabilities community, he took up the role of Cross-Generational Program Manager. He worked on building a framework that facilitates the creation of values for IBM and its clients through employee engagement, collaboration effectiveness, career paths, and knowledge management for all of the generations in the workforce. From 2011 until early 2013 Yves was also Diversity leader of IBM Canada, he defined the diversity business case, formulated the strategy, and oversaw actions that delivered results in line with the Global Diversity strategy.