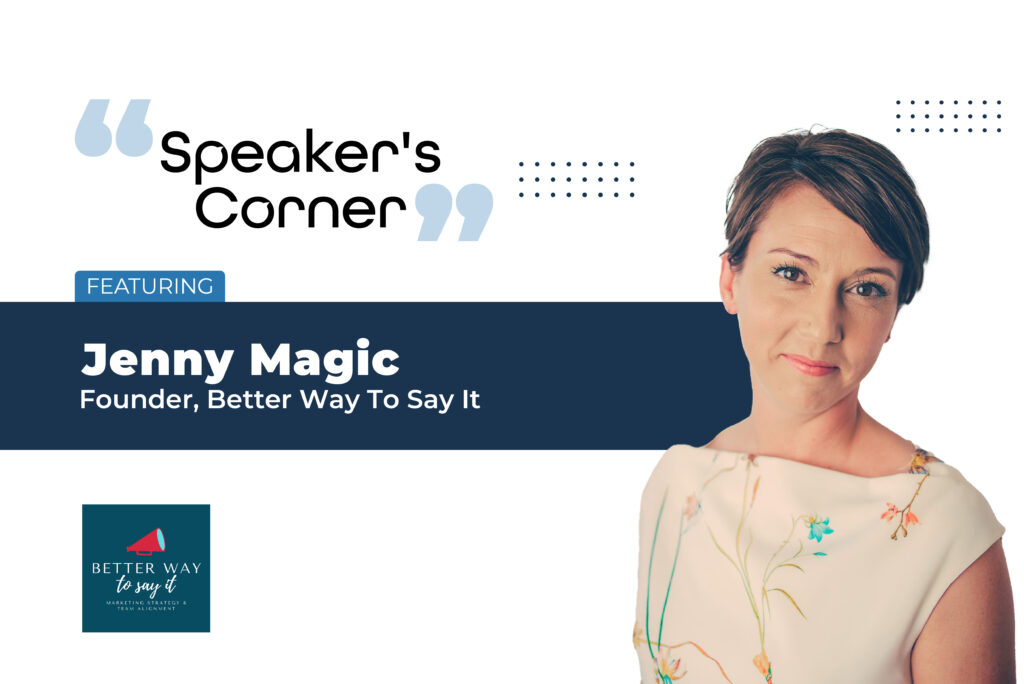 A strategy consultant and "marketing therapist", Jenny Magic, is known for helping team think differently about marketing digital transformation, not just in big strategic ways, but in the processes, workflows and technology that allow change to actually stick. Jenny has helped clients like Citrix, AARP, and Purdue University find their voice, adapt to changing trends, and master their marketing. A passionate mentor and speaker, you'll find her at events like Citrix Summit, ContentTECH Summit, and Content Marketing World, serving on the board of Women Communicators of Austin, and organizing the Austin Content Meetup. In this blog, Jenny speaks to Eventible about her brainchild, Better Way To Say It, what drives her as a leader, her experience speaking at Content Marketing World 2022, and much more! So let's get started, shall we?
Hi Jenny. Tell us a little bit about yourself. We believe that every entrepreneur has a story to tell. What's your story?
I moved to California in 2008 and wanted to make a change from climbing the corporate ladder. In two previous roles I had overseen major website overhauls, and I knew from those experiences that the main cause of headaches and delays (and the most overlooked/underfunded part of the project) was the content. I went to a few local web development agencies and asked, "how many projects could you launch today if the client would just complete the content?" and I could see the relief on their faces as I proposed a solution. I saw an opportunity, found channel partners to sell my services as part of their projects, and the rest fell into place.
Better Way to Say It. Now that's an interesting name. What's your story behind starting the company and what's your thought behind naming it that?
I started doing the work under my own name and realized quickly that I had a real business on my hands. The pressure to come up with a brand was really weighing on me, and at one point in a brainstorm session I just said, exasperated, "I just want to give them a better way to say it!" and the rest is history. It's a bit of a mouthful but it really gets at the heart of the work I do, which is deep listening to what someone is trying to communicate, a bit of translation, and a path to a better outcome.
You love to call yourself a marketing therapist. What do you mean by that?
So much of my work is active listening with empathy and the reflecting back what I've heard in ways that offer the client a new perspective. Those are the same skills trained therapists and coaches apply and it hit me these skills are often missing in business consulting and marketing strategy work. Helping the leaders I work with feel seen and that their challenges are both real but also surmountable is the best part of my work.
What do you think is really the reason behind some of the best marketing strategies failing today?
This one is easy: One problem I see over and over is limited effort and resources put towards implementation support, change management, and adoption incentives. To motivate a team to do new things requires understanding the status quo, the vision for the future, and how we can encourage our busy team to invest in the change. Because it's the "people part" of digital transformation, it makes data-driven managers a little uncomfortable – they're much more likely to pay for a strategy and try to steamroll a change by force or bribe, neither one of which will get you the sustained adoption the initiative likely deserves.
Can you share with us any one particular growth strategy or hack that's worked for you?
Determining how to price consulting work is one of the biggest headaches for strategic advisors – our insights could impact our client's bottom line in a major way, but it can be hard to guess how they value the work, especially at the beginning of a new relationship. I've learned to ask a very specific question that has helped me not leave money on the table while also not risk pricing myself out of a project.
At the end of a discussion about a potential project, I repeat back what I think they want to see in a proposal, and then I ask one key question: "What dollar amount do you hope to find on the last page of this proposal?" The word "hope" is key here. I'm not asking their budget, which implies that I want to know the most they can spend. Instead, I'm asking them to propose a realistic price for the value we just discussed. They might joke and say, "zero, ha ha" but usually they propose a very reasonable (and sometimes surprisingly generous) value for the services. On the rare cases that someone's proposed amount is quite low, I'll use that as a chance to review the wish list we just discussed and narrow down what they could reasonably expect for that figure or help connect them with a different professional who might be more in line with their budget. This question saves so much time agonizing about what to charge!
What are the factors, professional and personal, that drive you as a leader? What keeps you going?
Helping teams find a better way to work. I see so many team members who really want to love their jobs but their leader is getting in the way. Team members don't feel motivated, they don't understand the reason for some of the "hustle and grind" or they just don't have a clear view of how their work aligns with any larger purpose they can support. Helping leaders fix these gaps is some of the most rewarding work: leaders feel more effective and people just like coming to work again. And we solve these problems as part of a larger initiative, so the end result is a tangible thing (like a new website or a 3-year strategic plan) that also brings these intangible, long-lasting benefits.
What is the next milestone that you've set for yourself?
I've got a book coming out in early 2023 that I can't wait to share: "Frustrated Teams Can't Innovate: How to fix meetings, align incentives, and 'bring back that lovin' feeling'"
How was your experience speaking at Content Marketing World 2022 and what has been your key takeaway from the event?
My first Content Marketing World session was way back in 2012 and it's been incredible to watch this event grow so large without losing the spirit of collaboration with which it started. It's one of the most generous groups of people you'll find, willing to share their honest challenges and inside secrets on how they handle those challenges.
This year we see the comeback of many in-person events. What is your take on in-person events? Do you prefer them over hybrid or virtual?
As a speaker especially there really is no substitute for being in-person. I'm trained in virtual facilitation and have been remote for years even before the pandemic so I'm no stranger to a good Zoom, but for workshops or conference sessions, in-person is my jam. I love the conversations in the room before I take the stage, all the collaboration and new connections that happen just because you both decided to come to this session. The energy at live events this year was just amazing; we were in-person some last year but socially distanced and that was better than virtual but still pretty quiet, without a lot of crowd interaction. I'm glad to be back.
Eventible.com is a review platform catering to B2B events. Given how review-driven our lives have become today, do you think reviews will bring a level of transparency to the events industry? Would you rely on event reviews from other speakers if you had to make a speaking decision?
I love the honesty and specificity of a review over marketing copy any day (and I say that as a content marketer!) – the details that the reviewer chooses to include tell me a lot about that person and whether I can relate to their feedback. Reviewers are also usually pretty forthcoming about their bias and perspective, so there's just a sense of trust that is really hard for a brand or event organizer to replicate.