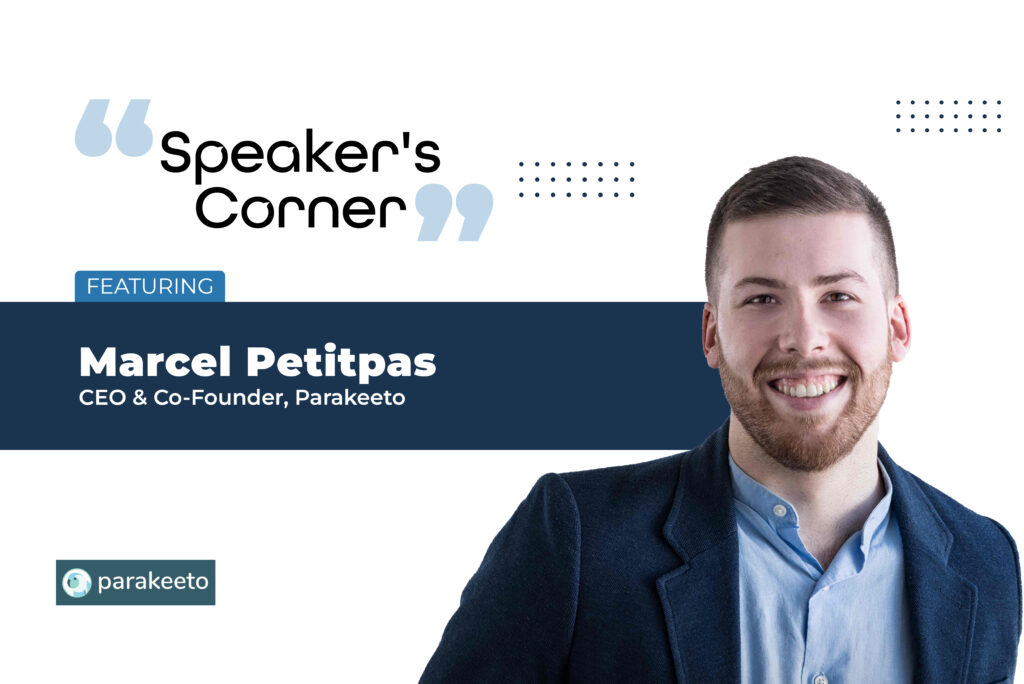 Marcel Petitpas is the CEO & Co-Founder of Parakeeto, a company dedicated to helping agencies measure and improve their profitability by streamlining their operations and reporting systems, a problem he discovered while running his own agency back in his early 20's.
He's also the fractional COO at Gold Front, an award-winning creative agency in San Francisco working with brands like Uber, Slack, Keap and more. As well as the head strategic coach at SaaS Academy by Dan Martell, the #1 coaching program for B2B SaaS businesses in the world. In his work as a speaker, podcast host and consultant, specializing in Agency Profitability Optimization, he's helped hundreds of agencies around the world measure the right metrics and improve their operations and profitability. When he's not helping agencies make more money, he's probably watching "The Office" or "Parks and Rec" on a never-ending loop and eating breakfast foods for every meal of the day.
In this blog, he speaks to Eventible about Parakeeto, the idea behind starting it, his opinion on ways to increase profitability for businesses and much more.
·We believe that every entrepreneur has a story to tell. Tell us about your journey.
I started my first business at the age of 11 selling home-made treats at the farmer's market. Since then I've been fascinated by entrepreneurship. After working for Apple for a few years I left to start my first "real" business. It was a Virtual Tour Agency for Real-Estate which got me in touch with the challenges of getting clarity on profitability and performance as a small service company. I then became interested in Software as a Service and spent a few years trying out different ideas, and keynote speaking to pay the bills. Eventually, I was connected to a friend who runs a Software Development Agency who wanted to solve the agency operations reporting problem. That was the spark that started Parakeeto.
Tell us more..
Well, it all started with a conversation between my friend Jarod and I. Jarod is a co-founder and now board member at Parakeeto who founded a successful software development firm out of Boise called Royal Jay over 20 years ago. He came to me with a simple idea: What if answering simple questions as an agency owner wasn't so hard? What if I didn't have to spend all afternoon in spreadsheets to figure out which clients and services are most profitable? To figure out what my utilization rates look like, and forecast if I'll need to hire or fire team members as my sales pipeline evolves. Having experienced these challenges first-hand, I jumped on the opportunity. Over the next 3 years, we spent a lot of time building technology and developing our framework for agency operations reporting to finally arrive at a hybrid model, which combines strategic consulting and technology to help agencies build scalable, long-term reporting solutions that are tailored to their business and help them quickly get answers to their most important operations questions.
How in your opinion can agency owners empower their businesses and increase their profitability?
The math behind agency profitability is pretty simple and straightforward, however, measuring and improving the metrics that drive success is not easy. To us, it comes down to having two important feedback loops:
1. Quantitative Feedback – Data that helps us see patterns in performance (Things like estimates vs actuals, profitability by client, service, product etc. and utilization rates) and understand where the business is or isn't performing well.
2. Qualitative Feedback – Once the data helps us understand where to focus, it takes thoughtful conversations with the team to understand why things aren't going to plan, and how to correct them.

Those two feedback loops intentionally applied over long time horizons typically lead to higher profitability. However, the devil is in the details. The challenge is in figuring out what metrics to measure, exactly how to calculate them, developing the reporting systems that can quickly and consistently generate insights at the necessary level of precision, and learning how to educate your team on these metrics, how to interpret them, and how to facilitate productive conversations around this data.
Can you share with us any one particular growth strategy or hack that's worked for you?
I strongly believe that marketing should be seen as a company's first product. It should create more value than your paid products and services ever do. This creates the goodwill, authority and trust that makes selling a more involved service much easier.
 How has the COVID-19 pandemic changed the way you go about business? What trends do you see coming into force after the pandemic?
As a fully remote team, COVID didn't really impact how we operate. We were already used to working from home and only seeing each other in person 3-4 times per year for quarterly off-sites. 
That said, I have seen this push what I believed was an inevitable trend in the white collar and professional services space to more hybrid and remote-forward team structures. I believe this is creating an even greater need for better visibility into data as well as better discipline around communication rhythms and meeting hygiene.

What are the factors, professional and personal, that drive you as a leader? What keeps you going?
I truly believe that private business can be one of the most effective vehicles for social good. Unlike government and not-for profits (which play a very important role in the ecosystem for public welfare) business is reasonably unconstrained, can move quickly and is built on top of a more sustainable exchange of value. If a company is well run, and balances the health of it's people with the health of the business, it can create great leaders and free cashflow which can both go to work in improving communities (often in partnership with not-for-profits, government and other types of organizations). I see business as the hardest, and most rewarding game in the world. I feel incredibly fortunate to have the opportunity to test myself in the market every day.
What is the next milestone that you've set for Parakeeto?
I believe the agency industry has changed a lot in the last 20 years, and most of the thought leadership, literature and training on how to measure and run an agency is outdated. My objective for 2023 is to release the most comprehensive and helpful content in the world on how to measure and improve the profitability of an agency or professional services business in this new ear. 
How was your experience speaking at AdWorld 2022 and What has been your key takeaway from the event?
Ad World is an exciting event, and I feel humbled to have shared the stage with so many thought leaders that I have admired and looked up to throughout my career. My biggest takeaway from the event has to be that while the rate of change at a tactical level is extremely high, with channels, algorithms, trends and strategies changing all the time – the foundational principles for effective marketing remain the same after decades. The best marketers are the ones that learn to take those timeless principles which are rooted in human psychology and apply them to the new mediums and contexts of each era.
What is the one perspective that you want to share with digital agencies today?
I do a lot of public speaking and workshops and not a single one has gone by that I haven't been asked a question like:

What's the "best" pricing model (Time and materials, value based pricing, retainers, flat fees, etc.)

What's the "best" staffing model (hiring employees, using freelancers, white-label partners, etc.)
What's the "best" business model (selling high-ticket custom services or low-ticket productized services)

The answer to all of these questions is the same: The one that gives you the best delivery margin.
At the end of the day, Delivery Margin is the foundation for the health of a professional services agency. There is nuance to which pricing model, staffing model and market position is best for a given entrepreneur or problem space – but the one irrefutable truth about a service business is that without strong delivery margins, it's hard to scale and be profitable.
This year we see the comeback of many in-person events. What is your take on in-person events? Do you prefer them over hybrid or virtual?
I love both, I am excited to get back to a few in-person events and speaking engagements. However, I love the efficiency of remote events and the way it makes great speakers content more available to founders. I just love to teach, and I hope I'll get the opportunity to do that both in person and online for years to come.
 Eventible.com is a review platform catering to B2B events. Given how review-driven our lives have become today, do you think reviews will bring a level of transparency to the events industry? Would you rely on event reviews from other speakers if you had to make a speaking decision?  
I've been keynoting and speaking for almost a decade at this point, and have seen just about everything. The differences in the level of execution is stark from one event to the next – and it doesn't always correlate with the size or strength of the event's brand. I would love to see more transparency for speakers on how events are run. I would absolutely leverage feedback from other speakers on their experience at an event to decide whether or not to take part or sign a speaking contract.