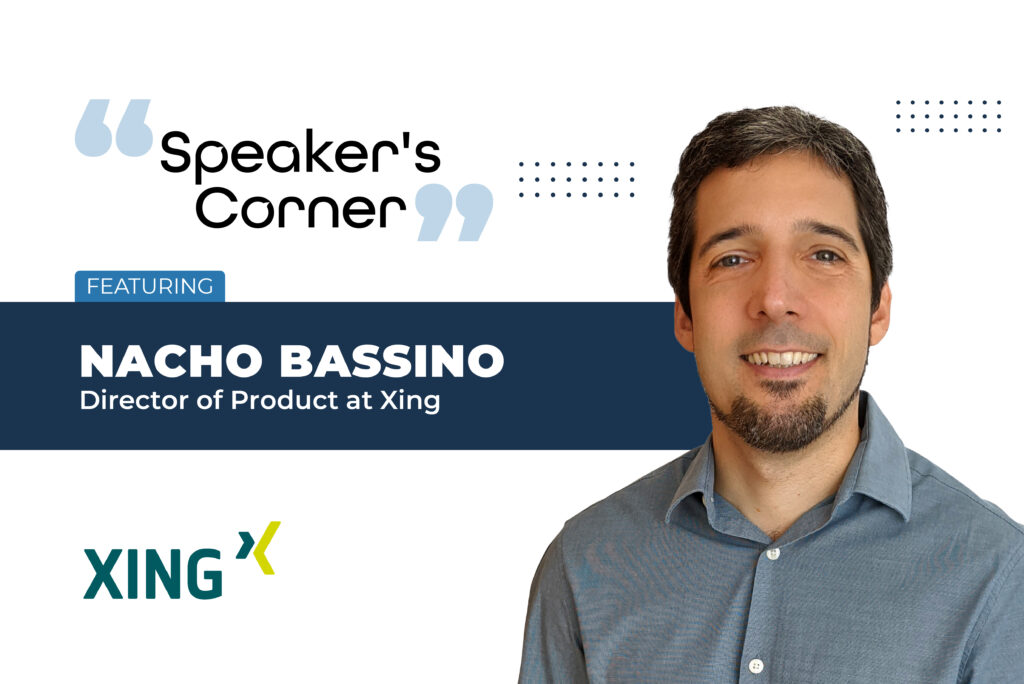 Speaker's Corner: Featuring Nacho Bassino, Director of Product, Xing
Tell me about Xing, its work, and the projects are undertaken
XING is a social network for business professionals, with a large presence in Germany and the DACH region. We have an extensive product team focusing on the different aspects of our value proposition, like the network itself, News, Events, and a Jobs marketplace.
How has the COVID-19 pandemic changed the dynamic for your business in particular? What are the trends and are you seeing an uptake for a certain kind of solutions?
There were many fluctuations, but since I'm new to the company, it's hard for me to talk about trends that started last year.
What is your biggest objective as a speaker?
I really love helping other product people and teams improve their craft by sharing practices, frameworks, experiences, past pitfalls that others can avoid. My underlying mission is to aid product teams to build better products to help people increase their quality of life through technology.
Could you share with us the points of discussion at the #mtpcon Digital Americas Conference?
I tried to share a practical approach to create a Product Strategy. While there is a lot of information about strategy, we still lack a framework or method to tangibly define it for our product. I based the talk on my recent book "Product Direction," which covers strategy creation and its connection to teams' execution through Roadmaps and OKRs.
As a leader, what are the factors both professional and personal that drive you? What keeps you going?
As probably most product people, my best source of happiness at work is when I see the positive impact of the products we build. How we helped users succeed and solve their problems. On a more personal side, I'm very curious, and I enjoy learning new things (especially better ways of doing things).
In your opinion, do digital events give you a similar level of feedback/result vis-à-vis the live versions? What would you say were the biggest pros and cons of both formats? Which do you prefer?
I believe both formats have their pros and cons.
For sure, the level of connection and feedback is much lower in online events. That may be among the worst cons, also with:
Level of connection/attention: audiences burned out from daily zoom calls have difficulty concentrating on yet another online talk. Talks need to be shorter, go straight to the key points, and avoid long pauses that result in people directly dropping.
Chat Q&A: having someone directly asking a question to the speaker helps better understand the idea behind the question instead of interpreting the text written on online platforms.
Networking: obviously, in-person events give you a better chance to make more meaningful connections.
On the positive side:
People can attend events all over the world and reduce their costs (travel expenses).
Similarly, renowned speakers are more willing to participate in foreign events since it only requires them to turn on their camera for an hour instead of the multi-day travel arrangements.
Attend more events and more bite-sized content: due to shorter times, fewer expenses, and higher event frequency, attendees may go to more events and get more short and concrete learnings.
I do believe there would be a place for both types of events in the future.
What is your take on in-person events? Do you prefer in-person events as compared to hybrid or virtual? How soon do you think in-person events would return?
As said, I think in-person has many benefits. I foresee going to both types of events in the future, maybe fewer big conferences in-person, and more regularly to online shorter events. I think in-person should only return when it's safe to do so. If we think about priorities, business events would likely be near the bottom of the list. Hopefully vaccinated population would be high in a few months, and we see its effects in decreased virus incidence.
In your opinion, what are the top 3 challenges to returning to 'In-Person' events? How could we mitigate risks?
As I said, we should return when it's safe to do so, and of course, a first challenge would probably be uncertainty. As waves and variants come and go, it is very difficult for organizers to decide when to start planning for a full capacity in-person event. The second challenge may be hybrid events. We haven't yet mastered online conferences and hybrid with add a new level of challenge both for organizers and speakers.
Finally (and probably easier to cover) is making the right investment in keeping high hygiene standards but at the same time giving participants the same level of experience (food and coffee breaks, for instance, but also proper networking protocols among people with different levels of concern for the virus)
Eventible.com is a review platform specially catering to B2B events. Given how review-driven our lives have become today, do you think reviews will bring in a level of transparency to the events industry? Would you rely on event reviews from other speakers if you had to make a speaking decision?
Absolutely. For recurring events like MTPCon, it would be very useful. For "one-shot" events, it may be interesting to get reviews on the event organizers, venue or other factors that may help me understand what to expect from the event.
Finally, do you have a favorite mocktail or drink? We'd be delighted to know.
My favorite drink is beer, and I enjoy tasting new craft beer of different producers and flavours.
About Nacho: Nacho Bassino has been leading product teams for over ten years in different companies and industries, currently as Director of Product at XING, the social network for business professionals. Before XING, Nacho held other leadership positions as CPO at Bestday, Head of Product Development at Almundo, and Director of Product at Despegar. He is also passionate about sharing experiences and helping the product community. He organized Product Tank in Buenos Aires and Cancún, gave product management classes in different institutions. Most recently, he wrote Product Direction, a book that addresses how to create a winning product strategy and align its execution through strategic roadmaps and OKRs.