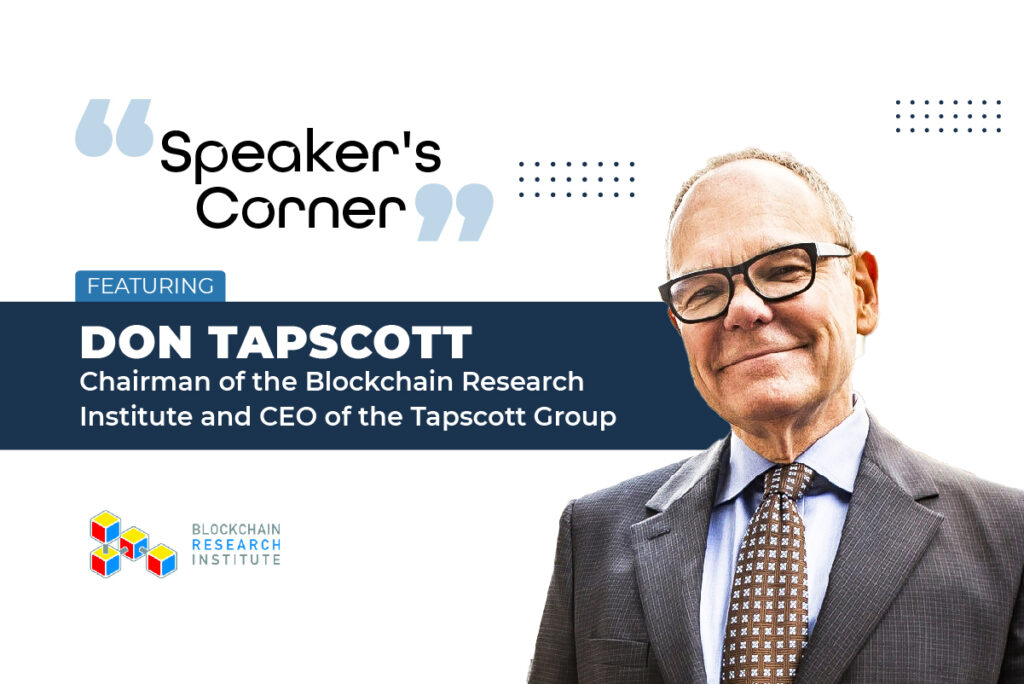 Speaker's Corner: Featuring Don Tapscott, Chairman of the Blockchain Research Institute and CEO of the Tapscott Group
Don Tapscott, Executive Chairman of the Blockchain Research Institute, is one of the world's leading authorities on the impact of technology on business and society. He has authored 16 books, including Wikinomics: How Mass Collaboration Changes Everything, which has been translated into over 25 languages. In 2017, Don and his son Alex co-founded the Blockchain Research Institute, whose 100+ projects are the definitive investigation into blockchain strategy, use-cases, implementation challenges and organizational transformations. Since then Don produced a new book entitled Supply Chain Revolution: How Blockchain Technology Is Transforming the Digital Flow of Assets. The book debuted in June 2020 as the "#1 New Release" in the commerce category on Amazon.com. Don is a member of the Order of Canada and in 2019, then ranked as the 2nd most influential Management Thinker by Thinkers50, joined Professor Christensen, Michael Porter, Peter Drucker and others in the Thinkers50 Hall of Fame. He is an Adjunct Professor at INSEAD and Chancellor Emeritus of Trent University in Ontario where he served as Chancellor 2013-2019. It is hard to imagine anyone who has been more prolific, profound, and influential in explaining today's technological revolutions and their impact on the world.
As a leading authority on the subject, how would you sum up the impact of technology on business and society?
Digital technology is the product of human ingenuity. Like the arts, it is the realization of imagination that is broad in scope, grand in scale, and long lasting in time. Also like the arts, it affirms and enhances the human experience. But, in my 40 years of studying digital innovation in particular, I've come to understand that it's not about technology's impact on business and society. It's about our choices—how we as individuals, as business leaders, and as communities choose to use technology. We are not without agency. The point is to accept the responsibility, deliberate on the options, make a decision, and then move. Commit. Act. Lead. The future is something to be achieved, not predicted. And certainly not left to chance.
Tell us a little about your book, Blockchain Revolution: How the Technology Behind Bitcoin and Other Cryptocurrencies is Changing the World. Why is it considered to be the touchstone manual on how to survive "the next wave of technology-driven disruption"?
Over the last four decades, I've conducted over a dozen in-depth research studies and published books of my findings on the nature and impact of technological change.
None of these books is about surviving—they're all about embracing the new generation of disruptive technologies and finding ways to thrive. To me, thriving means including more people in the global economy. It means offering fair and equal access to opportunity. It means creating the conditions in which everyone can learn and contribute to society, whether they're starting their own business, pursuing the arts, raising a family, or serving the public. It means engaging citizens in their own governance and holding elected officials accountable. It means coordinating global efforts and collaborating to solve our existential problems—from the climate crisis and the pandemic to the distrust in science and public institutions.
For example, innovations in sensors and the Internet of Things will throw off unprecedented amounts of data about the environment that we can record and verify on blockchain, and artificial intelligence will help us to identify those immediate actions that will have the biggest positive impact on the planet. Sure, there is always the possibility that criminals and misanthropes will exploit these technologies. All the more reason to embrace these now and collaborate for good. Prosperity for the many, not the few. I've never been more hopeful.
What is your biggest objective as a speaker?
To connect with the audience. To leave them with an idea that changes them, changes their thinking, changes their decisions, changes their destiny.
Take us through the core points of the panel(s) you are participating in at Collision 2021. What are you hoping to accomplish via your session(s) there?
I'm doing a Q&A with the audience, and so I'm eager to hear what's on everyone's mind and point people to appropriate resources. For example, the Blockchain Research Institute has completed over 100 research projects, with another 20 projects underway right now. People often don't know that we've published almost all of this research for free on our website, BlockchainResearchInstitute.org, under a Creative Commons license for anyone to use. Check it out, let me know what you think.
As a follow-up, do you feel that digital events give you a similar level of feedback/result vis-à-vis the live versions? What would you say were the biggest pros and cons of both formats?
Digital events can be far more inclusive if the technology used is not so advanced that people with minimum telecom services and low computer processing power can't participate. But it's harder to read the Zoom room, so to speak. What is the energy level? What else is competing for people's attention? The audience is often muted. It reminds me of the ads for the original Alien movie—"In space, no one can hear you scream." In these virtual events, I can't hear anyone screaming. It'd be nice if someone screamed once in a while. Let me know you're out there.
To me, there's nothing like the live audience, fully present, right after breakfast. The laughs, the gasps, the Amens! And I love the random conversation at in-person events—not around my session per se, but in the elevator or on the sidewalk outside the venue, sharing an Uber to the airport, or even on the airplane home from the event. That's happened! I get to see the event in a larger context, its place in a person's life, its meaning to the people who showed up and reached out.
As you know, our start-up, Eventible.com, is a review platform for B2B events. Given how review-driven our lives have become today, do you think reviews will bring in a level of transparency to the events industry? Would you rely on event reviews from other speakers if you had to make a speaking decision?
You've said the magic word: transparency. That means you reveal as much as legally possible about your review platform, how it works, what data you're collecting, whether you're associating it with anyone's actual identity—name, email, phone number, website—whether you're storing it, how you're using it, and so forth. I published a book on the topic: The Naked Corporation, with one of my favorite tag lines: "If you're going to get naked, then you'd better be buff". That means that you seek each participant's explicit consent rather than bury what you do in long terms of use or terms of service that no one reads because the typical TOU or TOS is unreadable by human beings. Equally important, it means that you welcome reviews from people without collecting or storing any data about them, if they choose.
When it comes to the results, transparency means answering such questions as how many people did you ask to give a review? Who were they in general terms such as job title, type of organization, industry? How many people actually responded? What is their relationship to the speakers—was there any incentive for responding or for giving a high rating? And so forth. Blockchain-based platforms are really good at zero-knowledge proofs, where users can confirm that something is true without a platform's collecting or revealing any person's data.
Finally, do you have a favorite/go-to book? What is it?
This is a tough one, since many of my friends and colleagues have written excellent books—fiction, nonfiction, poetry. So, I'm going to hedge and go with music—Sugarloaf and Van Morrison at one end of the spectrum to Alicia Keys and Taylor Swift at the other. As a musician, I have a song book for every situation.
You can follow Don on LinkedIn and Twitter. Review Collision 2021 here.