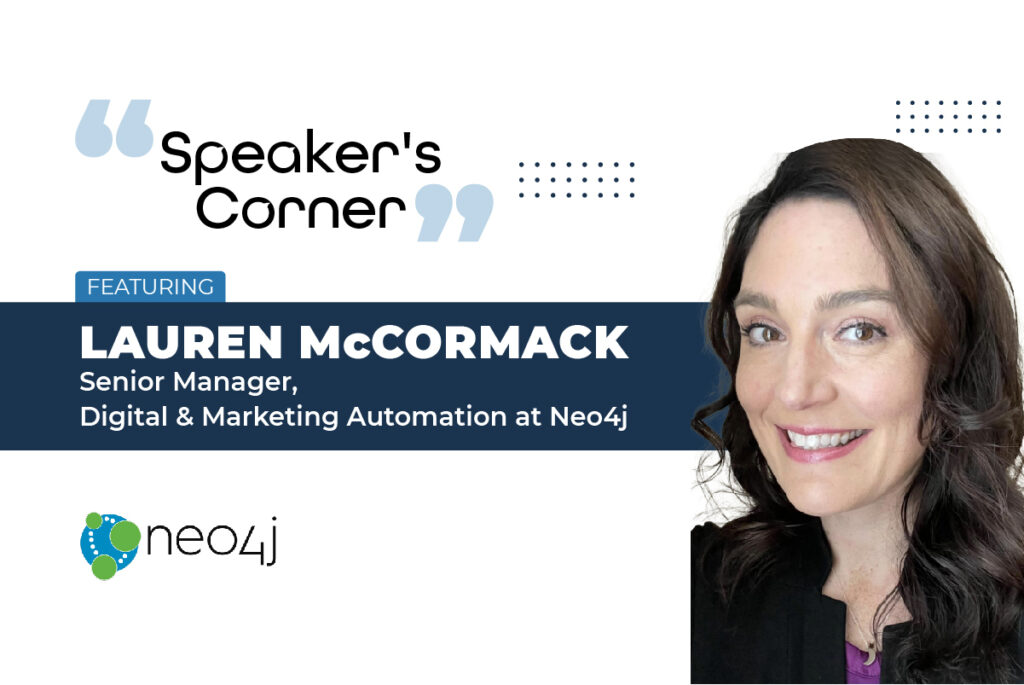 Speaker's Corner: Featuring Lauren McCormack, Senior Manager, Digital & Marketing Automation at Neo4j
Lauren is a 4x Marketo Certified Expert, 2021 Marketo Champion, and an award-winning senior marketer that loves to innovate. She specializes in paid search and social strategy, demand generation, marketing automation, sales and marketing alignment, operational change management, and marketing strategy best practices.
How has your experience as an innovative marketing specialist helped you in identifying and understanding the rapid changes in the market, given the current volatile environment?
I've been able to stay very close to data regarding campaign performance and marketing's influence on our companywide objectives. This has helped me to anticipate market recovery patterns, to more accurately forecast outcomes, to allocate budget more effectively, and to have a deeper appreciation for the influence of market trends and sentiments.
Tell us a little about Neo4j and your role therein.
In my current role, I sit at the interesting intersection of Marketing Operations and Digital. This has empowered me to innovate and generate demand for key initiatives to drive revenue.
What is your biggest objective as a speaker?
As a speaker, my hope is to share insights that will help other marketers to solve problems or enhance processes to make them more successful.
Take us through the core points of your session ("Neo4j & Adobe's Guide to Making Virtual Events a Success") at the Adobe Summit. What are you hoping to accomplish through it?
My co-presenter, Caroline Hull from Adobe, and I will share our thoughts on mitigating risk and delivering value with virtual events. We hope to inspire others to level up their 2021 online events, both from a strategy and an execution standpoint.
As a follow-up, do you feel that digital events give you a similar level of feedback/result vis-à-vis the live versions? What would you say were the biggest pros and cons of both formats?
The beauty of virtual events is their reach. They are by nature more accessible and inclusive to a wider audience, not tied to travel time and expenses. Plus, the cost to hold an online event is a fraction of a live show. Virtual event ROI is easier to measure and generate. That being said, I think we're all nostalgic for meeting up in person in some fashion, whether that be in small groups or at big shows. Perhaps we'll see a hybrid model in the not-so-distant future around events. Only time will tell.
Finally, do you have a favorite/go-to cocktail? What is it?
I love a nice glass of red wine. Russian River pinots and Blaufränkisch wines top the list, but I love a good, velvety merlot or full-bodied cabernet, too.
You can follow Lauren on LinkedIn here. Register for the Adobe Summit here.