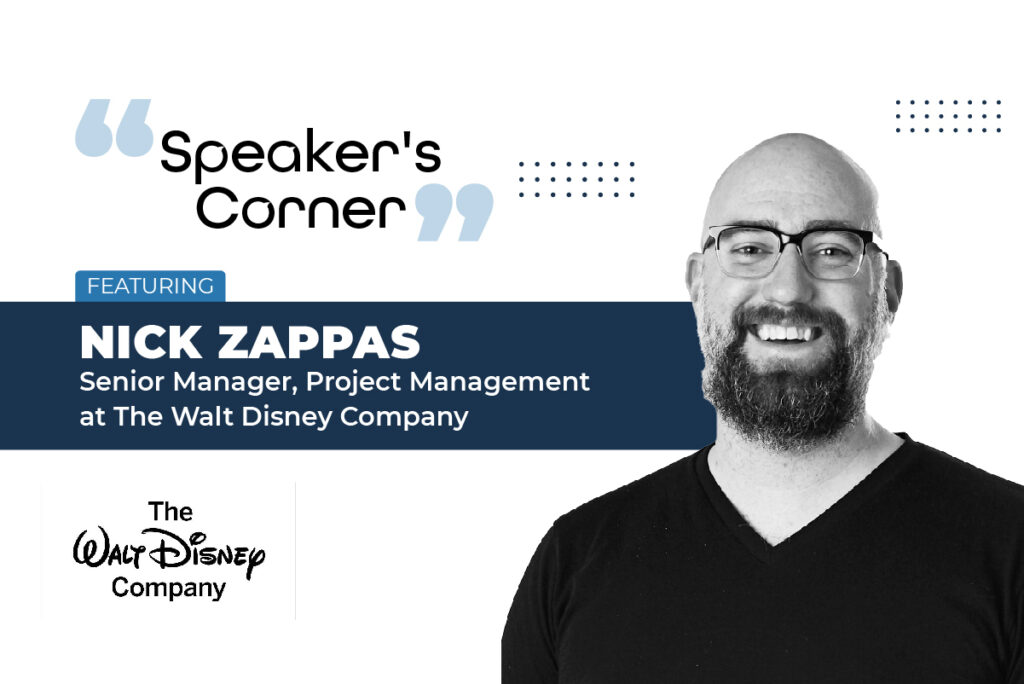 Speaker's Corner: Featuring Nick Zappas, Senior Manager, Project Management at The Walt Disney Company
Project Management Leader with nine plus years of experience in advertising and property redevelopment. Experience with multiple brands including Disney, Sunkist, Taco Bell, Toyota, Papa John's, Hasbro, non-profits, and more. Guided award-winning work and successful new business pitches. Currently pursuing a MS in Project Management at USC. Certified ScrumMaster (CSM). Assistant Alumnus Advisor for the Kappa Sigma Fraternity at USC (Delta Eta Chapter). Writer and producer of music videos. Former professional musician. Amateur surfer, movie buff, comic book reader, cocktail maker, travel enthusiast, and Oxford comma advocate. Father and husband.
How have the events of the past year affected your way of working and managing projects at The Walt Disney Company?
Like many other organizations, we have moved to a virtual workplace. Our group, Yellow Shoes, has been able to mix our project teams across both coasts which has elevated our flexibility.
What is your biggest objective as a speaker?
My biggest objective as a speaker was to share our experience and learnings as customers and users of Workfront and to teach others who are in similar situations or are thinking of using Workfront as their project management platform.
Take us through the core points of your session ("Evolving Creative Project Management at Disney") at the Adobe Summit. What are you hoping to accomplish through it?
We cover four main areas in our presentation. First, we talk about our history with Workfront as our organization platform. Second, we talk about the introduction of project management to Yellow Shoes and our effort to reorganize and expand Workfront within the organization. Third, we touch on our hurdles, the changes in our environment, and the lessons we learned to move ahead. Finally, we talk about our excitement about the new Workfront update and Adobe integration.
As a follow-up, do you feel that digital events give you a similar level of feedback/result vis-à-vis the live versions? What would you say were the biggest pros and cons of both formats?
I think that you get much more interaction in a live event which could lead to off-the-cuff insights. On the other hand, for pre-recorded sessions, you get a much more focused presentation. Knowing that there will be a Q+A for the pre-recorded session will also help bridge that gap with live sessions.
As you know, our start-up, Eventible.com, is a review platform for B2B events. Given how review-driven our lives have become today, do you think reviews will bring in a level of transparency to the events industry? Would you rely on event reviews from other speakers if you had to make a speaking decision?
I think that review platforms have really informed the way we make decisions in almost every aspect of our lives. From shopping to dinning to working for organizations, it has become crucial to our decision-making process. I think the same can be applied to the events industry. Given how many different events and conferences exist, I would welcome the feedback and reviews from those who attended, participated, and spoke.
Finally, do you have a favorite/go-to movie? What is it?
I have many personal favorite movies but for this question, I will keep it Disney-centric. My favorite movie in recent history is Avengers: Endgame. For me, it was perfect. It brought together 22 other films and stuck the landing. As a lifelong comic book reader, it was a dream come true.
You can follow Nick on LinkedIn and Twitter. Read reviews for Adobe Summit 2021 here.