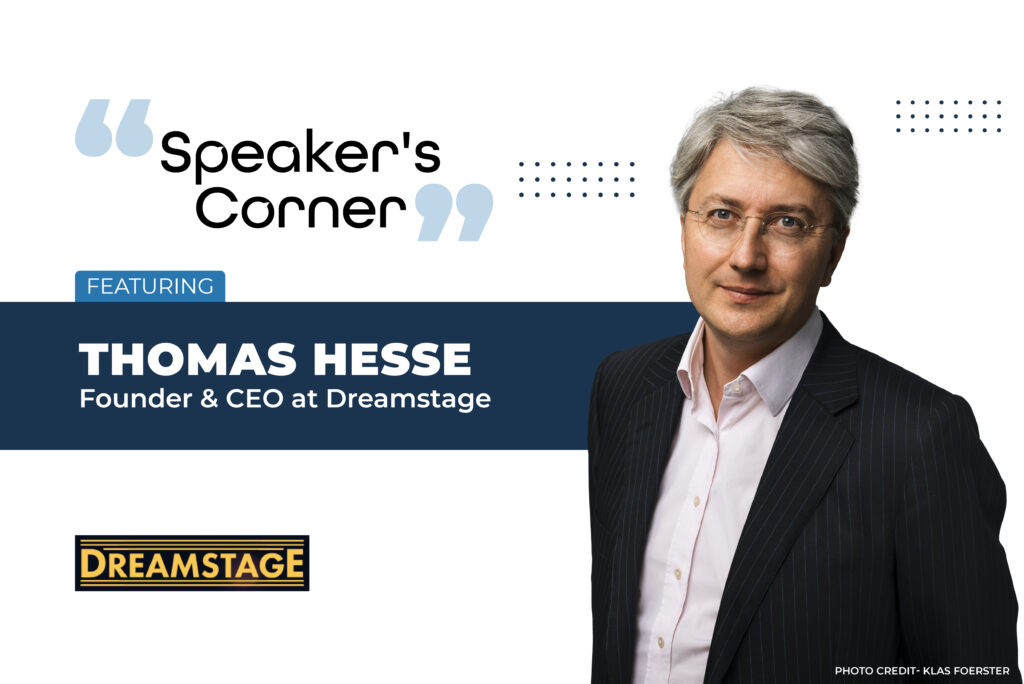 Speaker's Corner: Featuring Thomas Hesse, Founder & CEO at DREAMSTAGE
Thomas Hesse is the Founder and CEO of DREAMSTAGE Inc., a New York based streaming service for premium ticketed live performances. He is also the Founder and CEO of Consonance Investments LLC, a New York based early stage investment fund. He was previously the President of SONY MUSIC, in charge of its Global Digital Business and US Sales/Distribution for nearly 10 years and subsequently the President, Chief Digital Officer, and member of the Executive Board of media conglomerate Bertelsmann. Before Sony, he was the EVP and Chief Strategy Officer for BMG where he ran the merger of BMG and SONY Music. Thomas started his career with McKinsey & Company and then worked as an executive in television with European TV conglomerate RTL, before spending most of his career in the music industry.
Tell us a bit about DREAMSTAGE and the role it has played in the constantly changing digital landscape of how people consume entertainment.
DREAMSTAGE is a premium streaming platform for ticketed live music entertainment. We allow consumers to watch the artists they love in super high definition audio and video, in a great, clean set up, with chat and other forms of interactivity. We offer tiers of access to the artist, merchandising as well as general admission to our amazing events. We allow artists to connect with their fans in any setting they can imagine – from intimate to grand, from a studio indoors to outdoors at the end of the world.
What, according to you, is the future of the digital entertainment industry?
The live music business hasn't changed for a hundred years. The time has come to innovate and create live events that are a hybrid between a traditional concert and an interactive music video, events that bring the artists close to their most passionate fans, anywhere in the world all at once.
What is your biggest objective as a speaker?
Share our vision about innovation in live entertainment.
Take us through the core points of the panel(s) you are participating in at Collision 2021. What are you hoping to accomplish via your session(s) there?
Watching the artist you love, live on your screen, together with fans from all over the world that share your passion makes for a very emotional experience. It's moving and exciting, and brings fans into this unison celebration of life – something cannot be compared with watching a recorded video on demand all alone.
As a follow-up, do you feel that digital events give you a similar level of feedback/result vis-à-vis the live versions? What would you say were the biggest pros and cons of both formats?
It's different. In-person events will, of course, always be amazing. But going out in person is mostly a big effort, and you can't be in person everywhere all the time. DREAMSTAGE allows you to experience many more live shows than you ever could in person.
As you know, our start-up, Eventible.com, is a review platform for B2B events. Given how review-driven our lives have become today, do you think reviews will bring in a level of transparency to the events industry? Would you rely on event reviews from other speakers if you had to make a speaking decision?
I think reviews are great! Artists that are great performers will no doubt collect great reviews. Sure, I'll definitely listen to reviews from other speakers.
Finally, do you have a favorite/go-to movie? What is it?
I love pretty much all Lubitsch and Billie Wilder movies. My wife is a screenplay writer and she opened up that world for me. I wish they would make more comedies like that in our days.
You can follow Thomas on LinkedIn and Twitter. Read reviews for Collision 2021 here.