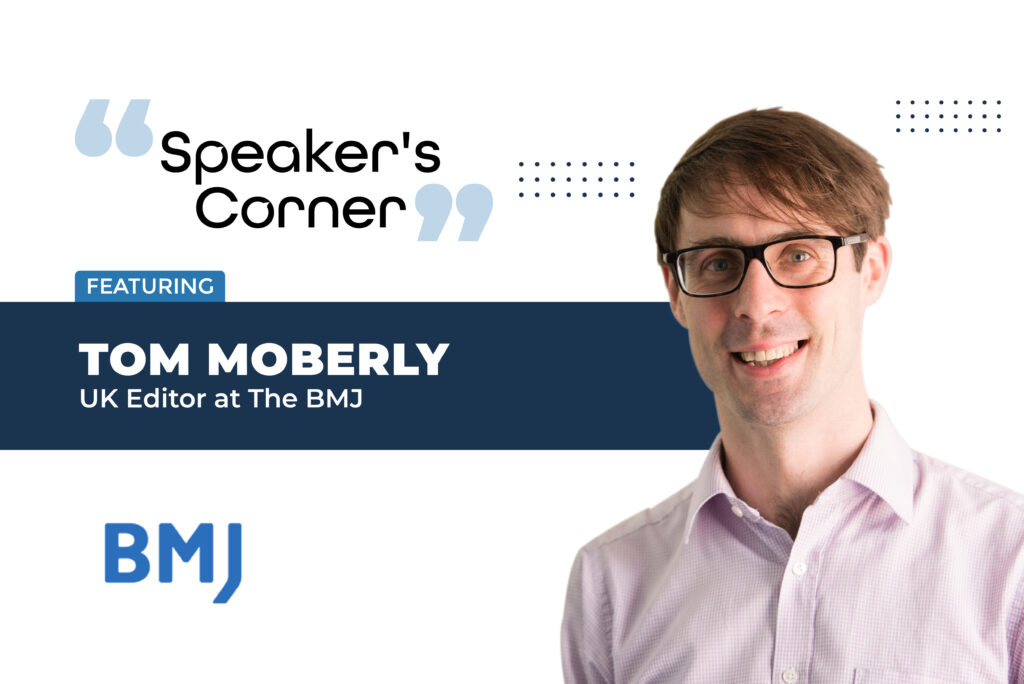 Speaker's Corner: Featuring Tom Moberly, UK Editor at The BMJ
Tom Moberly has been the UK Editor of The BMJ since August 2016, and joined The BMJ in November 2012 as the editor of BMJ Careers. Before working at The BMJ, he was the deputy news editor of GP magazine. He has also worked as a science reporter for Scrip World Pharmaceutical News and as a news and features writer for The Pharmaceutical Journal.
How does your experience as a journalist and as one of the editors of one of the world's oldest general medical journals help you in identifying and understanding the rapid changes taking place in the health and medical industry? This is, of course, taking the current environment into account.
At The BMJ, we're trying to not only understand the changes taking place in healthcare and medicine, but also put those developments into context, and then work out how we can then tell doctors what is happening and what we know about it. In that sense, the core of our day-to-day work is all about identifying and understanding developments in healthcare and medicine. But we're also keen to be a source of authoritative, reliable, and trustworthy information, and that means being clear about what we don't know, and highlighting those gaps in evidence and knowledge to our readers.
What has been your biggest takeaway amidst all that has happened within your sector when it comes to dealing with COVID-19?
From an individual perspective, I'd probably say the realisation that I couldn't personally know everything that's going on with COVID-19 at any given moment. Often as a journalist covering an issue, you'll know about every report that's coming out on an issue. During the early phases of the pandemic, there was just so much information coming out that there was an insurmountable amount to catch up on. After a while, I made peace with the fact that I couldn't be an expert on everything – I just needed to focus on what I needed to know to make the key decisions in my job. That's more a personal reflection than a point about the sector more widely, but it's certainly the biggest takeaway for me from working over the past year.
Take us through the core points of the panel(s) you are moderating at Collision 2021. What are you hoping to accomplish via your session(s) there?
I'm interested in learning about the experience of the jump forward in the adoption of technology during the pandemic, and about what it has taught us about adopting new technology in healthcare. I'd like to know more about what an increased uptake of health technologies since the start of the pandemic means for the way patients and doctors interact with each other, and what it means for the skills doctors will need to have and for the training they'll need to develop those skills. And I'm interested in hearing about doctors' understanding of the technology underlying the new digital tools entering the healthcare sector, and their involvement in the development of these technologies.
As a follow-up, do you feel that digital events give you a similar level of feedback/result vis-à-vis the live versions? What would you say were the biggest pros and cons of both formats?
I'd say the main advantage of a digital event is accessibility – the fact that people can access the event from anywhere in the world, without having to travel. That means that you can easily bring together people who might otherwise struggle to be able to find the time to travel and meet up in person. The main disadvantage, compared to a face-to-face meeting, is the reduced interaction and rapport between panelists and with the audience.
Finally, do you have a favorite/go-to book? What is it?
At the moment, my go-to book is the one I'm reading – Entangled Life by Merlin Sheldrake, which is showing me how little I know about fungi and how connected they are to almost every aspect of the natural world. More generally, with everything going on at the moment, my go-to books tend to be something light that take me away from myself, like Tove Janssen's The Summer Book or Elizabeth von Arnim's Enchanted April.
You can follow Tom on LinkedIn and Twitter. Register for Collision here.