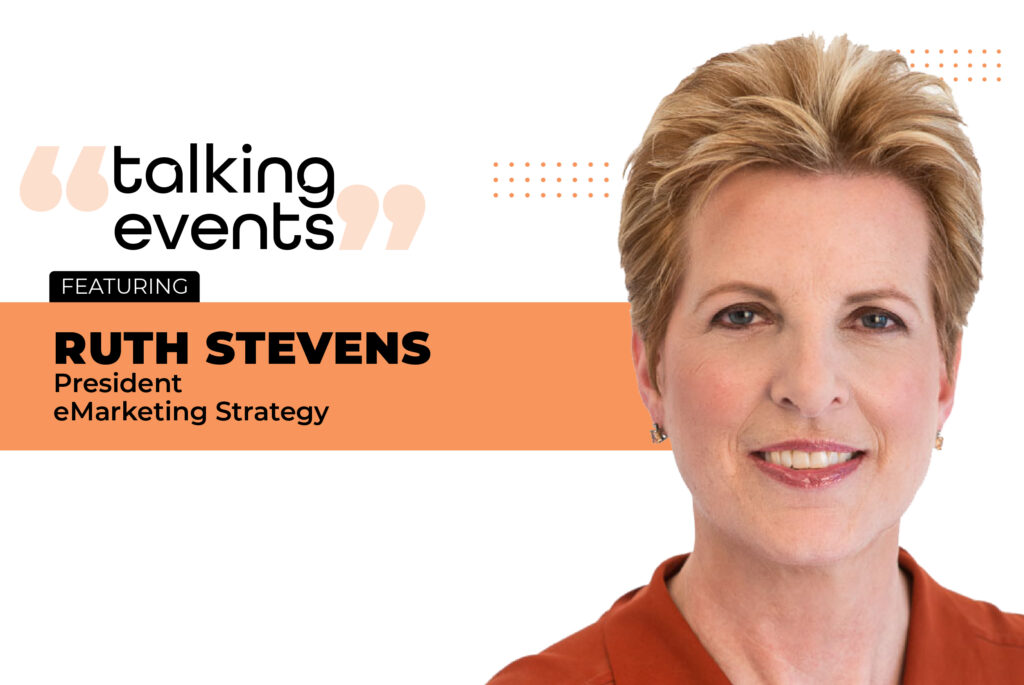 Talking Events with Ruth Stevens, President at eMarketing Strategy
Ruth P. Stevens consults on customer acquisition and retention, specializing in B2B markets. She advises companies on go-to-market strategy, sales lead generation, customer and prospect data, content marketing and ABM. Crain's BtoB magazine named Ruth one of the 100 Most Influential People in Business Marketing.
She also teaches marketing at business schools in the U.S. and abroad. She has taught at Columbia and NYU Stern business schools in New York, and abroad at Hong Kong UST, Singapore Management University, Athens College, San Andres University (Buenos Aires) and Indian Institute of Management Bangalore.
Ruth is a guest blogger at Biznology, Target Marketing Magazine, CustomerThink and Business 2 Community, and a contributing writer at AdAge. Her newest book is B2B Data-Driven Marketing: Sources, Uses, Results. Ruth has held senior marketing positions at Time Warner, Ziff-Davis, and IBM and holds an MBA from Columbia University. Learn more at www.ruthstevens.com.
Ruth, you've previously taught modules around customer retention at Columbia business school, Hong Kong University of Science and Technology Business School, and at NYU Stern. I know from our conversation recently that you were excited to have had the opportunity to teach at the Indian Institute of Management in Bangalore – tell me a little more about how that opportunity came around and your experience and whether it was much different from the other assignments in the past?
Over the last several years, I've had the fun of pursuing what's sometimes called "academic tourism." I identify a top business school in an interesting city, and network my way into a visiting adjunct professorship. It's a great way to see the world. I'll stay for anywhere from three weeks to four months. It gives me a natural, organic connection with the place, and I feel like I really live there.
In the case of HKUST and IIMB, I loved those experiences so much, I went back for another semester the following year. Much to say about IIMB, but I'll limit myself to two observations. First, I was astonished that 100% of my business grad students were engineering majors in undergrad. Second, I absolutely loved the IIMB campus, which is like a botanic garden oasis within the bustle of Bangalore, and I was an instant fan of South Indian cooking.
Let's talk a little about what got you interested in trade shows and conferences? What do you make of the tremendous investments and acceleration of virtual event technology in the last one year alone?
I originally researched and wrote Trade Show and Event Marketing because I saw a lot of waste and confusion as B2B marketers applied an average of 25% of their marketing budgets to events. I thought I could bring some clarity about event strategy, tactics, and planning to the table.
Virtual events are a fantastic addition to the marketing toolkit. Like many other observers, I predict that they will not disappear after we go back to in-person meetings. Their value and advantages have been firmly proven.
Do you foresee any upcoming trends in the events industry in the next couple of years that you think event professionals are largely unprepared for?
Where I have long thought event professionals miss the boat is in thinking about the customer relationship—customers being exhibitors, sponsors, attendees, speakers, everyone—in a larger context than the brief event program itself. There are many productive ways to extend the value of the event, pre and post, that are not being explored. It's a mystery to me why this opportunity is going begging.
Ruth, have you been on the new social channels like Clubhouse or Lunchbox – do we even need these? Where are we going to find the time?
I can always find time to try something of value. I have an Android phone, so haven't been able to experiment with Clubhouse. But I like Upstream, for example, where I participate regularly in weekly speed-meetings.
As you know, our start-up Eventible.com is a review platform for B2B events – in the times we live in today, where we can read reviews before making any kind of purchase – do you think event reviews will become indispensable for potential attendees in making event participation decisions? Or for speakers and sponsors to see reviews from their peers and then use the data points to inform their own decision making?
I think ratings and reviews will be a benefit to all parties in the event world, as they have been in other B2B buying categories, thanks to TrustRadius, G2Crowd, and others.
Finally, Ruth, tell us about your favorite book from the last year and what made it so special?
The Women's Hour, which tells the dramatic story of a hundred years ago, August 1920 in Nashville, when the Tennesee legislature passed the 19th Amendment, allowing the women's suffrage to become the law of the land. It's an engrossing narrative of the battle for each vote, where the two sides used every tactic imaginable. I am also proud to note that the book was written by my college classmate Elaine Weiss. There is now also a children's version, which I have happily presented to my grandchildren.