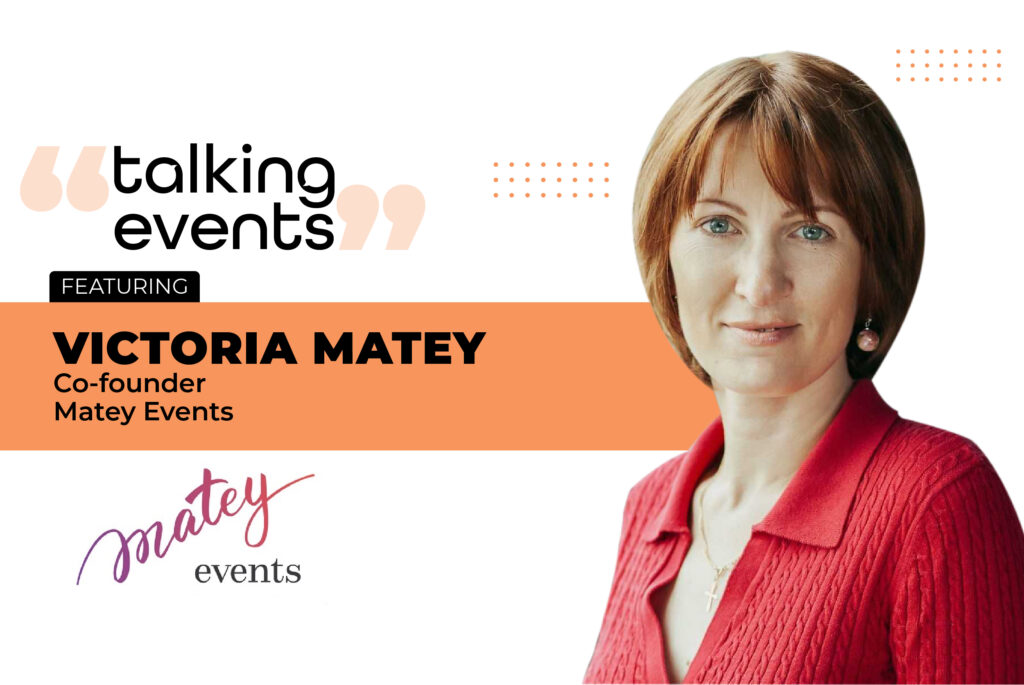 Talking events with Victoria Matey, Co-founder at Matey Events
Victoria Matey is an Award-winning Event Consultant specializing in event psychology, Co-founder of Matey Events, author of the 'Event Psychology Lab' online course and the '10 Principles of Strategic Event Planning' book, and a speaker. With more than 16 years of international experience and expertise, Victoria helps event organizers create memorable, attendee-retaining events by offering science-based solutions and advising on event design and content. Victoria has received Ford Foundation IFP Fellowships, IFP Alumni Awards, and has been named Top100 Smart Women in Meetings by Smart Meetings and a ChangeMaker by MeetingsNet.
Tell us about how you came to create your career path in the Events industry? What does a typical engagement as an event psychologist look like for you and how does someone get started on the path to seeking your help?
I've been an event planner for many years and has always been interested in psychology. At some point a few years ago it struck me that events are a kind of business that is all about people, and First of all ,therefore, we must be able to design events for how people think and behave. Ever since I've been working on event psychology – showing how to apply scientific findings in events. I started by reading scientific works and researching on my own; back then it was just a couple of articles related to events I could find. Over the years, I have acquired a large pool of knowledge and ended up putting together an online course for event planners called Event Psychology Lab. It covers key areas of behavioral science insights translated into events language, and can be very helpful if you are looking to understand more about attendees' behavior; increasing engagement and sales; improving event outcomes. As an event consultant, I help event planners discover and apply science-based solutions. Also, I offer event psychology workshops to event teams and speak on the topic to raise awareness among the event community.
As an event psychology expert and business events consultant, what are your top 3 tips for B2B tech startups to make their branded events a success?
Build your event community.
Learn how to manage Attention; it is more important than engagement.
Analyze your event by observing behavior rather, or more than surveying attendees.
Event organizers have been sometimes unsure about offering the virtual formats of their normally paid events either at a nominal price or free. What are your suggestions to create pricing strategies to align with the current attendee psyche, so it's a win-win for both organizers and attendees?
When creating pricing strategies, I always suggest building on two premises. First, behavioral science teaches us that most of human decision-making is irrational, and therefore appealing to logical arguments about the ticket price can not be as effective as you'd hope. Second, it's crucial you work on creating psychological value of your event by addressing people's inner motives and old, universal, fundamental desires. Check my blog https://matey.events/en/psychological-value/ and most recent LinkedIn post https://www.linkedin.com/posts/victoriamatey_value-eventpsychology-eventmarketing-activity-6775462044926922752-pzJm for more on this specific question.
What are the key psychological factors that cause attendee attrition? A huge concern is the attendee not showing up for the live event and deciding to watch it later (maybe). Is it good enough to just have relevant content and great speakers?
Attendees come to an event for a variety of reasons. People are still eager to learn; yet the access barrier to speakers and content has lowered (e.g. you can watch that speaker on YouTube, or read an article on the topic you're interested about), and the balance of driving factors has changed. From psychological perspective, the key factors that drive attendance have not change: it's a need to belong, to be part of the community; it's a need to experience intense and different emotions; it's a need to be recognized and feel valued. Designing an event with those needs in mind will yield great results.
As you know, our start-up Eventible.com is a review platform for B2B events – in the times we live in today, where we can read reviews for our service providers, Uber drivers, hotels, restaurants etc. – do you think event reviews will become indispensable for potential attendees in making event participation decisions? Or for speakers and sponsors to see what their peers are doing and then use the data points to inform their own decision making?
Reviews are a powerful persuasion tool rooted in a psychological concept of 'social proof'. Social proof is a human tendency to follow the behavior of others, particularly in uncertain circumstances. So I believe a review platform for events is an excellent idea; it can be extremely helpful for all event stakeholders if done ethically.
How do you think a concept "peak end rule" will influence the review an attendee might ultimately decide to provide?
The peak-end rule explains what moments from specific experience we remember most; it does not impact the attendee's decision to provide the review.
How do you think a concept like "paradox of choice" will help future attendees narrow down and fix on the events they decide to attend – as our reviews ultimately lead to events being scored and ranked?
When there is too much choice, it leads to a choice paralysis – that is inability or refusal to make a choice. It's a bias we all have; and something eventprofs need to be aware of to make sure whatever they have on offer is balanced. I think scores and rankings are more about social proof.
Finally, tell us about the one book you think event profs should read this year?
This is a hard question – it's difficult to pick just one! Let me recommend the book I've just finished – '7 ½ lessons about the brain' by Lisa Feldman Barrett – a truly fascinating read. For more suggestions, please check here: https://matey.events/en/behavioral-science-books-for-event-planners/
Follow Victoria Matey on LinkedIn and Twitter
Website– eventpsychology.thinkific.com