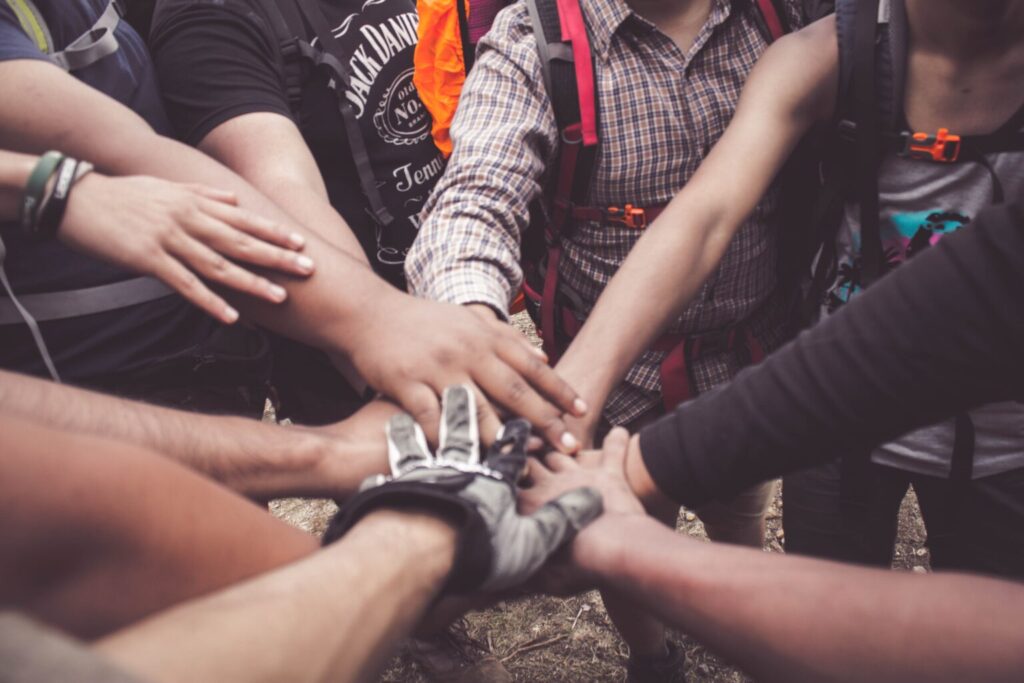 Table of Contents
Introduction

30 Team Building Activities
2.1 Marshmallow Challenge
2.2 Corporate Castaways
2.3 Charity Bike Buildathon
2.4 Virtual Escape Rooms
2.5 Team Building Ice Breaker Questions
2.6 Company Potluck
2.7 Community Service
2.8 Employee Beach Day
2.9 Lunchtime Picnic
2.10 Field Day
2.11 Bigger and Better
2.12 Word Association
2.13 Conferences
2.14 After-Work Running Day
2.15 Perfect Square
2.16 Painting
2.17 Two Truths And A Lie
2.18 Random Acts of Kindness
2.19 Volunteering
2.20 One Minute to Win It
2.21 Virtual Happy Hour Trivia
2.22 Virtual Trivia Championship
2.23 House Party
2.24 Never Have I Ever
2.25 Wild Goose Chase
2.26 Scavenger Hunt
2.27 Bubble Football
2.28 Water Gun Fight
2.29 Keep Up The Balloons
2.30 Where Do You Stand?
3 To Sum It Up
If you are a large organization and are looking for practical, engaging, and fun activities to introduce to your team members, you're in the right place.
When it comes to a large-sized team, choosing and planning the perfect team-building activity can be taxing, but it's not impossible. If you think engaging a large group of people in the workplace in some team-building activity might may not be as effective as smaller groups, the ideas we'll show you will prove you wrong.
Team building activities for large groups, when done right, yield effective results. Engaging large groups can generate more ideas and diverse opinions, more people are available to complete tasks, and there will also be more feedback that influences a more remarkable change.
Don't hesitate to get your large team on board. To save you the hassle of going through activities and ideas you'll see online that are not feasible for your bigger-than-average teams, we've selected 30 must-try best team-building activities for large groups. Go through it and try them out!
30 Team Building Activities
Just as you might have thought, there had to be special team-building activities that are well suited to teams with up to or more than 20 members.
Some of these activities can be done indoors, while others can only be done outdoors. We also made sure to list virtual team-building ideas that you can engage your team with, anywhere, anytime. So what are some of these awesome activities for large groups?

Let's dive in.
1. Marshmallow Challenge
In this challenge, your team members try to build a tower as high as possible using ingredients like marshmallows, and this requires teamwork, communication, and leadership. As more people play, even if they are all working towards a similar goal, different members will have different ideas that they'll share for everyone to decide on. By setting a timer, you can determine the length of this game and increase the pressure.
2. Corporate Castaways
Corporate castaway is a challenge played by many people in an open space. Different games and challenges are set on a field or any open space with different groups to solve them. The group that solves the most challenges gets the highest score and wins.
3. Charity Bike Buildathon
This activity involves coming together as a team to build and design children's bicycles—the bigger the group, the more bikes that can be made. After the buildathon, the bikes are then donated to any charity organization of your choice.
4. Virtual Escape Room
A virtual escape room is an activity where you trap your team members in a virtual environment with leads and tricks on how to escape. There are various types of virtual escape rooms. From Mummies Jewel, Lost In The Arctic Escape, to Grand Theft Escape, you can choose many challenging environments and explain the instructions to your team.
5. Team Building Icebreaker Questions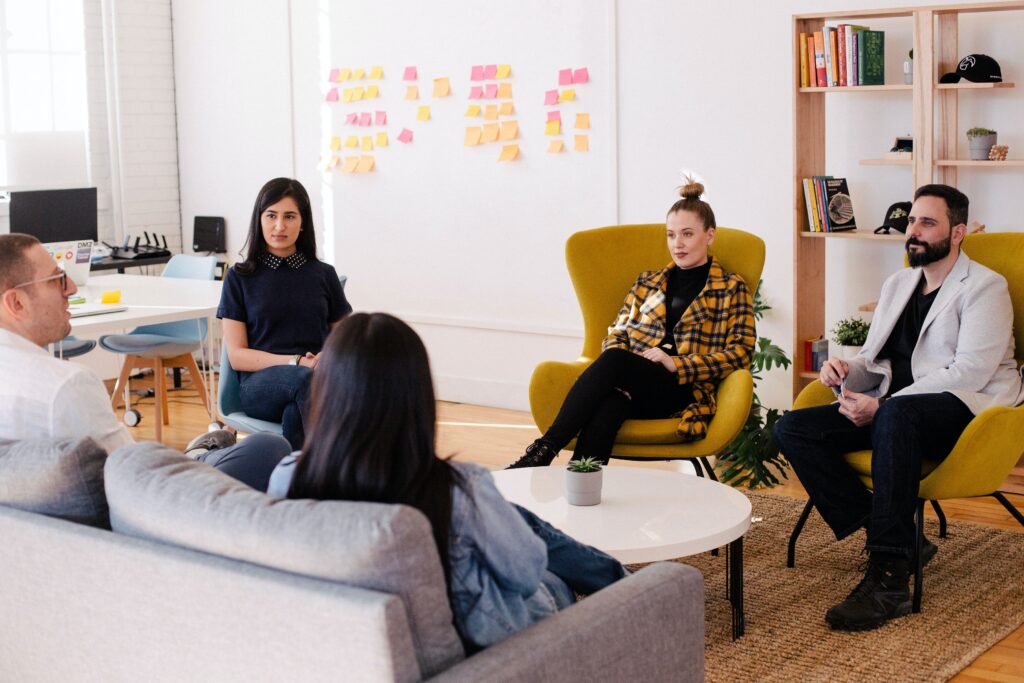 Ice breakers are especially great for teams with new members. The team comes together and goes through a list of ice-breaking questions so they start to get to know each other. It's a straightforward activity that will incite discussions and laughter.
6. Company Potluck
Company Potluck is an indoor activity where the entire team eats together in the spirit of home-cooked food. The only tweak to this activity is that everyone has to bring a snack or a meal from home, which is all shared by everyone
7. Community Service
When performing community service, the more people, the better. Set a day or two aside to help grow and sustain your immediate community. Community service ideas include environmental sanitation, health awareness programs, visiting orphanages, etc. Your team will learn to help and how we can make real change, together.
8. Employee Beach Day
A beach day for your large group of workmates is a fun activity that can involve various recreational activities. Set aside a day to visit the beach, and plan fun games you can play, like beach volley, surfing, or just enjoying a tan. Beach day gives your team members a healthy escape from work.
9. Lunchtime picnic
On a picnic, your team members share a meal in amazing scenery and make great memories together. Plan an outdoor picnic, on a day when everyone will be free to attend. You can hold picnics in open spaces like gardens and parks. All you need to do is provide essential items like blankets, picnic food baskets, sunscreen, etc.
10. Field Day
To hold field day, choose a day and make it a work-free day, and draft out other fun activities that everyone can engage in on the field. A quick Google search for "field day games" will do the trick. Announce a mystery prize for game winners to spice up the event and get your employees pumped up. May the best team win!
11. Bigger and Better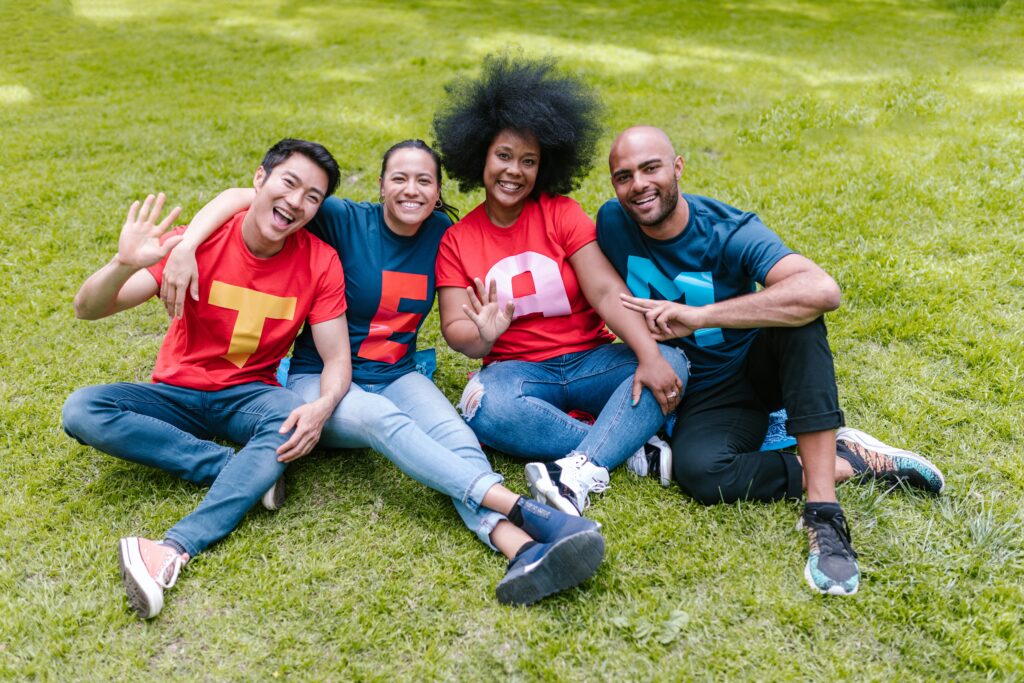 In this activity, you divide your large groups into teams and give each team an invaluable object like a paperclip, pen, or office pin. The purpose of the game is for every team to try and convince the other team to exchange their object for more valuable items under a time limit. The team that returns with the most valuable item wins.
12. Word Association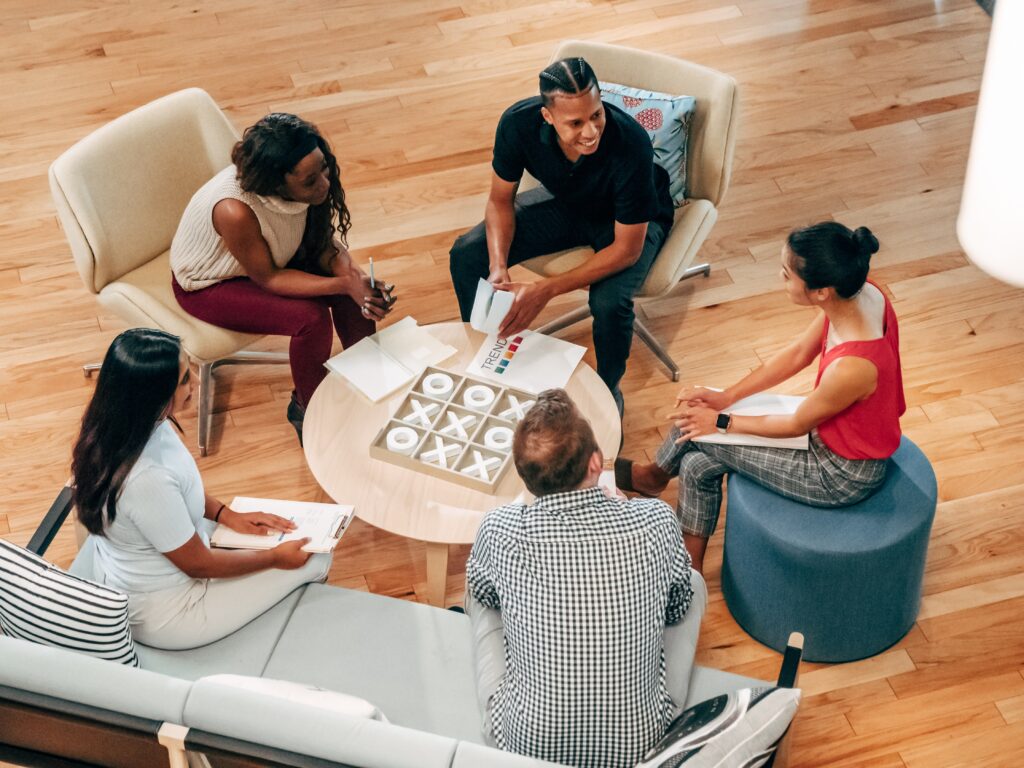 In word association, a large group is divided into smaller teams while sitting in a circle. Afterwards., each team is provided with one word. One person starts by saying the word and going around in a circle, and the next person says a different word closely associated with the previous word – until time elapses.
13. Conferences
Your team members can hone their skill set and gain more focus and determination toward their work by attending conferences and seminars together. Q and As will also help different people share unique ideas that will benefit the team. Another great thing about attending conferences is they can provide a nice break from your work environment and help workers to maintain a strong sense of workplace culture and enthusiasm.
14. After-work running day
After a very stressful work day, running or jogging is a way to destress and have something to look forward to. You can create a running club with your team members and cover laps without necessarily racing. You can use an open field, a park, or a quiet street and run with your team members.
15. Perfect Square
For this game, your team members are blindfolded while attempting to make a square with a rope. It's simple, and it only has one rule: no peeking! There will be plenty of fun for everyone involved (even if they fail) and lots of teamwork to achieve the goal! A perfect square is also a perfect ice-breaker for teams with new members.
16. Painting
To organize a painting session for your teammates, set aside a day and decide if it should be indoor or outdoor. You can provide canvases for each of your team members and lay out instructions on what everyone should paint. Either give them an idea to paint or let them go wild and see what they come up with.
17. Two Truths and a Lie
No matter how big your team is, they can get to know each other better with the Two Truths, One Lie game. The game is quite simple and straightforward – each person makes three statements about themselves. One of these statements is a lie. Everyone else tries to guess whether each statement is a truth or the lie.
18. Random Acts of Kindness
For this activity, divide your large group into smaller teams that compete against each other to see who completes as many good deeds as possible before time runs out. It's perfect for large groups because more people equals more positivity spread throughout your city.
19. Volunteering
Volunteering is similar to community service. You and your team can get together to do voluntary work for the community like organizing a food drive, mentoring in a local school, working as event staff, hosting a fundraiser, organizing a blood drive or immunization, etc.
20. One Minute to Win it
In the workplace, you can set aside free time to engage everyone in a one-minute challenge where they try to complete simple but tricky tasks in just one minute. It gives a healthy adrenaline rush as each member tries desperately to finish a task before time runs out.
21. Virtual Happy Hour Trivia
In this virtual team-building activity, you and your team will engage in a trivia game in Hamish McDuff's virtual pub. This virtual pub game experience has more than 20 categories for you to choose from.
22. Virtual Trivia Championship
The virtual trivia championship is great for teams with many members. This game has many activities and questions that will challenge your team to use more of their skills and improve their cognition to solve problems. Click here on the link, should you want to try it out with your team.
23. House Party
A house party is held chiefly with many people, making it perfect for large groups. After that month-long work stress, you can have a house party for your teammates at a comfortable and spacious house where everyone will come and relax and gyrate. Dance competitions, games, and other exciting activities can be planned for a house party.
24. Never Have I Ever
In this game, the names of your team or group members are put down as each of them takes turns mentioning experiences they've never had. Before anyone starts, they have to start their sentences with "Never have I ever". You'd likely have your team members pointing fingers and giving each other suspicious eyes, while everyone laughs.
25. Wild Goose Chase
.Many people, from 20 to 100, can do this activity. It involves going out as a team to bond and explore the cities while keeping records of events, things, places, etc. The purpose of this activity is for everyone to get off work stress and pour some energy into going out in search of something new and exciting.
26. Scavenger Hunt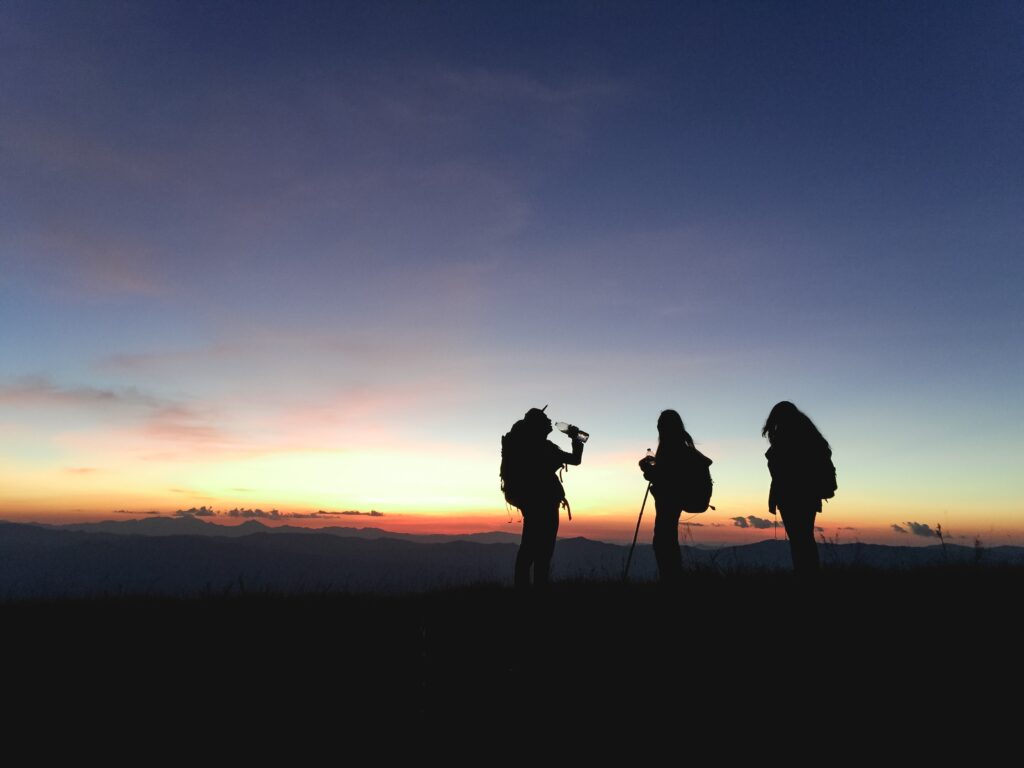 This is a fun activity involving team members looking for items you've hidden. To play this game, create small teams and develop good scavenger hunt ideas or challenges. Players must complete and find all hidden items as quickly as possible. The first team to find all items and complete all challenges wins the game.
27. Bubble football
In this exciting game, players enter an inflated ball that looks like a zorb while playing football. Everyone, including older members, can engage in this game as it is safe and engaging. Bubble football allows players to feel confident while playing, knowing that they can't get bruised if they fall. You'd have your team members looking ridiculous while having fun.
28. Water Gun Fight
Water gun fights are always better with more people to play. It involves fighting with water guns in an open space or field. Divide your large group into two teams while they wear different colored jerseys so they're easy to identify. Then, the team that eliminates the most opponents with their water guns before time runs out, wins.
29. Keep Up The Balloons
Keep up the balloons is a game that requires players to keep balloons in the air for as long as possible. A group of team members are divided into two teams and given about 8-10 balloons each. Once the game starts, each team pushes the balloon in the air and keeps trying to avoid the balloon touching the ground. Once the set time elapses, the team with the most balloons in the air wins.
30. Where Do You Stand?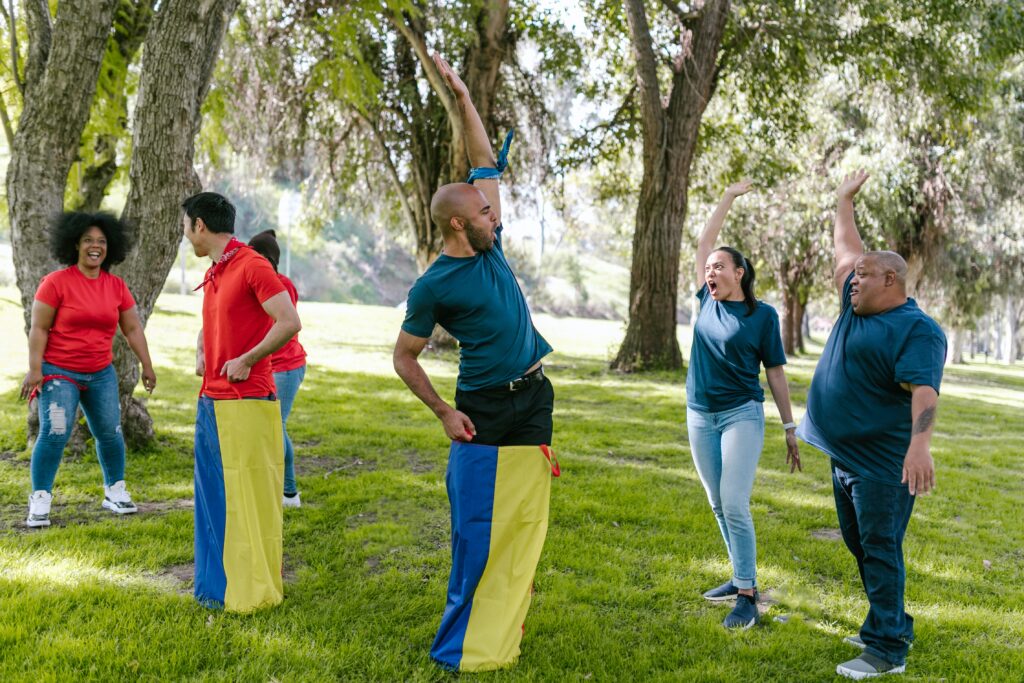 In this game, an open space or a large room is divided into two with a line of small cones and two teams on each side. A "this or that" question (like rice or pasta?) is asked with each side of the room representing both options. So, the players run to the side that represents their preferred option or answer to the "this or that" question.
To Sum It Up
Your team members will do the best work and produce the best results when they are in sync. So whether you have new employees in your organization or you're trying to boost morale, engaging your employees in team building activities will help them bond, connect, and evolve into an unstoppable powerhouse that'll smash through company goals.
However, organizing activities can be challenging especially if you manage a very large team. We get that. The team building ideas we discussed above are especially great for large groups of people and help you involve many people at once.
Taking your team members to events and conferences is an excellent way to help them connect over a shared activity and learn while at it. Looking for the best events or conferences to attend with your team?
Eventible is the first-of-its-kind event review/listing platform that gives attendees, speakers, and sponsors the opportunity to leave their reviews, post the completion of an event.
At Eventible, we list the best events worth attending based on authentic reviews and ratings from informed professionals and provide you and relevant stakeholders with all the important information required for you to decide on the next conference or event to attend. So check us out today!