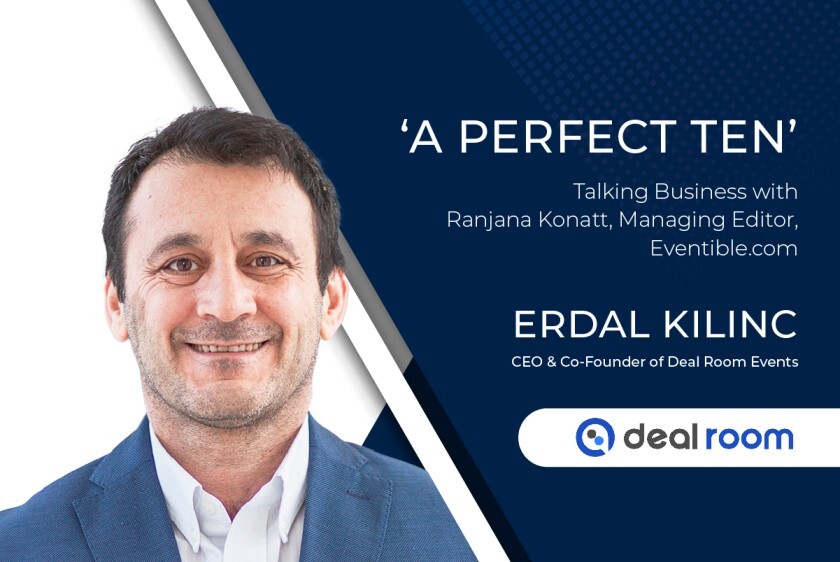 'A Perfect Ten' – Erdal Kilinc talks business with Ranjana Konatt, Managing Editor, Eventible.com
Let's rewind back to last year, a year that was momentous for the majority of us. How do you remember reacting to all of it? Did you feel the need to stay the course (business-wise) or pivot to new offerings?
I've come across instances of companies who were making software products for the live events industry and decided to pivot hard. Also, instances of companies who jumped into the virtual platform space purely as an opportunistic play…
Deal Room was established in 2018 as in-person event registration and networking app. People who want to meet with other people they don't know but share similar interests used our app as a networking tool; checking who else is attending, filtering profiles, finding people they want to meet or do business with, and sealing the deal. We had our own networking area: numbered tables that provide speed networking and business meetings.
With the pandemic, we duplicated our event expertise and software to virtual events, enlarged the scope, and relaunched Deal Room Events with all infrastructure and success management services.
Tell me in brief about your company, the updates – recent achievements, projects, mergers…
As I said, Deal Room is launched in 2018 as an in-person event networking app. So we are already coming from the events industry itself. With the pandemic period, we extended our business scope and started to serve as an all-in-one event platform.
Our software is unique and strong: we have many life-saving features that smooth the attendee and event organizer experience. Also, our team is so dedicated and calls themselves event experts. These paved the way for a good business opportunity as people had less or no idea about how to pursue the event industry. Recently we updated our logo, branding, and website to communicate the value we bring better. Also, we constantly improve our platform based on feedback we gather from surveys conducted.
Recently we're honored to rank #6 on the Startup100 list of Finland: which means one of the startups in Finland that show a constant uptrend.
What lay ahead, what's in store for the events industry? Is hybrid the wrong thing we are obsessed with right now? Will it settle down between live and virtual?
I don't believe that expecting hybrid events in the future is wrong. Obsessing over it might be. I do not believe it is one thing or the other.
Recently we conducted market research about the industry: investigated events in 20 countries, 9 industries. We also made our own survey. There is this notable "virtual fatigue" yet the virtual component is here to stay for the indefinite future. There are multiple reasons why people will continue to request and invest in virtual components, some could be due to health and safety concerns or budget preferences. You can see the whole report here: https://hubs.li/H0Sf9fN0
Virtual and live are not mutually exclusive. What I believe is that we will experience a change in how these two components are used to interacting. For instance, imagine having a full-day event where the morning phase is done virtual and the afternoon is performed live; the afternoons and evenings are times where people like to connect and have a chat at the table or bar. We can do it in Deal Room Events.
In your opinion, do you believe that we need to be in a constant state of preparing for the future and for what comes next? Also, tell us about the areas of operation where you have increased investment? Also, what were the reasons behind the increase in investment?
We are in the industry of delighting our clients. Either through virtual or live experiences. Therefore, it is not about preparing for what comes – it is more about searching and implementing services and products that will contribute to the experience and will increase the delight of our audience.
One of the key drivers of the industry is technology as it influences live and virtual experiences. This factor by itself involves multiple innovations. Therefore, we keep an eye on the new technologies to identify potential investments or collaborations that would enhance the client's experience.
Regarding your point on investments, at Deal Room, we focus on collaboration because successful innovations are rarely done on their own. We are strong at building productive collaborations because we invest resources that help build strong and inclusive community networks. This way we ensure we are aligned with our purpose which is to advance towards a more inclusive, agile, and sustainable way of connecting people.
Another major investment is in people for sure. We constantly train our team to catch up with the new trends, new ways of rendering service, event management, or teamwork.
What are you seeing on the talent management front? In your opinion, does your business need a high-touch collaborative environment, or do you support your teams working through a hybrid model?
Deal Room Events head office is in Finland. Yet we have teams in Montreal and Istanbul as well. One of our team members worked from El Salvador, some other worked from Russia during summer break for instance.
Human connection, collaboration, interaction, the connection is crucial while chasing a common goal. Yet, it shouldn't necessarily be in person: virtual is not only part of our product, it is a way of daily life.
In the last year, we all saw the explosion in virtual tech platforms. Compared to mature platforms like Hubspot which integrate into 500 other applications – virtual platforms are still operating as silos. How do you see this playing out with respect to data privacy issues, integrations into other apps that can increase the value for the user? What does the future hold for your category?
In any industry, clients want to deal with a limited number of third parties. Integrating any software solution (not just event platforms) into existing systems is one of the biggest pain points of clients. It sometimes becomes a deal-breaker when it comes to making a purchasing decision. We are aware of it and built our system flexible enough, and follow procedures in line with data privacy.
How do you look at challenges that haven't been solved yet like networking? For instance, a simple handshake, getting a pint with a stranger in a new city? Experience technology has not been able to replicate it yet, should it even attempt to?
I believe that it's not about trying to replicate the in-person way of networking. It is about taking leverage from technological innovations to adapt them in a way that helps users have delightful experiences in the virtual realm.
Virtual networking cannot be achieved with the same practices as in-person networking. There are other factors, such as internet connection, that need to be considered when developing products and investing in features that help enhance this process.
I believe that human connection is the basis of the events industry, otherwise, why would you go to an event if you do not want to get value from another human being? You just have to rethink how to facilitate networking in settings that have a virtual component.
The aforementioned is the reason why at Deal Room we are user-centric. Our specialty is networking and we aim to help our clients build those meaningful connections that bring value.
Where do you see yourself in the next couple of years?
We want to be the sole solution when it comes to engaging events: either virtual or in person.
How do you relax? Do share with us – what's your secret to unwinding from this crazy world we've found ourselves in!
I walk during the day, outside the office. And I also spend time with my hobby garden: I am a semi-professional farmer 😊
About Erdal: Erdal has 20 years of professional experience as an industrial engineer with an MBA. Focusing on business, project, and people management, he worked for several global companies in Canada, Turkey, Qatar, and Finland. Now works at Deal Room Events as CEO & Co-founder. R&D, Facility Management, System Development, Mechanical Completion, Plant & Building Commissioning, Sustainable Development, Quality Management, and now Event Management are among his expertise. He is also involved in start-up coaching. Deal Room Events started as an MBA project and turned into a successful business. As CEO & Co-founder of Deal Room Events, Erdal defines himself as an operational excellence master of the event industry. He mainly focuses on learning how visitors behave, how they seek and meet relevant people during events. He is always curious about finding the dynamics of each event and developing processes for efficient event management and a better attendee experience.