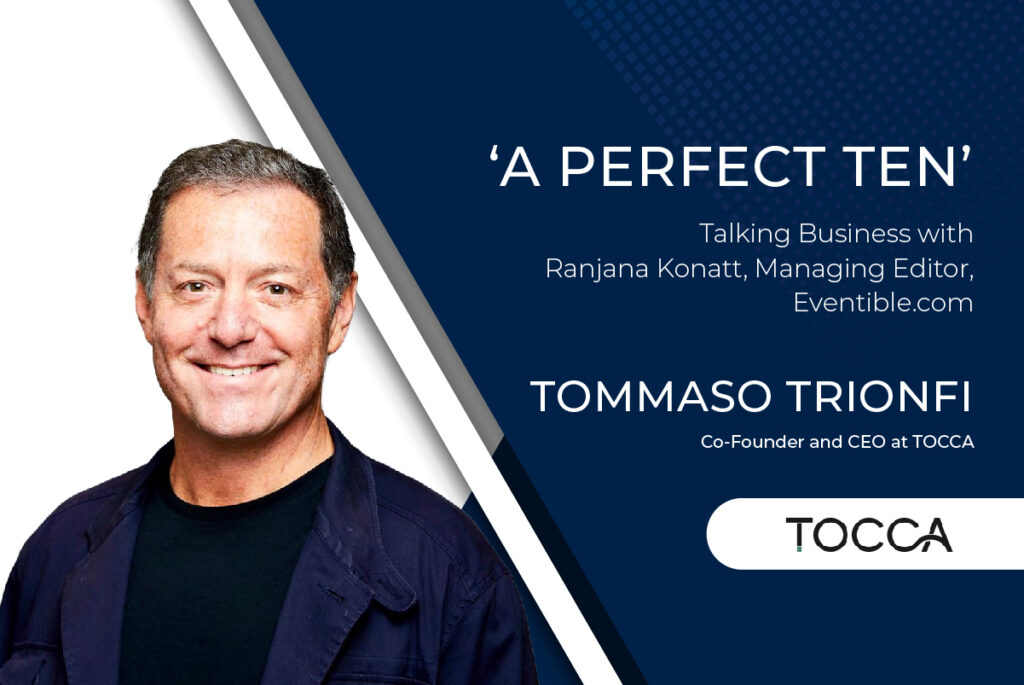 'A Perfect Ten' – Tommaso Trionfi talks business with Ranjana Konatt, Managing Editor, Eventible.com
Let's rewind back to last year, which was momentous for the majority of us. How do you remember reacting to all of it? Did you feel the need to stay the course (business-wise) or pivot to new offerings? I've come across instances of companies who were making software products for the live events industry and decided to pivot hard. Also, instances of companies who jumped into the virtual platform space purely as an opportunistic play…
Tocca was in the in-person B2B company event business, capturing highly qualifying data on the event floor and sync it in real-time with Salesforce. COVID has put an end to it. But in a previous life we had built the leading Virtual Classroom solution for online education, Wimba, eventually sold to Blackboard. So we pivoted to virtual events as we saw a great opportunity.
Tell me in brief about your company, the updates – recent achievements, projects, mergers…
We were late to the game, having to restart everything from scratch. Then in the fall, we realized that most virtual event solutions were modeled after the same design, a replica of a convention center. We decided to modify our product to make it white-label, totally customizable, very modular (building blocks) so that you can configure very different events, and very easy to set up. We just signed a marketing agreement with Amazon. And we working on a special integration with Hubspot.
What lay ahead, what's in-store for the events industry? Is hybrid the wrong thing we are obsessed with right now? Will it settle down between live and virtual?
We don't think Hybrid will materialize as some people are thinking. Organizing an in-person event is very hard and resource-intensive. Virtual events are here to stay because they are 1/10 of the costs and generate 5 times the leads and attendees. If you add a virtual event to an in-person one, you add a layer of new expensive costs that will neutralize the cost appeal of a virtual event. It's not worth it. Physical events will come back, maybe upper scale. Then you can use the same content and do a virtual event over many days/weeks. As you don't want to do a virtual event for longer than 2 hours per day.
In your opinion, do you believe that we need to be in a constant state of preparing for the future and for what comes next? Also, tell us about the areas of operation where you have increased investment? Also, what were the reasons behind the increase in investment?
We need to add flexibility as things can change fast. Virtual is here to stay, but it will evolve. We invest on removing features and make virtual events more integrated in the marketing stack and easier to set up and attend. Engagement comes from people meeting up, not technology.
What are you seeing on the talent management front? In your opinion, does your business need a high-touch collaborative environment, or do you support your teams working through a hybrid model?
We do, we are remote and will stay remote.
In the last year, we all saw the explosion in virtual tech platforms. Compared to mature platforms like Hubspot which integrate into 500 other applications – virtual platforms are still operating as silos. How do you see this playing out with respect to data privacy issues, integrations into other apps that can increase the value for the user? What does the future hold for your category?
This is the biggest problem of the industry, you will see better and more powerful integrations. The customer will win, and they want to have as much as possible automated. Silos will not win.
How do you look at challenges that haven't been solved yet like networking? For instance, a simple handshake, getting a pint with a stranger in a new city? Experience technology has not been able to replicate it yet, should it even attempt to?
Virtual is different. Take Lunchclub, much more successful online than in person. That's the future. Networking is the same, you can be a lot more efficient online with proper matching, first touch and go from there.
What are you seeing on the audience acquisition front now that the novelty of virtual events has started to wear off and users are defaulting into the Netflix "I'll watch it later, maybe" mode. Is audience acquisition the biggest challenge that event organizers face? Or is the low attendance rate the bigger worry?
That's why you need to make it engaging, and engagement comes from only one thing, meeting people and talk to them. Smaller rooms with 20 to 30 people talking to each other, questions asked, exchanges. Streaming live is only worth it if you can then engage with people you like.
Where do you see yourself in the next couple of years?
Too many uncertainties to plan properly. But still in virtual, and focus on removing technology and adding easiness of connecting.
How do you relax? Do share with us – what's your secret to unwinding from this crazy world we've found ourselves in!
I swim in the Bay of San Francisco, with no wetsuit. Water varies between 48 and 62 F. Your body and mind are totally focused on keeping you alive for the 45 to an hour swim. It makes you happy, and very relax. Strongly recommended.
About Tommaso Trionfi: Global executive with over 25 years of experience including general management, sales, international expansion, restructuring, corporate development, capital raises, exits, M&A and contract negotiations in mid-size and start-ups companies with a particular emphasis in the internet sector in the last 20 years. Master's degree in Sciences and Technology from the University of Grenoble (France) and an MBA from INSEAD.