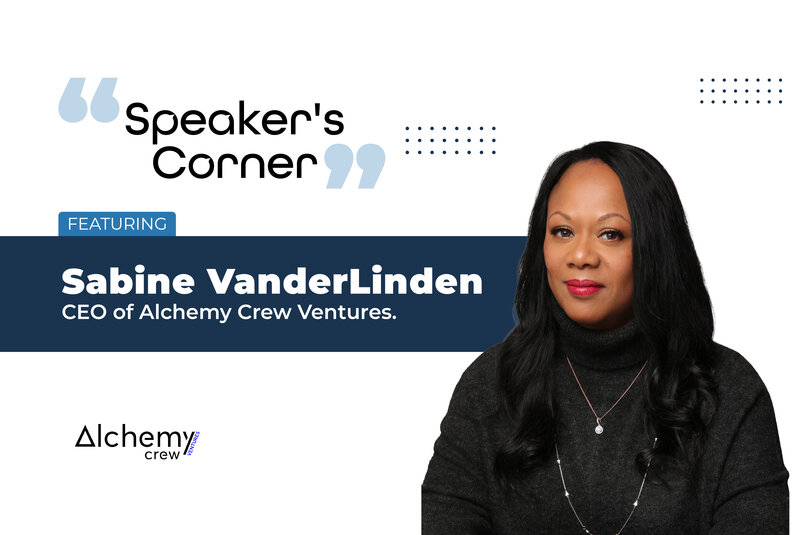 Sabine is an accomplished executive with a demonstrated history of achieving long-term, sustainable growth for both startups and established corporations. Her expertise lies in developing, scaling, and democratizing digital ecosystems centered around specific categories, which reduces the risk of corporate ventures for established players.
Three years ago, Sabine co-founded Alchemy Crew Ventures, an R&D lab that prioritizes venture development and works closely with Fortune 500 companies, venture capital and private equity firms, universities, and acceleration programs to accelerate the commercialization of new technologies.
Sabine is an accomplished advisor and investor who has accelerated and raised funds for over 100 growth ventures, including notable exits such as Fitsense-Zurich, MyFutureNow-L&G, and Tia Technology. She is also a co-editor and author of the bestselling book, The INSURTECH Book. Sabine is recognized for her expertise in corporate venturing, growth strategies, disruptive innovation, fundraising, and change leadership, and has received numerous awards and honors, including the Insurance Times – Tech & Innovation Awards Winner, Grant Thornton – Face of a Vibrant Economy, Business Insurance – Women to Watch Honouree, and Corporate Vision – Venture Validation Firm of the Year, among others.
In an interview with Eventible, Sabine speaks about her journey so far in the field of insurtech, the biggest challenges facing the insurance industry today, strategies of Alchemy Crew Ventures to stay ahead in the game in the future and more. Read along!
Can you tell us about your professional background and how you became involved in Insurtech?
I have over 25 years of experience in insurance. I started my career at Lloyds of London and then worked for well-known companies, including IBM/ PwC, Fico, and Pegasystems, among others. In 2015 I decided that it was time for me to dive into the world of FinTech and was one of the first few senior professionals to move into InsurTech after a year of working for a group of investors and their fintech company.

Shaping and scaling two well-known acceleration programs in Europe and the USA under the brand of Startupbootcamp showed me that I could do it myself. Indeed, we scouted over 25K during my time there. Today I lead Alchemy Crew's venture labs which include three frameworks. One, R&D labs to answer deep digital transformation questions and solve those applying investor thinking.

Two, commercialization labs deliver the blueprint that enables established businesses to collaborate with startups and scaleups more consistently across geographies, which often turn into conversations on how to invest in them. The latter goes into our third model, which is how you get into proper corporate venturing and investing. Within our venturing function at Alchemy Crew, we have now scouted and sourced an additional 25K ventures (which takes my number to 50K). I have accelerated over 150 startups (including the advisory work and boards I sit on.) I have helped these entities raise million dollars in funding.
What do you see as the biggest challenges facing the insurance industry today, and how is your company, Alchemy Crew Ventures, addressing them?

Among all the challenges I can see affecting insurers' digital transformation journey, I will name three. These lie in the fact that to move into the future; corporations need to take care of their legacy and build on top of it more effectively.

i) Legacy Systems and Integration: One of the greatest hurdles to digital transformation within the insurance sector is dealing with legacy systems and non-user-friendly processes. Many insurers acquired 100s of systems from their M&A activities, building over time outdated and rigid solutions that are difficult to bend and adapt to the modern technological world. Today, established players are looking for unique, innovative solutions, still, reliable enablers, to deliver more agile technological ecosystems. This process can take time, cost money and may necessitate cultural shifts within an organization.

ii) Security and Privacy Concerns in Insurance: With digital transformation sweeping through the industry, insurers face mounting data storage pressures that raise questions about data protection, privacy, and compliance with various regulations (like GDPR). Insurers must implement robust cybersecurity measures and ensure that their customers do so, too, to mitigate cyber risks. These need to be augmented with data protection strategies and employee training to reduce risks associated with data breaches while upholding customer trust and avoiding regulatory penalties. Today, established players are looking for unique, innovative solutions that can solve cyber security risks across many angles and value chains.

iii) Adopting and Collaborating with InsurTechs: Insurtech startups have reinvented the way traditional insurance models and technologies are being evaluated. Like with any market shifts and the acquisition of new product offers, InsurTechs are going through their transition and evolution, and insurers know that the solution resides beyond the term "InsurTech." The acquisition of wide and multi-sectorial technological solutions can be challenging due to differences in corporate culture, technology infrastructure and risk appetite between the parties involved. Therefore, insurers are developing strategies for successful collaboration, such as creating partnerships or investing in tech ventures able to evolve their insurance model to the next level by applying the principle of ecosystem development. And this is where Alchemy Crew comes into play too.

Do you see the Insurtech industry evolving in the future, and what steps is Alchemy Crew Ventures taking to stay ahead of any potential changes?
I predict that insurtech as a category will evolve in several key areas shortly to continue to push the insurance sector forward as shifts in the digital space continue:
i) Artificial Intelligence and Advanced Analytics: AI and advanced analytics will play a pivotal role in shaping the future of insurance. It is undeniable looking as to where generative AI tech is going. These technologies can assist insurers with streamlining underwriting, claims processing, fraud detection, customer experiences and improving the bottom line. Companies looking to stay ahead should invest in AI/analytics capacities through internal expertise development, labs like ours, partnerships or acquisitions with InsurTech startups specializing in related skillsets and technology deployment.
ii) Strengthen Cybersecurity and Data Privacy: With digital data becoming ever more valuable, so does its risk. Leading players should assess and finance the deployment of robust data protection strategies, cybersecurity practices, and certification programs to mitigate this risk and maintain customer trust.
iii) Expanding into New Insurance Models: Insurers know that they must adapt their business models to become more digitized and dynamic. So, evaluating, partnering, and investing in innovative insurance capabilities, such as on-demand, usage-based, parametric, or DeFi models, will become BAU practices. Leading players must seek opportunities to develop and invest in these novel offerings to remain at the forefront.
iv) Focusing on Customer Centricity: It is clear that everything sits with the customer at the core of every design decision. Insurance companies will need to prioritize customer-centric innovation by investing in technologies that foster better understanding and engagement with their customer base. These require the use of cloud computing, advanced AI and data analytics, mobile apps, and decentralized technologies.
To remain ahead of potential changes, insurers will need to embrace collaborative initiatives promoting open innovation with tech startups, technology companies, and other members of the insurance ecosystem more readily. Innovation will need to be taken more seriously, particularly for those that have lost faith in it, as the job or project remains as one's third job on the corporate CV. This may involve setting up innovation labs, partnering with tech accelerators or incubators, or joining industry consortiums that share knowledge to co-create solutions.
How do you measure the success of Alchemy Crew Ventrues, both in terms of business metrics and impact on the insurance industry and society as a whole?
Our R&D and commercialization Labs are focused on the outcomes we must deliver for our international partners. These are located on at least three continents now. Having access to the data to make the right judgement for our partners is crucial. Scouting over 50K ventures over the past 7 years is not small work, and to be honest, no single database can give you the secret sauce to solve the problem that is emerging right now. What we do see, though, is that there are identifiable patterns between digitization trends and what our corporate partners want to find out, as well as the technology partners they want to work with. And my conclusion is that cultural engagement processes and integration frameworks could be nicer to have. Then it is about industrializing the methods and democratizing them within the corporate organization.
My main metrics include:

i) Have we been able to deliver insights that the sector did not have before?
ii) Have we identified a healthy portfolio of startups and scaleup candidates with unique solutions to solve the problem at the end? Are the solutions to solve that problem? Should the corporate take the development in-house if the solutions' maturity is not there?
Can we help the insurer to re-evaluate how they approach the corporate-startup engagement model to make it more culturally driven and outcome centric?
Great venturing techniques ensure that corporations reduce waste in research time and optimize resource usage. They also provide an opportunity for a corporation to truly take open innovation to the next level taking an outside-in approach while leveraging their partner ecosystem's knowledge more effectively. In one of our latest commercialization labs, 70 per cent of the ventures selected went into adoption. This initiative included an executive and senior leadership team across 10 countries and four major strategic topics to solve.
We are now building new corporate venturing-focused labs with a lens on the future of AI and commercial sustainability. These have been, in recent months, the lens many corporate stakeholders have been requesting and, as you already know, one of my passions in recent years.
Tell us about your experience at UK Fintech Week 2023. What was your biggest takeaway?

It was a great experience. I was thrilled to see Insurance and InsurTechs represented and participating in the conversation during that week. My focus was on corporate venturing and evaluating how insurers compared to other financial institutions in terms of partnership and investment activities. Let's remember that insurance is everywhere.

Insurers and brokers support a vast ecosystem of individuals and industry players to ensure they have access to the protections they need. So, evaluating industries' problems from risk mitigation and risk transfer viewpoint is not a choice but a requirement, particularly in a world that become more digitize and where tech enables many of the interactions we have with individuals, professionals, private and public companies, as well as government agencies.