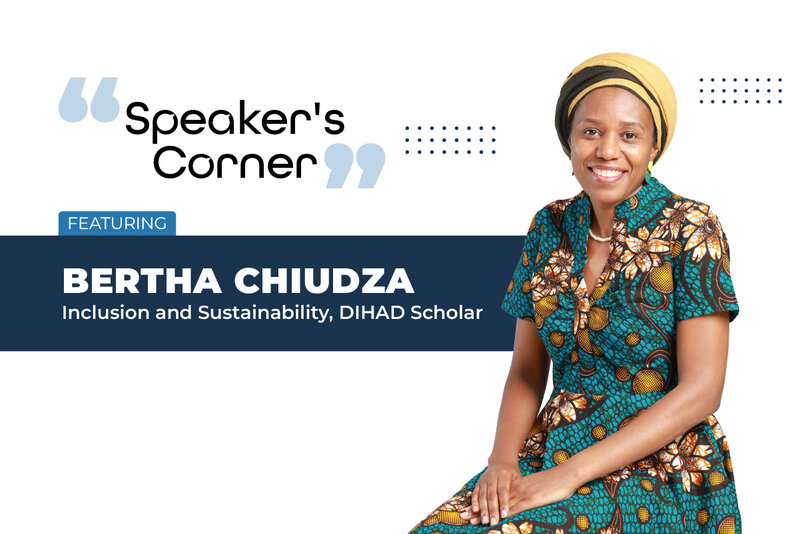 Bertha Chiudza is an accomplished International Development Expert with a specialized focus on gender equality, diversity and inclusion. Her expertise extends to ESG impact investing and inclusive climate action. With an unwavering passion for enhancing the lives of marginalized communities, Bertha's impactful contributions have left a mark worldwide.
Bertha's journey has seen her lend her expertise to a variety of programs across the globe. Her commitment shines through both remote and on-site engagements, where she has collaborated with local Civil Society Organizations in Malawi, as well as renowned entities like Plan International, Oxfam, WFP, and UNFPA.
On the international stage, Bertha's prowess has been harnessed by esteemed organizations. She has made her mark at UNOPS in Denmark, played a pivotal role with GGGI, and undertaken many such coveted roles.
Bertha's dedication and expertise have not gone unnoticed. Her exceptional contributions have earned her numerous awards and recognitions, solidifying her status as a driving force for positive change in the realm of international development.
In an interview with Eventible, she speaks about her background in detail, her motivations, her achievements and projects that she is proud of, her experience speaking at the Global Sustainability Partnerships Summit 2023, and much more!
Can you tell us about your background and experience in inclusion, sustainability, and Humanitarian
specialist?

Bertha Chiudza: I am from Malawi (born and bred) and currently live/work in South Korea. From an academic perspective, I attained my bachelor's degree in education at the African Bible College in Malawi in 2007 (I strongly wanted to be an educator like my late father, who was a huge inspiration to me and my siblings). In 2010, I received a centenary scholarship award from the Institute of Education, University College of London, for a Master of Arts degree in Education, Gender and International Development. My academic journey continues as I am now a DIHAD Scholar (DIHAD Sustainable Humanitarian Foundation), where I was privileged to be
awarded a scholarship for my second master's degree in Sustainable Humanitarian Action. This great prisoner program is being pioneered at UCAM University in Spain.

Now, this takes me to my professional background. I always say that my career and professional journey attest to what I am passionate about (social inclusion, gender equality, and humanitarianism all require looking at these from a sustainability perspective). Having been in the climate space now, I can see more of the importance of these cross-cutting issues.
I did much of my work in my country, Malawi, from 2007 to 2010, working with local human rights and women's rights organizations, where I cemented my passion and career. After that, I went for my studies in London, and upon returning to Malawi in 2012, I worked with a number of organizations (serving in
different leadership roles), including Plan International, UN WFP, UNFPA, and Oxfam International. My work in Malawi was rewarding as it made me get so close to the realities on the ground and organizations like
Oxfam also gave me a great platform to cement my passion in the women's rights space. In 2018, that's when I looked at opportunities to increase my scope, venturing into the international development space.

Since 2018, I have worked in different gender, social inclusion, and sustainability roles with UNOPS in Denmark, the Global Green Growth Institute (GGGI), and the Green Climate Fund (GCF) in South Korea.
Also, to make mention, I am in the sustainable entrepreneurship space, having co-founded (with my sisters in Malawi) and ventured into a sustainable business in the form of a garden and events center, which is under development, and we are looking at various ways of greening that initiative.
Under the DIHAD Foundation, together with my fellow students, are undergoing a mentorship program (DIHAD Glasshouse), an initiative which was launched during the Dubai International Humanitarian
Aid and Development Conference and Exhibition in March 2023. This platform acts as a sustainable start-up program that helps aspiring humanitarians like me see our projects come to life. Platforms like these have also helped/made me to be a mentor in other sustainable and green enterprise spaces.
● What motivated you to dedicate your life to this mission?

Bertha Chiudza: I know what it means to be marginalized or be socially excluded from many spaces. I understand when one says that they survived violence because I have also experienced it. I know what it means when families struggle to put food on their table or have limited or no resources to enable children to attain an
education; I saw it with my parents. I know what it means to fall victim to other people's biases due to your geographical background, age, gender, education, etc. – I have seen it all. All these struggles, and surely many more, motivate me to contribute to change the narrative and empower others. I use the power within to influence others for the better.

● Can you share some of your notable achievements or projects you're proud of?
Bertha Chiudza: I will list them here:

i). 2022: DIHAD Scholarship Award for Master of Arts Degree in Sustainable Humanitarian Action, affiliation
with UCAM Universidad Católica San Antonio de Murcia, Spain.

ii). 2019 & 2020: Recognized as Pan Africa's Most Influential Women in Business and Government by the
CEO Global and Titans: Building Nations (Lusaka, Zambia).
iii) 2019: Recognized as a Global Goodwill Ambassador (Humanitarian) by GGA Foundation, USA.

iv) 2019: Recognized and served as senior advisor to the International Women's Network of the 5 Continents.

v) 2010: Institute of Education, University of London, 2010/2011 Centenary Scholarship Award for MA study
in Education, Gender, and International Development; IOE, London.

vi) 2009: CLEEN Foundation, Lagos, Nigeria – The Role of Civil Society in Police Reform and Access to Justice in Africa (recognized and awarded certification).

vii) 2004: 3rd Best Essay Writing Competition on 'Safer Choices in HIV and AIDS Prevention among the
Youth'; Eastern and Southern Health Community in Africa, 2004. Conferred by the late President of the
Republic of Malawi, HE Bingu wa Mutharika.

● What is your leadership philosophy, and how do you inspire and motivate your team?

Bertha Chiudza: In simple terms, my philosophy revolves around inclusive leadership; and empowering others. As a leader, I don't know everything, so there's always room for improvement, and understand the value that each one brings to the table.

● Could you describe a challenging situation or project you faced in the past and how you overcame it?

Bertha Chiudza: There are many situations, especially in this sector, gender equality and social inclusion. Spearheading this agenda sometimes comes at the cost of being bullied and not taken seriously some people look at it as one of those issues that women are trying to advance.
Over time, I've learned to see which battles to fight and what to invest my time in – and also learned different ways of advocacy and lobbying; sometimes, soft diplomacy has been the way out.

● Can you share any lessons or insights you've gained throughout your career that have profoundly impacted you?

Bertha Chiudza: Yes, there are many lessons. But one stands- out – never compromise your passion/calling/purpose for the sake of keeping a job. In my leadership journey, I have chosen not to lose myself, whether it is my identity or passion, because of the job or a career goal. So, you should come first, don't die inside for the sake of either fitting in or keeping employment.

● Can you discuss your future goals or aspirations and the cause you're working for?

Bertha Chiudza: To be a better version of myself and impact others better and bigger, especially the underprivileged persons and persons not only in my country but also beyond. I aspire to empower myself and others in sustainable ways; success to me look beyond the Bertha, but the impact and the legacy created in and through others.

● How was your experience at the Global Sustainability Partnerships Summit 2023, and what was your biggest takeaway?

Bertha Chiudza: Just being in that space as one of the keynote speakers is valuable to me. My biggest takeaway is that all of us are doing sustainable work in our respective spaces, but sometimes all it requires is for us to be able
to collaborate – there's more power in working together than alone. We need to think beyond the self in the sector and look beyond the future generation to come. If we fail today, the impacts on our future generations will be huge.
● Eventible.com is a review platform catering to B2B events. Given how review-driven our lives have become today, will reviews bring transparency to the events industry? Would you rely on event
reviews from other speakers if you had to make a speaking decision?

Bertha Chiudza: Of course, yes. I believe platforms like Eventible.com bring an aspect of transparency to the events industry, and I would rely on these reviews.