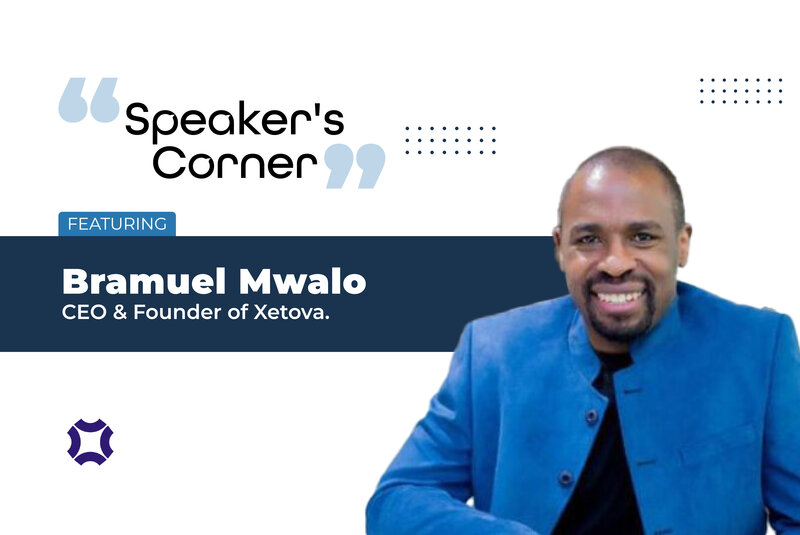 An enthusiastic entrepreneur, Bramuel Mwalo is committed to providing practical, technology-based solutions. He is the founder of Xetova, where he strives to help organizations become data-driven for better operational efficiency, profitability, and impact. Bramuel serves as the Chief Product Officer and leads the company while steering its strategic direction and ensuring product development.

Before establishing Xetova, he successfully launched and led several business incubation and acceleration programs, including the KCA University Business Incubation Center, Global Business Labs in Sweden, and the Top 25 Under 25 Entrepreneurship Program. Bramuel also served as the founding Director of Business for Kountable Inc., where he played a key role in originating deals for a $150 million trade finance line and established a network of over 250 SMEs in multiple countries.
He has a Bachelor of Arts in Business Administration, a Master of Science in Finance, and a Postgraduate Certificate in Corporate Innovation from Stanford University. His outstanding work at Xetova has earned him a recognition as a World Economic Forum Uplink contributor and an MIT Solve Fellow. In Kenya, he is celebrated as one of the Top 40 Under 40 individuals making a significant impact.
In this interview with Eventible, Bramuel speaks about his background, the mission and vision of Xetova, what separates Xetova from its competitors, his experience at Africa Tech Summit, and much more. So let's get started.
Can you tell us about your background and how it led to your founding of Xetova?

Rooted in my passion for entrepreneurship, technology, and business development, I embarked on a journey that led me to create Xetova. My early career in business incubation and acceleration allowed me to launch successful programs such as KCA University Business Incubation Center and Global Business Labs in Sweden, fostering numerous startups from conception to success.

My tenure as the Kountable Inc. was transformative, teaching me to lead large teams, develop technology, master deal-making, and network-building. The importance of connections in enterprise building was a key takeaway from this role.

Each of these experiences combined to inspire me to found Xetova. Here, I draw on my wealth of expertise in business development, strategic networking, and entrepreneurship to guide the company's growth. Through Xetova, I strive to influence the African tech ecosystem further and facilitate the success of enterprises worldwide.
What is the mission and vision of Xetova, and how do you see it evolving in the future?

Xetova, an AI insight automation software company, is mission-driven to enhance decision-making and productivity through AI and big data. Our vision is to lead the Enterprise AI market with innovative, relatable, scalable, automated, and secure solutions. With AI and big data's rising demand, we envision boosting Africa's productivity and decision-making while potentially accelerating economic development. We aim to continuously improve and expand our services and position Xetova as a key AI industry player.
Can you discuss a recent project or initiative that Xetova has undertaken and what impact it has had?

Healthcare Supply Chain Management: Xetova's AI software module optimized healthcare supply chains, reducing wastage and improving efficiency. Hospitals report improved patient outcomes due to reliable access to supplies.

Financial Services Visibility: Xetova's AI and big data project provided real-time visibility into customer behavior and transaction profiles. This has led to better risk management, improved financial performance, and reduced fraud.

Just-in-Time Manufacturing: Xetova's AI solution supported just-in-time manufacturing, predicting demand and streamlining production. This reduced overproduction and inventory costs, leading to enhanced productivity and profitability.
How do you differentiate Xetova from other companies in the same space, and what unique value do you bring to your customers?

Xetova stands out because of the deep understanding of our customers' needs, specifically in the African market. We offer locally valuable and tailor-made solutions, not generic ones. Our unique attributes include the following:
Comprehensive Solution: We provide an integrated solution that unifies insight processing, software, automation, and security services, thus enhancing efficiency.
Scalability and Portability: Our solution is designed for easy deployment on any system and ensures it is scalable to meet changing demands, thus ensuring adaptability.
Industry-specific Solutions: We deliver tailored solutions to specific industries like healthcare, finance, and manufacturing, enabling us to address unique challenges effectively.
Security Focus: Our strong emphasis on data security sets us apart. We ensure the protection of sensitive data and build trust among users.
How do you approach team building and company culture at Xetova?

Xetova focuses on these key principles for team building and company culture:
Shared Vision: Ensure everyone aligns with Xetova's mission and vision to foster unity and purpose.
Diversity and Inclusion: Prioritize diverse perspectives and foster a culture of respect and understanding.
Continuous Learning: Emphasize ongoing professional development to keep the team updated and engaged.
Open Communication: Encourage transparency, collaboration, and trust through honest and respectful communication.
Recognition and Reward: Boost morale and motivation with fair acknowledgment and appreciation of hard work.
Work-Life Balance: Promote balance with flexible work schedules, remote options, and employee wellness programs.
Can you talk about a specific achievement or accomplishment that you are particularly proud of in your role as CEO and Founder?

I'm immensely proud of developing and launching our AI software, X-IAS, a journey marked by challenges but overcome by our dedicated team. Post-launch, it was swiftly adopted by key players across healthcare, financial services, and manufacturing, significantly impacting their operations and decision-making. This success underscores our team's commitment, our culture of innovation, and our focus on delivering customer value.
How do you see the industry and market for Xetova evolving in the future, and what steps is the company taking to stay ahead of any potential changes?

The AI and big data industry will continue to grow, driven by increasing reliance on data in various sectors. However, challenges like privacy, data security, and compliance will shape its future. Technological advancements will also require ongoing innovation. At Xetova, we're proactively preparing. We prioritize research, development, and staff skill enhancement. We also emphasize data security and privacy by regularly updating our measures and protocols. Our customer feedback informs our offerings, ensuring we deliver maximum value. With these steps, we are well-equipped to navigate the industry's future landscape.
Tell us about your experience at Africa Fintech Summit, 2023. What was your biggest takeaway?

The AFS has gotten a lot of traction over the years and is a great environment to meet various investors specifically interested in investing in tech innovations in the continent. We met potential investors and partners through AFS. Post the event, through the organizers, we hope to continue being connected to other potential investors and partners.
Eventible.com is a review platform catering to B2B events. Given how review-driven our lives have become today, will reviews bring transparency to the events industry? Would you rely on event reviews from other speakers if you had to make a speaking decision?
Definitely, reviews bring transparency to the events industry by offering firsthand insights into the event experience. As for relying on event reviews from other speakers, they serve as a valuable resource, providing unique perspectives on audience engagement and logistics. However, remember that reviews are subjective and should form part of a broader decision-making process.