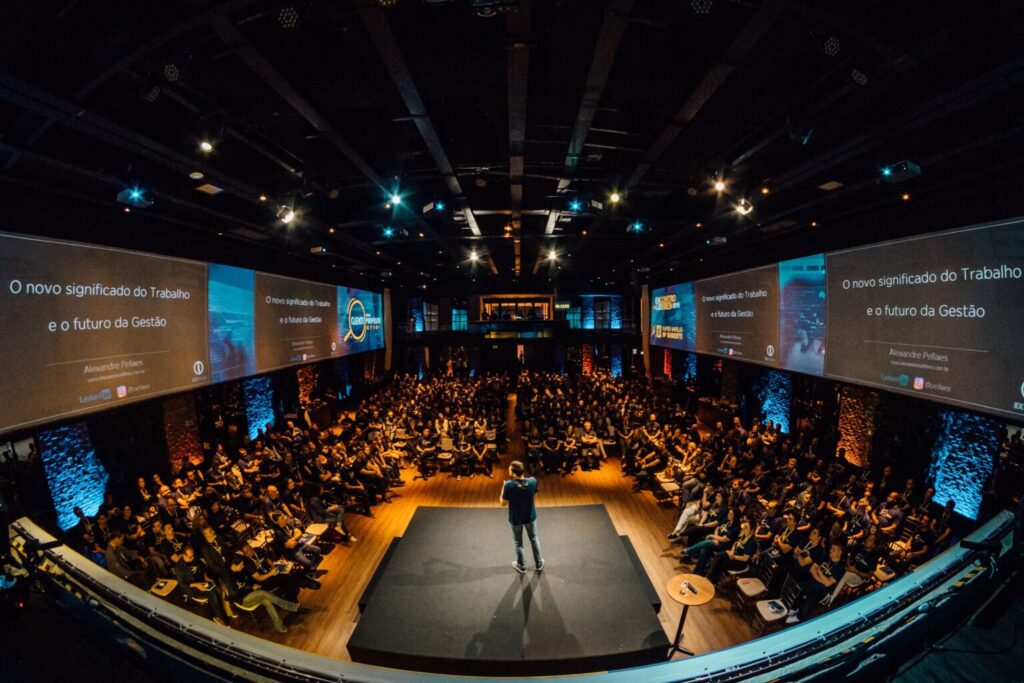 Marketing a conference is as important as planning one. One could reserve the venue for the conference, line up speakers, arrange food and beverages, and prepare the agenda for keynote sessions, panel discussions, and workshop ideas. However, if they don't have a marketing plan in place, then chances are that the conference will fail to garner the attention it deserves.
The number of people who attend and participate in the conference determines the success of the event/conference in question. And an event marketer needs to devise different ways to market and publicise his event or conference and get maximum participation.
In this blog, let's look at what conference marketing is, its importance, the different content marketing strategies and ideas, and Eventible's role in making it a success.
So what are we waiting for? Let's get started.
Table of Content
1. Introduction
2. What is Conference Marketing?
3. Why is Conference Marketing Important?
4. 7 Conference Marketing Ideas/Strategies To Make Your B2B Event A Success
4.1 Create a Compelling Conference Website
4.2 Create Engaging and Informative Blogs and Videos
4.3 Partner with Industry Professionals
4.4 Provide an Interactive Experience at the Conference
4.5 Leverage Social Media To Promote the Conference
4.6 Use Targeted Email Marketing Campaigns
4.7 Conduct Post-Conference Surveys
6. Key Takeaway
What is Conference Marketing?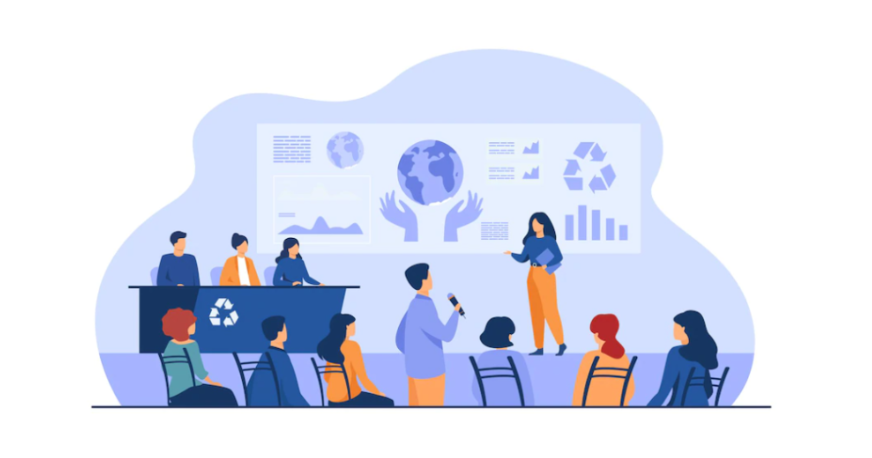 Conference marketing is promoting and widely advertising a conference to garner sufficient popularity and attention, eventually translating into maximum attendee turnout and participation.
Conferences are quite a financial undertaking, irrespective of their size or scope. They require a significant financial investment in the event planning stage to strengthen registration sales and determine your event's success.
After all, conferences provide an excellent opportunity for companies and organisations to display their products, services, and ideas to a large and relevant audience. They also offer an opportunity for the audience to stay abreast with latest trends and developments in the industry and help provide important insights and inspiration for one's work. Additionally, they help attendees hone their existing skills, learn new ones, get the latest information on great tools, and engage with inspiring industry leaders and experts in the marketing world.
That is why event organisers need to invest their resources and develop the best conference marketing strategies to garner enough publicity for their event/conference.
Whether your conference is an annual one or a brand-new undertaking, event marketers must focus on devising event marketing strategies that increase participant attendance and event ROI. Increased participation means that, as an event marketer, you will not only sell more tickets or passes but will also demand more from exhibitors for booth space, which all contribute to making your event a success.
Why Is Conference Marketing Important?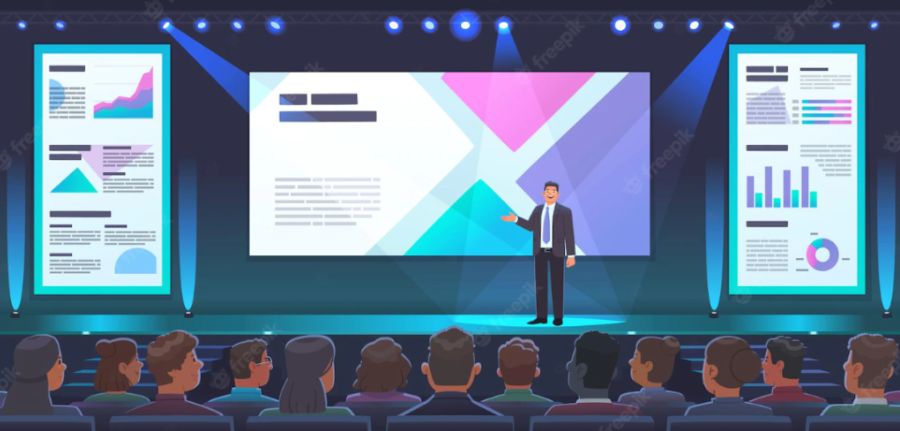 Conference Marketing is essential and valuable in the following ways:
Event Awareness: Conference Marketing helps to promote the event and spread awareness among potential attendees, which can eventually lead to increased ticket sales. Event organisers and planners resort to conference marketing strategies to create and share valuable and informative content about their event that garner the attention of potential attendees and influence them to attend. Event organisers can also use social media and other online platforms to maximise their reach and generate additional interest for their event.
Community Engagement: Conference marketing also helps event organisers create a sense of community and engagement with the attendees. Event organisers can create and share relevant and exciting content with attendees ahead of their conference, allowing them to interact with each other and the event itself.

After all, conferences can be an excellent way for attendees to network and connect with other industry professionals, leading to new partnerships and business opportunities. This way, event organisers can create a positive and engaging experience for attendees that can help raise the conference's overall success.
Brand Building: Conference marketing can also help event organisers build a brand for themselves as leaders in their field and get an edge over their competitors. Event organisers can demonstrate their know-how and expertise whilst establishing a niche as thought leaders by consistently creating and sharing high-quality content promoting their conference/event. These efforts will, in return, help build trust and credibility with potential attendees, which can encourage them to attend future events.
Improved Sales and Revenue: Event organisers can increase ticket sales and revenue by creating content highlighting the value and benefits of attending the conference. Conference marketing can be particularly effective for early-bird promotions or last-minute ticket sales.
Enhanced customer service and assistance: Event organisers can provide valuable content and resources through their conference marketing efforts to improve their customer service and support initiatives. These efforts can help attendees get the most out of their event experience and increase the probability of returning to future events.
7 Conference Marketing Ideas/Strategies To Make Your B2B Event A Success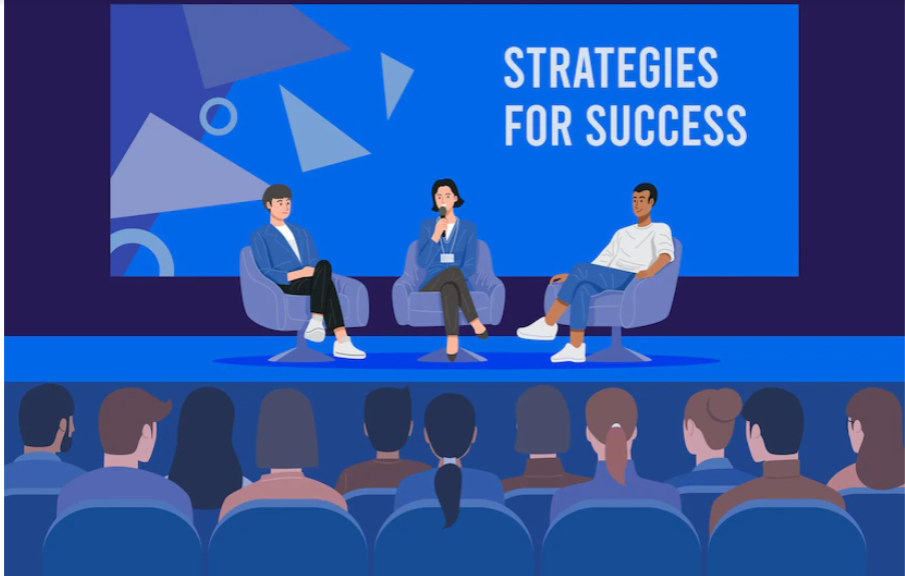 Conference marketing strategies are essential in promoting the conference and attracting attendees. Maximum participation and attendance ensure the success of a conference, which, if done well, can prove to be an excellent learning and networking opportunity for everyone involved.
Conference organisers need to generate sufficient revenue from ticket sales and sponsorships to cover the cost of the event, which can be quite an expensive affair. Effective content marketing strategies can help garner maximum attendance and participation whilst increasing revenue.
With the help of crucial conference marketing strategies, event organisers can highlight the conference's key features and garner attention from leading industry professionals, which can help build up the conference's goodwill and even attract more attendees in the future.
Overall, conference marketing strategies are vital because they contribute to conferences becoming more successful, financially viable and sought after in their respective fields. So what are these conference marketing strategies? To make your life easier, we've gathered a handful of conference marketing strategies that will not only help you increase your event profile but will also bolster your ticket sales and registrations.
1. Create a Compelling Conference Website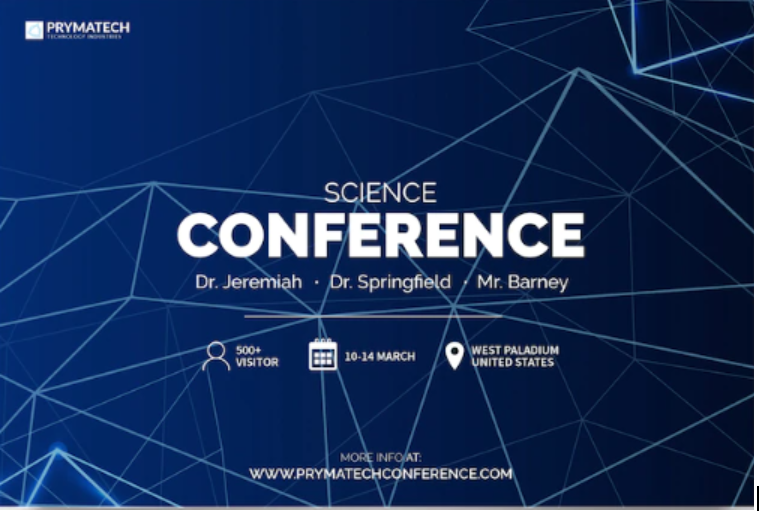 The best way to garner attention for your conference is to create a website that clearly outlines the event details, speakers (whether executive-level speakers or breakout-session speakers), schedule, and location. Having a central hub for all the conference-related information will go a long way in helping the conference attendees.
A conference website must provide clear, compelling information and engaging visuals. Furthermore, a well-designed website can help build buzz and excitement for the conference, which will only attract more attendees and participants.
Some of the essential elements that a conference website must have are :
a) The conference logo
b) Header images
c) Location, time and date
d) A specific call to action for the potential attendee,
e) Conference description
f) Social proof (a testimonial from a past attendee or participant, conference review or feedback, etc.)
g) An attendee ticket purchase link or a registration page/form, among other things.
Lastly, a conference website can be a valuable tool for promoting the conference on social media and other online platforms and must help get the word out about the conference and convince interested people to attend.
2. Create Engaging and Informative Blogs & Videos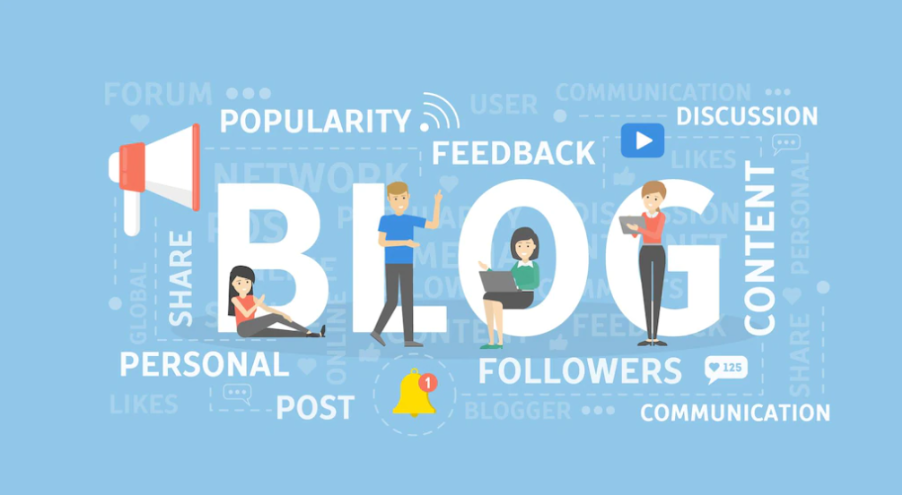 Blogs are an effective tool for providing information about the conference, such as the schedule, speakers, and any other significant events or activities that will take place. They can help invoke interest in the conference and nudge people to attend.
On the other hand, video, as a medium of content, can be used effectively to create a visual preview of what the conference is likely to include, which may pique interest and excitement among potential attendees.
Some of the key features of an informational and effective conference marketing blog are as follows:
Blog posts must comprise great content. They must be written in a clear and engaging writing style that is easy to read and comprehend.
The blogs' marketing content must be well-researched and accurate, with the purpose of providing valuable information to the reader.
Blogs must be positioned in an organised manner, making it easy for the reader to navigate and get the information he/she is looking for.
Blogs should also be visually appealing, carrying attractive and useful images and other multimedia elements like videos or audio files.
A conference marketing blog must also have a clear-cut call to action specified.
The writer must also update the blogs with fresher content from time to time, giving the readers a reason to come back again and again.
Videos are a great way to showcase creative thinking and inspirational strategies that some of the leading event marketers or businesses have implemented to inspire change, drive growth, fuel attendee satisfaction, and make the conference an all-in-all success.
Some of the key features of an informative video for conference marketing are as follows:
Conference marketing videos must contain a compelling and engaging storyline that encapsulates the very essence of the conference and its theme.
These videos must also contain premium-quality visuals and graphics, such as images and videos of the conference venue, speakers, and attendees.
It is mandatory for these videos to display all the information pertaining to the conference that an attendee may want to know such as the date, location, and key topics that are likely to be discussed.
They could also carry testimonials from previous attendees or speakers, highlighting the value and importance of the conference. Testimonials like these act as social proof that help attendees decide whether or not they want to attend the conference.
In the end, conference marketing videos must also carry a call to action, encouraging viewers to register for the conference or learn more about it.
Overall, creating informative blog posts or videos related to the conference topic can also help drive traffic to the event website.
3. Partner With Industry Professionals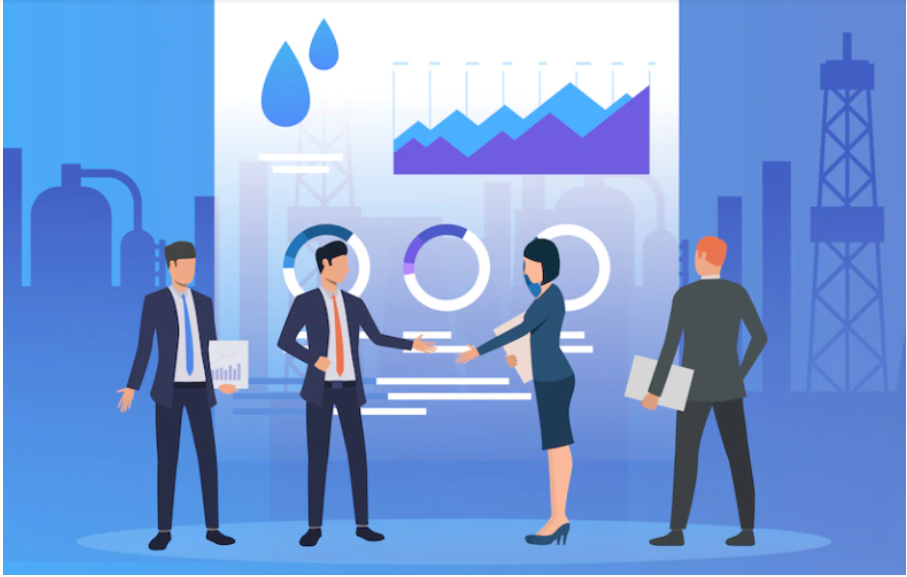 Partnering with thought leaders at successful brands and industry experts to provide valuable content to attendees is a great way to enhance one's conference marketing efforts. Associating with these industry stalwarts can also help gain access to their networks and connections.
The key to making partner outreach an effective strategy is to carefully select the right partners to reach out to. This might include organizations that are relevant to the conference theme or have a similar target audience. It's also important to clearly communicate the benefits of partnering with the conference, such as the opportunity to share expertise and reach a new audience.
Once potential partners have been identified, the next step is to reach out to them and initiate a conversation about forming a partnership. The method of pursuing it is fairy simple- such as email, phone, or in-person meetings. It's important to be professional and respectful in all communications, and to clearly outline the terms of the partnership and any expectations for both parties.
This compelling content marketing strategy helps widen one's access to a vast audience and helps create buzz around your conference.
Additionally, industry professionals can provide insightful suggestions and expertise on your conference topic, which can be productive in making your marketing efforts more effective and targeted. Your conference is also likely to gain credibility and attract high-quality speakers and attendees this way.
4. Provide an Interactive Experience At the Conference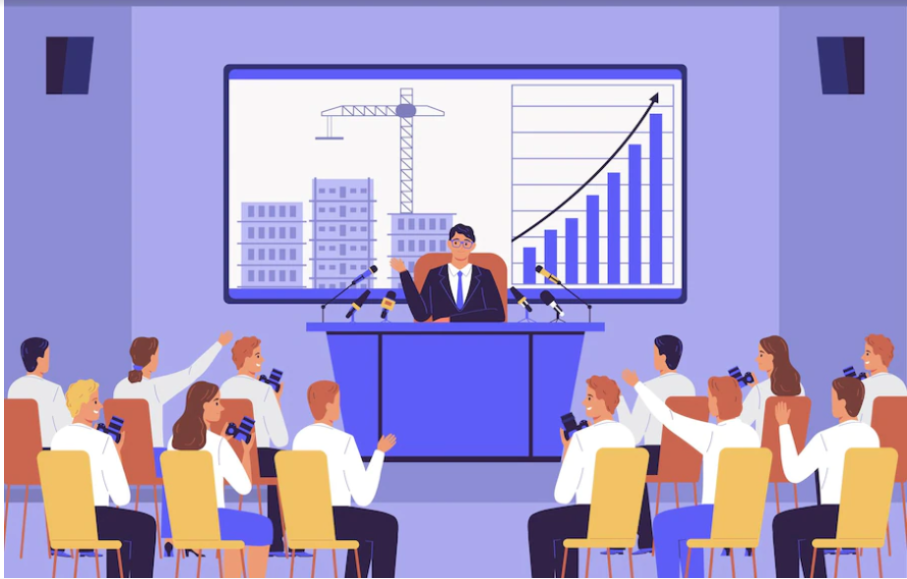 Arranging engaging presentations, interactive activities, and networking sessions are a few ways to better your conference marketing endeavours.
Host pre-conference workshops or training sessions to provide attendees additional value and enhance the conference experience. These content marketing strategies can help generate buzz, pique one's interest in the company, product or services, and increase traffic and engagement on the company's website and social media channels. They can also help provide attendees with the chance of learning from and networking with some of the brightest minds in the industry- be it marketing, sales, revenue operations, or customer success.
Incorporating interactive sessions at the event can help generate valuable user-generated content, such as photos and videos, that helps improve marketing efforts.
5. Leverage Social Media To Promote Your Conference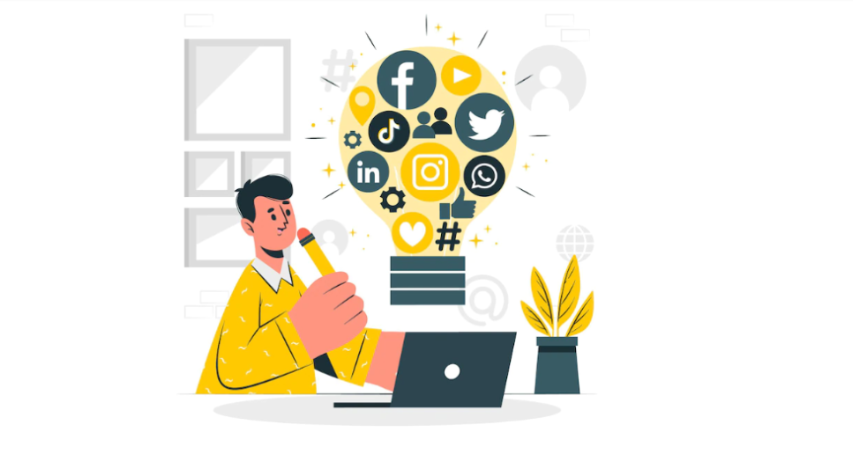 The key to success in conference marketing is to create a clear and compelling message about the value and benefits of attending the conference. And what better way day to do it than by using social media?
Social media provides a perfect opportunity for event organisers to put the conference details in front of the people who want or need to see it. Social media platforms like Instagram, Linkedin, Twitter, etc. help to promote the conference and inform potential attendees about all the essential information related to the same.
Event organisers can also create a dedicated event hashtag for attendees to promote the conference and get it to trend. One can also promote blogs and videos on social media platforms to garner attention and create buzz before and during the event.
One can also use social media to respond to questions and comments about the conference and share content that may interest potential attendees. Organisers can repurpose content with respect to the conference and share it across all social networks to direct people to your ticketing page or a specific landing page of your choosing.
Event organisers can also provide special promotions or discounts to encourage and motivate people to attend the conference. For instance, organisers can offer a discount code for early bird registration or a special package deal for groups of attendees, which can be promoted on social media. Organisers can also offer customisable packages, such as VIP experiences or discounted group rates, to appeal to a broader audience and increase attendance, which can be promoted on social media platforms.
However, an important thing to remember is to use social media effectively by being consistent, engaging, and strategic in one's approach. Conference organisers can create buzz and excitement around their conference by regularly posting interesting and relevant content, engaging with potential attendees, and eventually driving more people to attend and participate.
6. Use Targeted Email Marketing Campaigns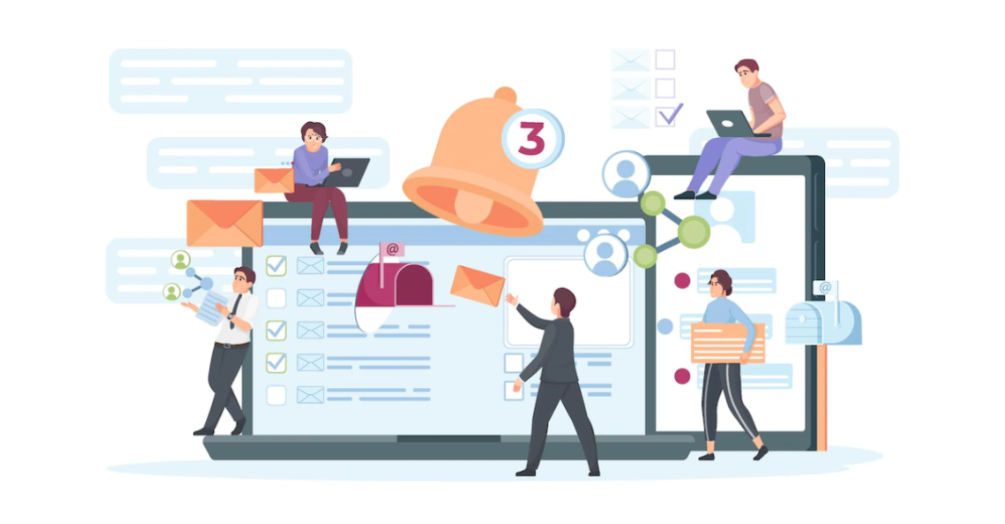 Event organisers can use targeted email campaigns as an effective conference marketing strategy by segmenting their email list and creating targeted messaging for each segment.
For example, you could create separate email campaigns for industries or job titles relevant to your conference. By creating targeted campaigns, you can increase the likelihood that your emails will be opened and read by the right people, which can ultimately lead to more conference attendees.
Additionally, you can use targeted email campaigns to provide potential attendees with important information about your conferences, such as the date and location, speaker lineup, and any special offers or discounts that may be available. Email marketing can generate excitement and interest in one's conference, leading to increased attendance.
7. Conduct Post-Conference Surveys
Post-conference surveys can be a great way to gather feedback from attendees and learn about areas for improvement in future conferences.
They can also help to identify what aspects of the conference were most successful and should be repeated in future events.
The information obtained from the post-event surveys is an effective marketing strategy for future conferences as they highlight the event's most popular aspects and incorporate attendees' feedback into the planning process.
Additionally, sharing the survey results with old and new attendees can generate interest in future conferences and demonstrate the value of attending. You can read our article, Conference Feedback: Why Is It Important & How To Collect It?, to learn more about how conference feedback improves the event experience. You can also read our blog, 27 Event Survey Questions For Maximum Responses, to know what questions to ask in a survey.
How Can Eventible Help?
Eventible is a review platform for B2B events. It collects event and conference feedback from speakers, attendees, and sponsors and brings unique and valuable insights from industry professionals. It then runs these reviews through its unique scoring model to bring you only the best events or conferences from a whole range of the same. In short, Eventible is a perfect tool to measure event ROI.
Eventible is an excellent third-party marketing strategy tool that helps collect unbiased feedback from major stakeholders of the event/conference. It aids organisers in improving the overall quality of the conference and the attendee experience going forward.
So far, Eventible has successfully used its survey questions to poll 200,000 attendees and bring in over 5,000 responses across 800 events. It is a highly trusted review platform for B2B events. It takes great pride in creating conference surveys that provide valuable and accurate insights for everyone involved with the event/conference.
Key Takeaway
We live in an increasingly competitive world where finding a niche for oneself is challenging. The rules are no different in the world of events as well. Conference marketing is a valuable opportunity for companies to showcase their products or services, network with potential clients or partners, and learn about industry trends and innovations.
It is an effective tool that helps businesses establish their brand, generate leads, and gain exposure to a target market and audience, giving them an edge over their competitors. It can also provide a platform for companies to share their expertise and thought leadership with others in their industry. Overall, event organisers can reach out to effective conference marketing strategies and ideas to maximise attendee participation, engagement, and event ROI- all of which are essential determinants of an event/conference done right.