Eventible's List: Top IT Events You Shouldn't Miss!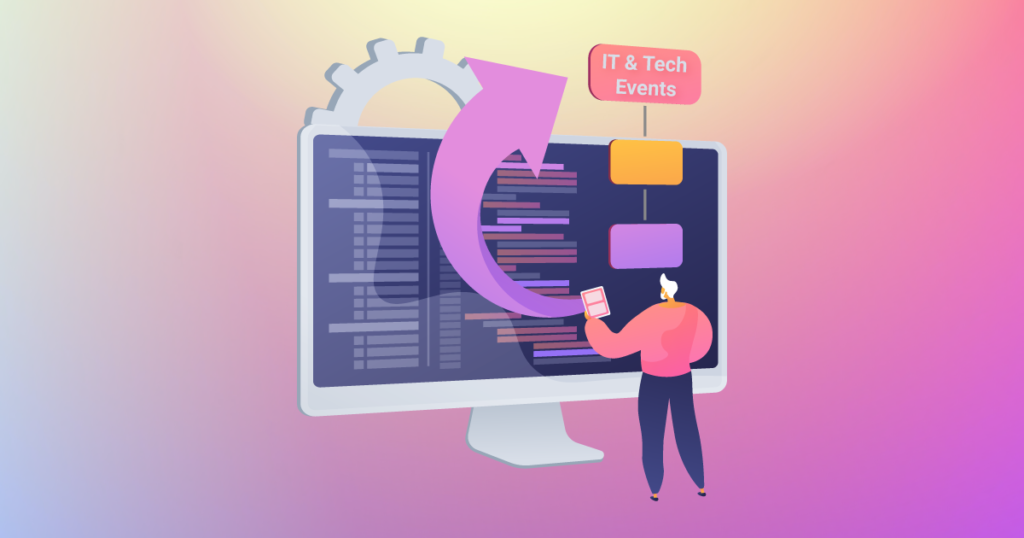 Why worry about scouring the internet for the top events in IT and technology? Eventible's got you covered, all in one place! Here's our top list of events in the IT sector that you may find useful.
KubeCon + CloudNativeCon Europe 2021
Date: 4th to 7th May 2021  
This year KubeCon + CloudNativeCon Europe 2021 is back with a wholesome and interactive online session for all the IT professionals and enthusiasts with extremely contentful and comprehensive keynote sessions about open sourcing and various other interesting topics. The absolute personification of the culture of the kubernetes!
Date: 6th May 2021
An event that has already created a lot of buzz in the IT community. This year, Tableau Live promises to indulge in global issues, as well as topics like leveraging smart data and advancing one's analytical skills. So join the Tableau community to deepen your Tableau knowledge whilst experiencing a world-class virtual user experience.
Date: 11th to 12th May 2021
With on-demand sessions, quick labs to challenge you, certification testing and self-paced labs, Think 2021 by IBM is back this year to sweep all the Tech fanatics off their feet! This year the conference aims at covering a wide range of topics such as automation, Data and AI along with cloud and the future of Call for code.
Date: 17th to 20th May 2021
Uncover the depths of cybersecurity products and solutions and get an opportunity to engage with vendors, associations and service providers and that too, the very best of them! This event has been acknowledged for its fresh and innovative agenda, with elements such as the "Innovation sand-box" contest and many more! So, what are you waiting for??
Date: 18th May 2021
It's the time to dive deep into the depths of innovation and aim at delivering business excellence! This event is for those young minds who want to experience the best of both worlds and witness the collaboration between business and IT.
Date: 18th to 20th May 2021
Google Input/Output is back this year with one of the biggest developer conferences in the world! As this event was cancelled last year due to the COVID-19 pandemic, this year it promises to compensate and has kept all IT specialists on their toes! This year's agenda looks extremely promising with topics such as- Smart canvas, AR objects in google search, Google shopping, Wear OS, Google Health and a lot more!
Date: 25th to 27th May 2021
This event is for all DevOps enthusiasts who always want to be up to date with all the latest tech advancements! The three-day event is packed with DevOps training, keynotes, breakout sessions with renowned experts from across the globe!
Date: 25th to 27th May 2021
This is for all tech developers and software engineers who are Microsoft Azure or Windows users. This year's agenda centres around Azure and its various applications, ranging from Azure AI services, Azure Bot services to video analyzer and cognitive services and so much more. Feel empowered amongst fellow developers, standing together against the challenges this year has brought!
Date: 1st to 2nd June 2021
Considering the sudden spike in the number of cyber attacks and cases across the world, this event aims at waging a war against cyber threats and protecting Europe's manufacturers as they gradually continue to adopt the latest technology for their worldwide operations. Senior executives of 150+ manufacturing and cybersecurity leaders come together to build a plan of action against cyber threats!
Date: 8th to 10th June 2021
The perfect place to learn about the Data Cloud, for all the developers who wish to indulge into the world of Cloud sharing and enhance the performance of their organizations through learning about the best practices and applications of the data cloud by data scientists and engineers, data and analytics professionals from across the globe!
Date: 9th to 11th June 2021
Enter into the JavaScript Development ecosystem and meet like-minded developers for a 3-day power packed conference. Witness keynote speeches from high profile specialists and be a part of one-on-one discussions as well as in-depth workshops to enhance your skills and get a deeper understanding of the latest javaScript technologies with an interactive environment and engaging challenges!
Date: 22nd June 2021
Digital Africa Conference and Exhibition is Africa's premier consumer technology show which holds annually. It provides the perfect platform to showcase your brand and enhance your reputation. It presents to its participants a major opportunity for unrivalled networking and privileged access to strategic partners, investors and potential buyers.
Date: 17th June 2021
Acknowledged amongst all IT fanatics as Europe's fastest-growing tech conference, this event promises to bring together the most influential tech and business leaders from over 70 countries! If you are an entrepreneur looking to level up your start-up and understand the best possible applications of technological tools for reaching this goal, this event is for you!
Date: 7th June 2021
Apple's flagship tech event, WWDC is one of the most talked-about events this year amongst the tech community. It offers an absolutely amazing user interface and online conference experience and gives the attendees an opportunity to explore pavilions, Celebrate great apps, chat about special topics such as SwiftUI, accessibility, and machine learning and so much more!
DACHsec: IT Security Conference
Date: 22nd to 23rd June 2021
The much-awaited cybersecurity conference is back with its 4th edition this year! It brings together world-renowned security experts across the region's Banking & Finance, Automotive, Retail, Transport & Logistics, Pharmaceutical industries, and more! This years agenda is to combine the latest digital tech with industry ingenuity whilst maintaining a strong and thorough structure for operations. So what are you waiting for? Sign up.
Date: 28th June to 1st July 2021
A place where 2400 companies and trailblazers come together to brainstorm and strategize the future of tech. With unmatched opportunities for networking with fellow developers and mobile and tech industry influencers. Acknowledged by previous attendees as an event with one of the most prompt and engaging communications along with a ton of creative ideas and discussion, this event does not disappoint!
Date: 17th to 21st October 2021
Marking the UAE's Golden Jubilee, GITEX Global mobilizes the pioneering tech visions, initiatives and collaborations of government leaderships across the Middle East and African continent. Our inaugural Visions programme will drive and expand on the emergence of fiercely innovative economies across the UAE, Saudi Arabia, Bahrain and Africa.
The 14th International Conference on Computer Science and Information Technology
Date: 15th to 17th October 2021
The 14th International Conference on Computer Science and Information Technology (ICCSIT 2021) will be held in Paris, France during October 15-17, 2021. ICCSIT 2021 is a forum for presenting excellent results and new challenges facing the field of computer science and information technology. It brings together experts from industry, governments and academia, experienced in engineering, design and research. ICCSIT 2021 will be held together with four workshops.
Date: 25th to 27th October 2021
As a monumental milestone for the Network, the 2021 Annual Gathering marks AfriLabs 10th year Anniversary. The Gathering themed "AfriLabs at 10: A Decade of Empowering and Inspiring Innovation across Africa" will illuminate AfriLabs growth and impact to the development of the African Innovation Ecosystem. Considering developments with the global COVID-19 pandemic and uncertainties caused by new air travel restrictions, the event will now be held in Abuja, Nigeria from the 25th to the 27th of October, 2021.
The 6th edition of the AfriLabs Annual Gathering aims at fostering interpersonal relationships between different stakeholders which will lead to the emergence of new partnerships that will contribute to the development of the African continent.
Date: 6th to 9th December 2021
An event that brings together developers, architects and engineering managers from across the world. The best place for networking with fellow developers and showcasing your ideas and innovations with like-minded people in order to generate leads with a provision of online master classes, live panel discussions, roundtable discussions and a lot more!